"You Really Chunkin On That Mozzarella, Hot Stuff"
Fellow diner strikes rakish tone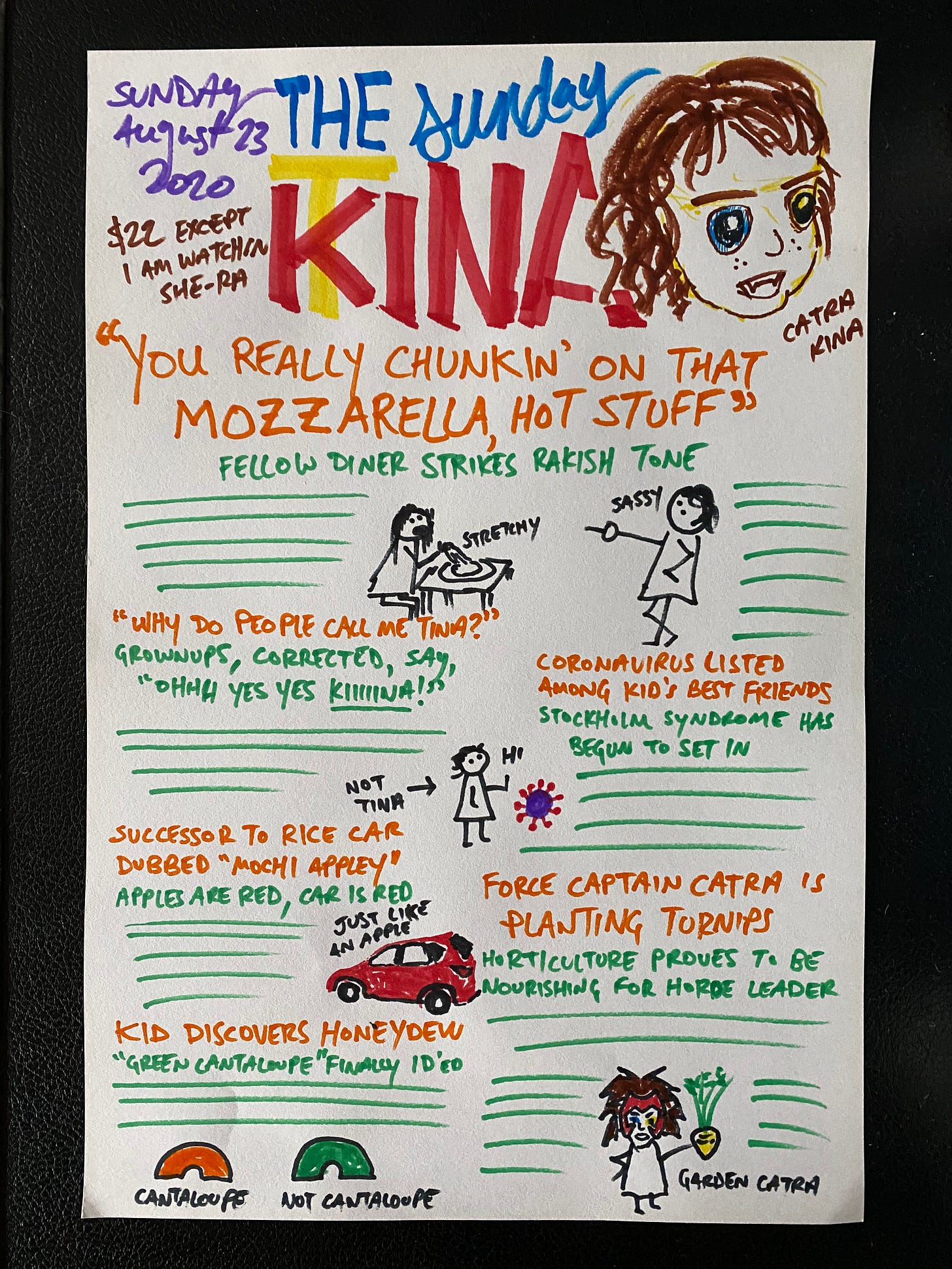 I made pasta last night—ziti in tomato sauce with pan-roasted eggplant and cubes of fresh mozzarella tossed in before serving. I had figured Kina would be "not an eggplant fiend" (as she would put it) and omitted that ingredient from her bowl, but given her track record for stripping entire pizzas of their cheese, I would have thought she'd appreciate the mozz. Not so! In the spirit of "this bacon is too chunky", she declared that the cheese was too unwieldy to eat, and no amount of re-portioning would reduce it to an appropriate size. Accordingly, the enormous mozzarella was offloaded to Mommy's plate. Free cheese being a reward in itself, we could hardly have imagined the bonus of today's headline zinger, which brings together "to chunk on" (Kina's longstanding favorite phrasal verb), her avid cheese obsession, and a sassy form of address whose origin in her vocabulary is unknown. I assume she's picking all this up from She-Ra, but she also called me "Toots" this evening after her bath, and I know that's from Daniel Tiger. I expect she'll be calling fully grown adults "honey pie" by the end of the week.
"Why Do People Call Me Tina?"
My favorite thing that Kina does lately is a kind of mimicry of adults in routine social situations, and of those situations, the one I love best is "face-saving appearance of realization", which is relevant to her question here—though she has deployed it several times in the last week while talking to her parents and other adults. When Laurea and I answered her last night by explaining that people sometimes don't hear her name clearly, we asked what she does when people do call her "Tina". She explained:
"I say, 'My name is not Tina, it's Kina," and they say, 'Ohhhhhhh, yes, yes, right, of course of course Kiiiiiiina, yes, yes, I know, of course. Ha! Ha!'
This is, in fact, exactly what grownups often do when confronted with their errors. She has us all pegged, people.
Force Captain Catra Is Planting Turnips
As I mentioned in an earlier newsletter, Kina has begun to identify as Catra from She-Ra lately (as opposed to She-Ra herself), which is fine, given Catra's late re-alliance with the Rebellion. Catra has opened her own ice cream shop in our house, and she has a thriving garden of turnips. This morning, as I was searching for images of Catra's face for our photo illustration on this story, Catra identified a picture of herself in full-on anime lovey-face, which she asked the art department to reproduce faithfully as Kina's portrait. Catra has one blue eye and one greenish eye, except when she's been captured by Horde Prime and has two bright green eyes. Catra loves this portrait of herself.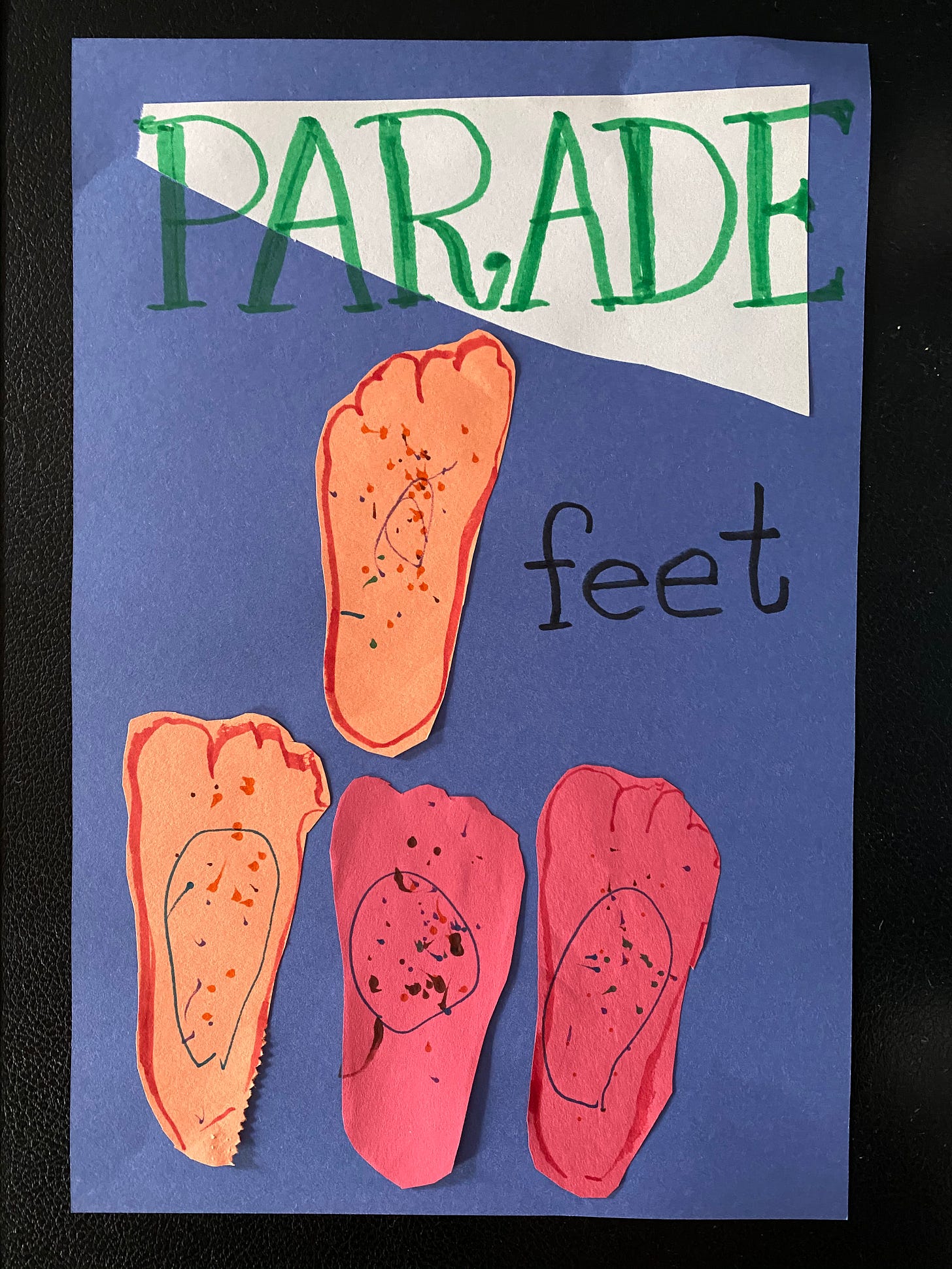 We had real trouble getting our young Parade art director working this morning, but she finally agreed to a theme. These are real outlines of her feet, and the drawings are scoops of ice cream. They can't all be Norman Rockwell, I suppose.
dad