Discover more from The Daily Kina
Home delivery, frequently on a daily basis, of the world's most specific single-child report.
Witchy Vibes Intensify
Kid asks about runes, watches "Winnie the Witch"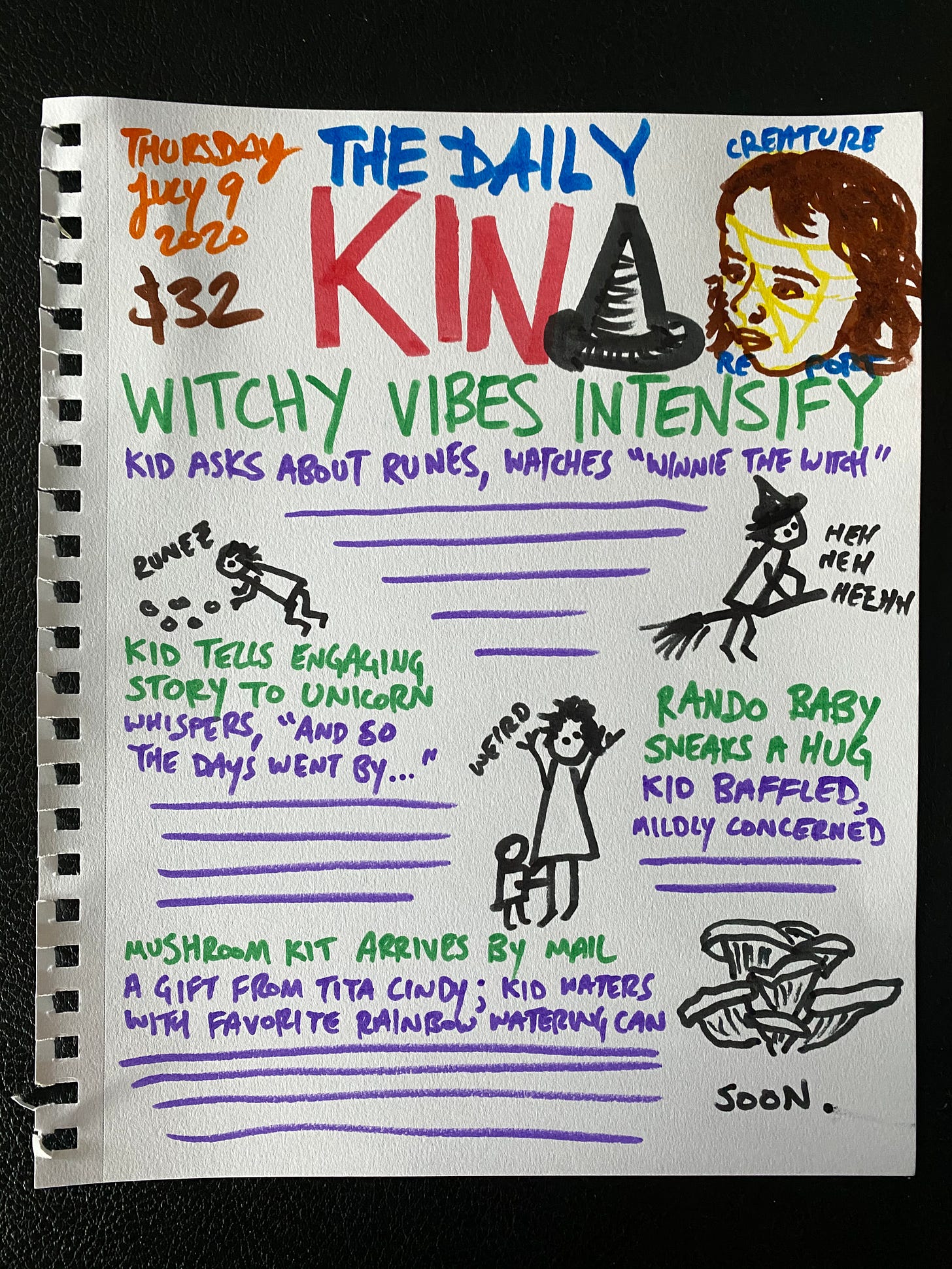 Regarding Witches
We are quickly running out of witch media. The kid spends every morning in witchy spaces: riding her broom, experimenting with runes, casting spells while cackling, admiring pointy hats, and watching witch shows for kids—which are not nearly as numerous as one might imagine, given the fixation kids have with witches. The Brits have the best options (of course), leading the pack with a fantastic animated version of Room on the Broom, acclaimed by my friends as probably the Best Witch Picture Book. The UK is also home to a book series called Winnie and Wilbur (Bookshop link to what appears to be only Spanish-language editions of W&W, which, sure!) whose short-lived series lasted only two episodes and can sometimes be found on YouTube. Aside from those two shows, one American entry that is so bad I won't even link to it, and a surprising number of Japanese animated movies (Kiki's Delivery Service, most notably), we've pretty much tapped the obvious candidates for witch things. With all this stuff on repeat for now—and Room on the Broom actually does hold up to repeat viewings—we either need the kid to find a new passion (ergo our recent unsealing of the Octonauts archive), or we need our community to send us more witchy media. All of which is to say: if you know of great witch books, witch TV, witch cinema—reply, reply.
Regarding Handsy Babies
Kina was legitimately alarmed.
Regarding Whispered Stories
I don't know where she picked up the phrase "and so the days went by…", but the unending barrage of days seems to be the entire plot of the stories she whispers to her friend the Unicorn, in a sort of fairytale ASMR, while gently combing her hair in the corner. When we inquire from across the room about the rest of the story, she screams "NO! STOP IT! THIS IS MY STORY!" and then immediately returns to the murmured passage of time. I find this alternately very charming and mildly irritating, as it reminds me that, yes, the days have so gone by, are so going by, will so for the foreseeable future go by.
We're hoping for the best on the mushrooms. Will keep you in the loop.
dad