Discover more from The Daily Kina
Home delivery, frequently on a daily basis, of the world's most specific single-child report.
"Where Does Coronavirus Come From?"
Child asks the obvious question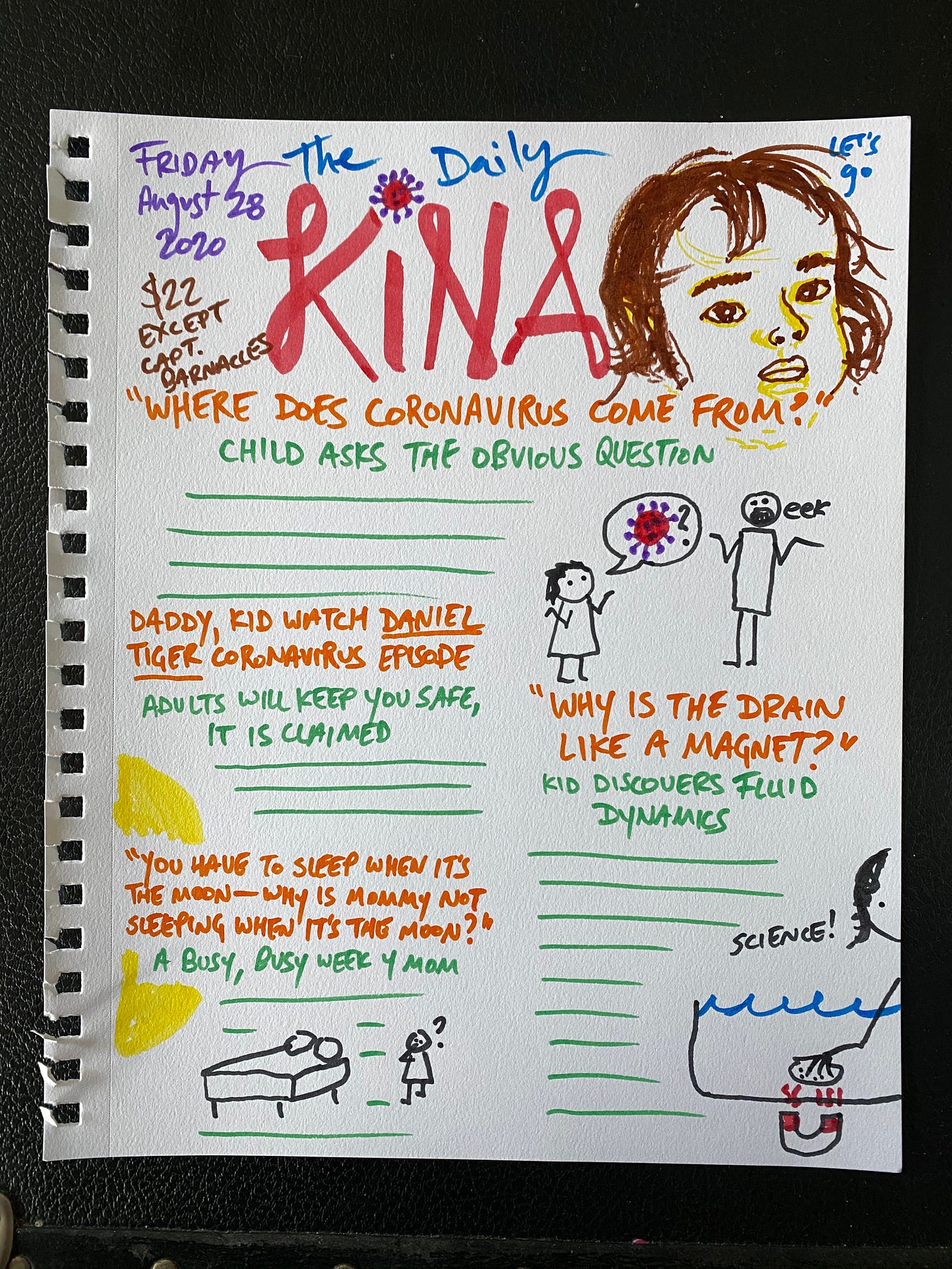 I knew this question was coming. I had months to prepare for it, and yet I was unprepared last night when Kina turned to me at the dinner table and asked "Where does Coronavirus come from?"
I obviously don't feel like I have to explain the entirety of this to her, or how viruses evolve and pass from species to species and person to person, but I do feel I owe her a thoughtful answer to things like this. As I thought about it, though, I found myself stumbling into the fallacies I'd forgotten from earlier this year. This virus doesn't come from a place, or from a thing. There is no virus factory (or, at least, no one virus factory) or virus mommy and daddy. There was no single turning point at which the virus that got us sick in March came to be. Viruses evolve until they work, falling all over themselves in ways we never see. Noise becomes language when the noise makes sense—a thing that Kina has discovered alongside us hundreds of times over the last four years. This virus makes sense to our bodies, and to American society in particular—a virus particularly potent among the inconsiderate. But what do I tell her?
After work yesterday, she asked to watch the new episode of Daniel Tiger, which addresses this unique moment and its difficulties for both children and their parents. Daniel wants to go to the local neighborhood carnival, but it's cancelled this year. Daniel misses his Grandpère and his friends, asking for each of them to visit the house—and being told each time that it isn't possible. Daniel sees his father working on clocks in the living room, and wants to play, but his father asks him to find something to do on his own. Stitching all this together is a medley of familiar Daniel Tiger songs that talk about sadness and family and anger, with one song called "Grownups Keep You Safe", which seems as much a reminder for parents to focus on staying calm and strong in the midst of chaos. One line in particular quotes Fred Rogers' reminder, in the wake of 9/11, to "look for the helpers"—advice for preschoolers that adults often forget is their call to action. We are supposed to keep them safe, and to build a society of professional helpers who will keep them safe.
So, when Kina asked me where Coronavirus came from, I told her that I didn't know, but that we know how to protect ourselves, that we can be safer if we wear our masks and wash our hands, and that her Mommy and Daddy and Grandma and Yeh-Yeh and Lala and Lolo Tim and Ken and Andrew are all doing that so that we don't get sick. I told her that if we are all careful, that we'll be able to see the people we love soon, and that we love her very much. She took it all in and then asked for a chia jelly, so I suppose it worked out. Your mileage may vary.
dad