Discover more from The Daily Kina
Home delivery, frequently on a daily basis, of the world's most specific single-child report.
"What Do You Do During the Day and Night?
During the day, with the sun, and during the night, with the moon?"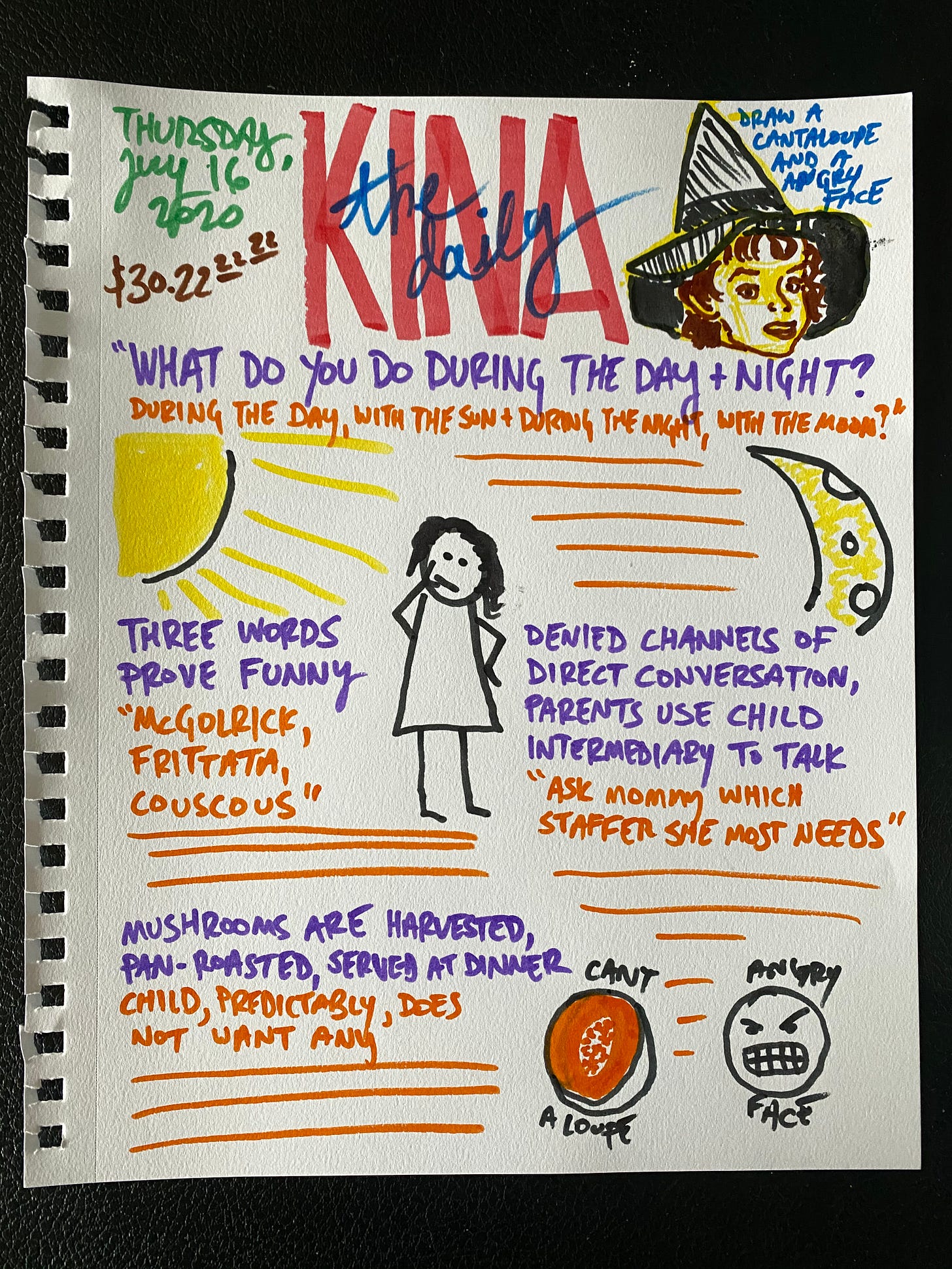 She really catches you by surprise sometimes. This particular poetic turn, delivered over a half-eaten drumstick last night, is the kind of phrase that makes me both thrilled to have a kid with a rudimentary understanding of astrophysics and sad for having lost an inner voice so elemental that it draws the moon closer. Kina has these developmental bursts that last a week or two—in which she develops tiny obsessions with things like the solar-lunar dyad—and the thing I most love about being a parent is that I can keep her company in her fascination, gazing at it together like a little geode. I miss thinking of the sun and moon as abstractions. It's fun, and you should try it.
Denied Channels of Direct Communication, Parents Use Child Intermediary to Talk
I think I've mentioned before that she doesn't much like it when Laurea and I talk to each other. Not long after we get started on a topic unrelated to her, she shuts it down with a bark. The way we get around this, as often as not, is by telling her what's going on instead. This often means that we end up in earnest conversations with our preschooler at the breakfast table about negotiating contracts, the impending arrival of new masks, work drama, and whether or not to buy a new refrigerator. As we do this, she looks back at us with hilarious gravitas, nodding subtly as she considers her response. This adaptation is probably something that a child psychologist would have thoughts on, but we are too lazy to convince her that it's valuable for Mommy and Daddy to talk, and really, if you saw her serious little face, you'd do the same.
The witch portrait today is actually from last Halloween, which feels like seven years ago (along with everything else). The price today is very specifically $30.222222, down from her original offer of $30.222222222220. She drives a hard bargain.
dad