Discover more from The Daily Kina
Home delivery, frequently on a daily basis, of the world's most specific single-child report.
We Are All Octonauts Now
Family members assigned roles as cartoon marine adventurers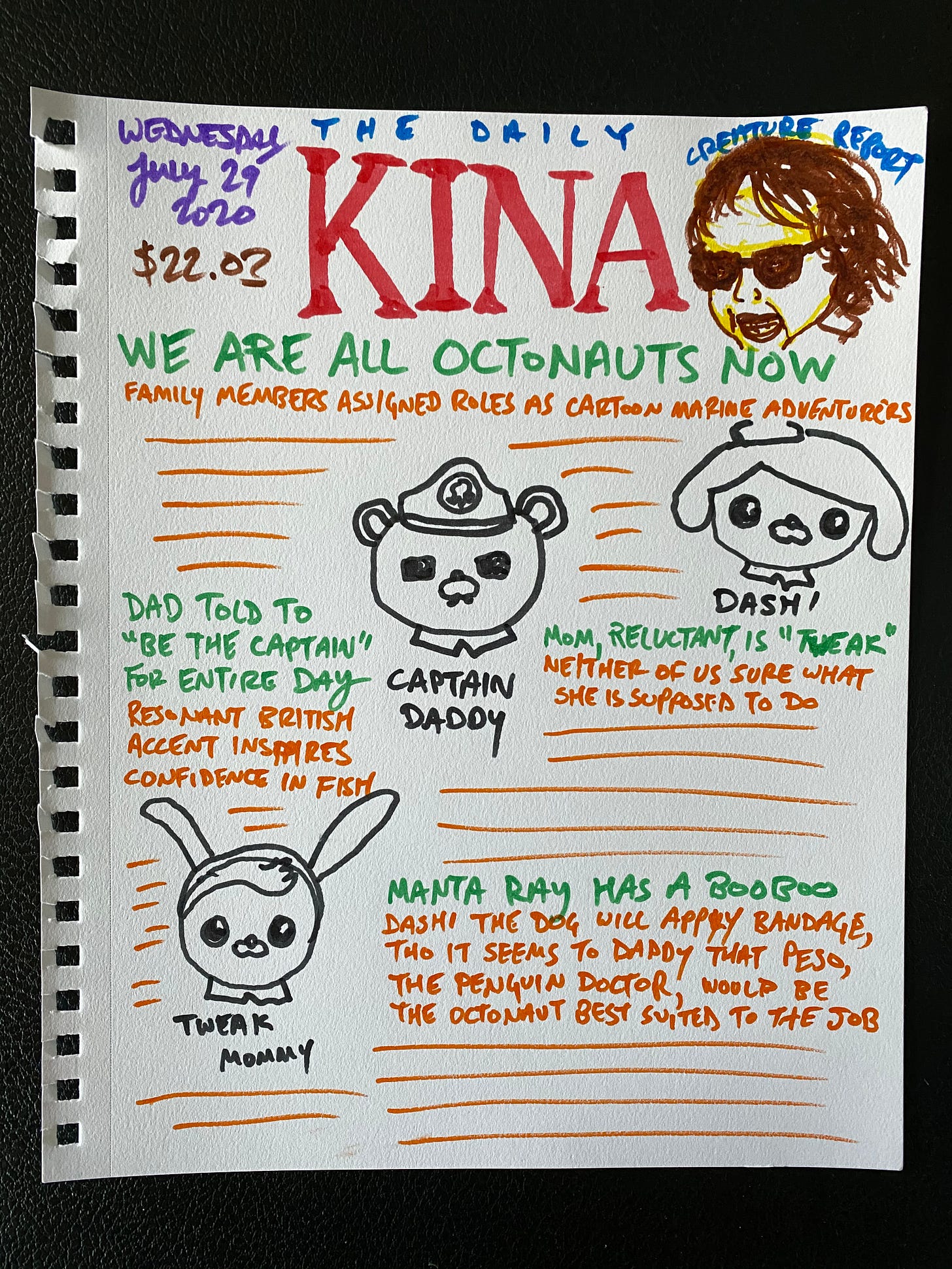 This is a pretty straightforward edition, really. Not a lot to explain here, with the exception of the existence of Octonauts, a British marine biology cartoon styled roughly after Thunderbirds, featuring a cast of animals who all have more or less the exact same head (which I only realized after drawing them this morning) and a variety of special skills in undersea rescue, all paired somewhat inexplicably with a crew of energetically loyal but preverbal vegetables who perform simple tasks like opening hatches. They all live and work together in a fortress beneath the waves and maintain a fleet of custom submersibles, to which they repair at the slightest sign of fish trouble; they then tootle off to resolve these emergencies by, variously: towing a creature to safer seas, carrying it back to Octonaut headquarters, separating it from other fish, and careful counseling. Invariably, the fish (all of whom are experiencing challenges plausibly specific to their species) are saved by a pirate cat, an engineer bunny, a doctor penguin, or (very occasionally) an erudite octopus. Leading this ragtag fauna is The Captain, a bear with good ideas and a booming voice. He is best known for leading the charge into an after-episode segment known as "Creature Report", whose theme song, with which I will close this issue of the newsletter, goes as follows:
Creature report, creature report
(anthropomorphic turnip) Creature report!
Whale sharks are definitely (check check check)
the biggest fish in all the sea (check check check)
They open up their mouth really wide (creature report creature report)
and eats whatever swims inside (creature report creature report)
Though their mouths are oh so huge (check check check)
whale sharks all like to eat teeny tiny food (check check check)
(Dance break!)
Go whale sharks! Go whale sharks!
Creature report! Creature report!
(anthropomorphic turnip) Creature report!
We're done with our mission!
Octonauts, at ease, until the next adventure!
dad