Discover more from The Daily Kina
Home delivery, frequently on a daily basis, of the world's most specific single-child report.
Water Balloon Declared Missing At Dawn
Daddy roused for search; it is on the radiator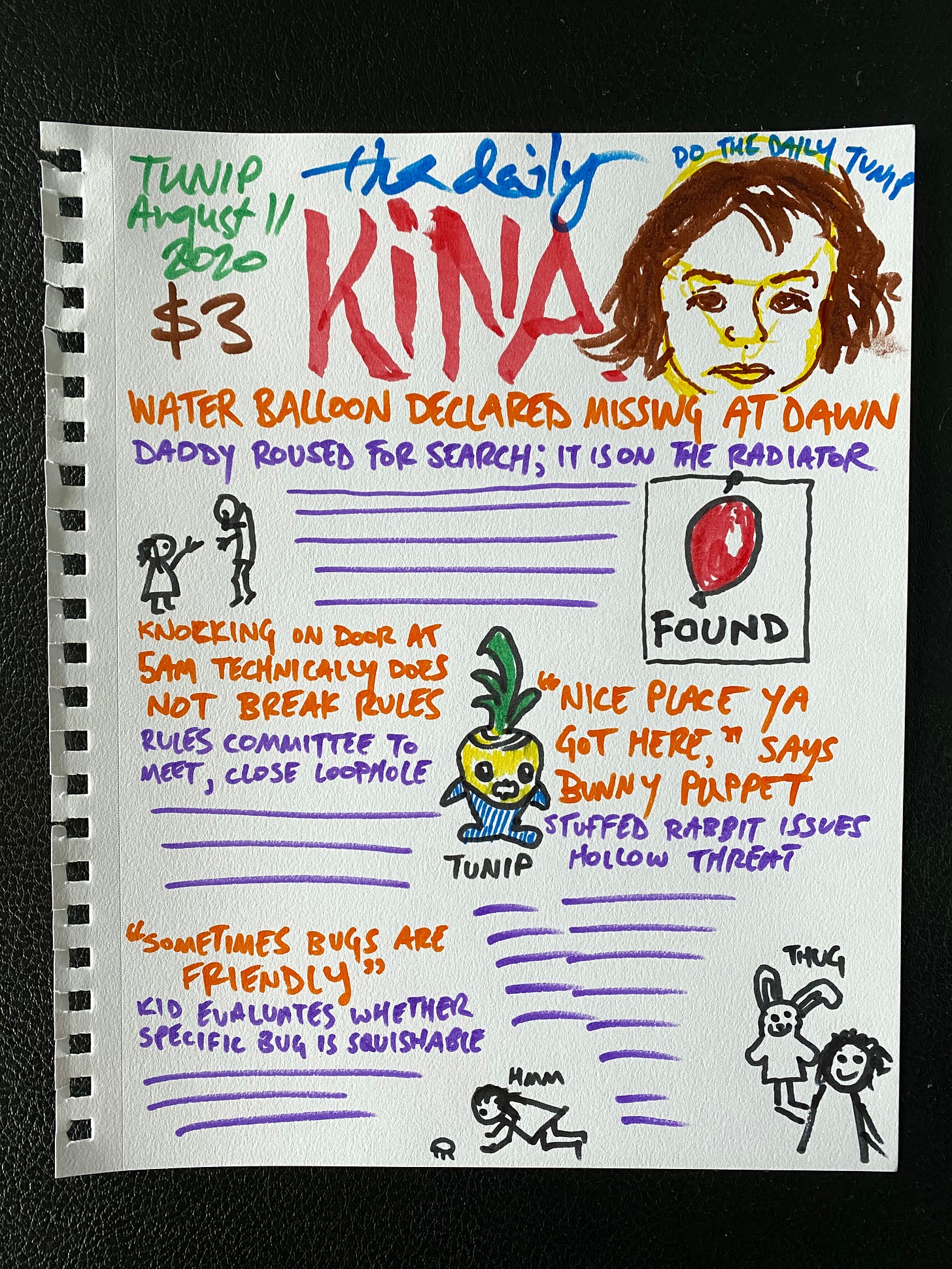 After almost an entire summer and one very long tirade at the playground, Kina finally convinced us to buy her one (1) pack of water balloons. Most typical kids would burn through a pack of twenty balloons in five minutes, but given Kina's predilection for nurturing water balloons as pets—as noted in last month's "Water Balloon Lasts All Day"—we've made our way through exactly two of them in four days. After the first exploded on her way back from the playground, I intentionally under-filled the second balloon, which she managed to keep around for long enough that I began to worry she was developing an attachment disorder, so I hid it in our room overnight. My concern proved warranted, because she felt strongly enough about its absence to knock repeatedly on our door at five in the morning (a glaring loophole in our morning rules, which I will lay out shortly), saying that the water balloon had "gotten lost". Naturally, I had forgotten that we'd hidden the balloon in the first place, so I went hunting in the living room for a few minutes before waking Laurea up. She pointed to the radiator, and we sent Kina back to play house with her precious inflatable child. I don't know why we try to out-maneuver our our daughter, or why we care so much about restricting her access to water balloons. (Of all the environmentally-wasteful things we could be paying attention to, they consume a disproportionate amount of our attention.) All I know is that she managed to lose the balloon herself sometime later in the day, which means there is an unexploded piece of water ordnance somewhere in our home. I have already produced a third water balloon for her. She has already popped it.
Knocking On Door At 5 AM Technically Does Not Break Rules
Here are the morning rules, in order of their creation:
If you have to go potty in the middle of the night, you can take yourself, because the gate is open. Afterwards, you can put yourself back to sleep. Do not wake Mommy and Daddy.

In the morning, you may not open Mommy and Daddy's door until the light is green (on her wake-up clock).

No scritchety-scratching at the door.
We did not technically forbid knocking. Rule three has now been amended accordingly.
"Nice Place Ya Got Here," Says Bunny Puppet
It is only after writing the amazing dek on this story—"Stuffed Rabbit Issues Hollow Threat"—that I realized it should have been the main headline. I'll tell you about the bunny at another time. He's a troublemaker.
---
In the last minutes before going to press, Kina insisted I make this issue The Daily Tunip, in honor of the intrepid "Vegimal" from The Octonauts. That is why there is so much Tunip furniture and so little Tunip journalism.
dad