Tough Ballerina Menaces Local Family
Pink tutu, black denim; she is real bad news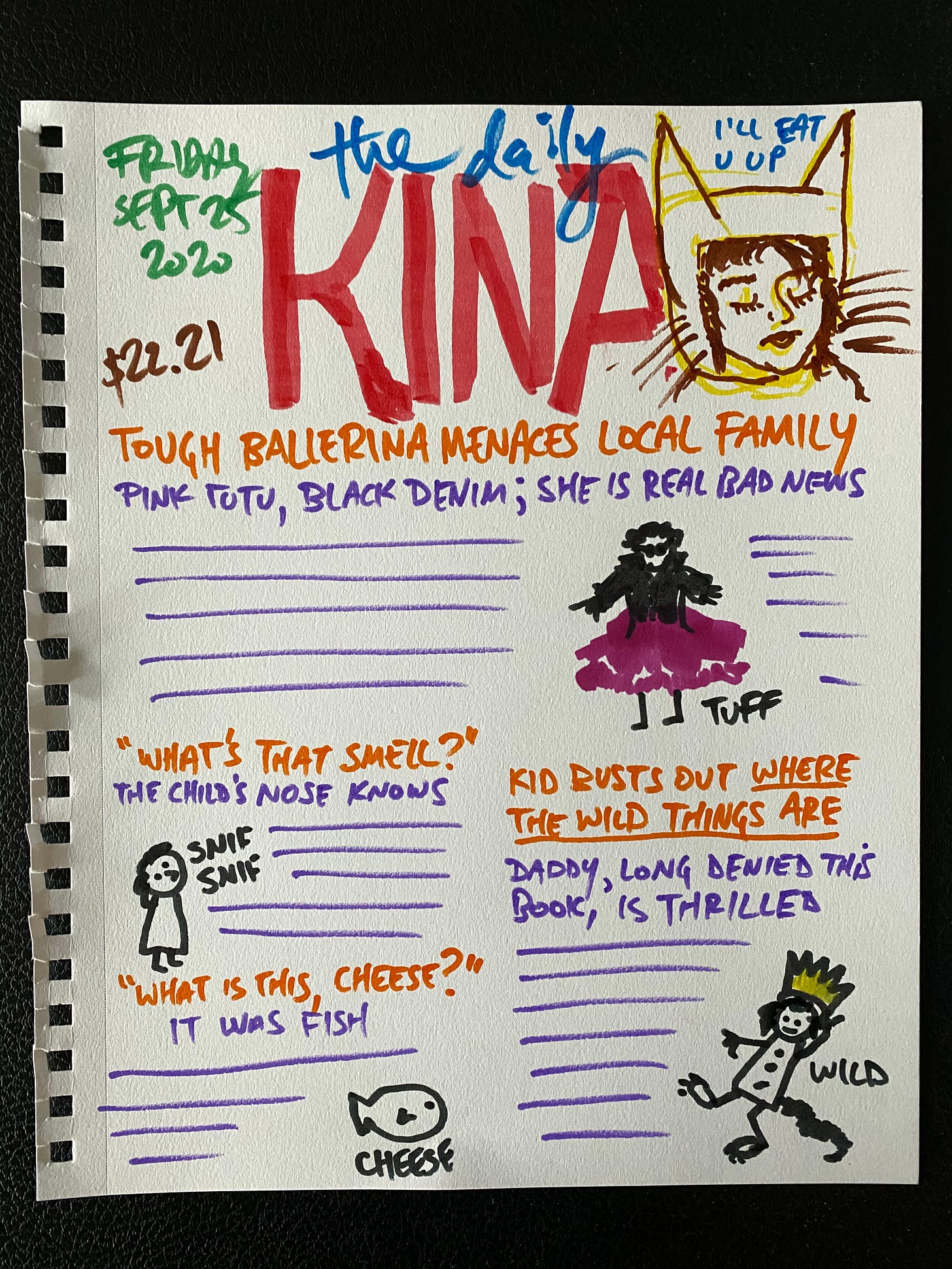 Today was "Fun Friday" at school, an official wacky-clothes day for which Kina immediately demanded her special tutu. Presented with the need to make it "wackier", she then added a denim jacket, which Laurea and I immediately noted was less "wacky" than "oh my god extremely cool". Kina took to the outfit quickly, locking me in my room like the inveterate nerd that I am and strutting around the apartment, a true ballet bully—Molly Ringwald in The Breakfast Club meets Judd Nelson in The Breakfast Club. Inspired by her rage tutu, she was extra-shouty all morning, at least until class, when she fell silent and obedient in the presence of actual educational authority. Other kids came dressed as astronauts and chefs, but only Kina was prepared for the activity of the day—dancing. When asked to pick her favorite dance moves and show the class, she walked away from the camera and twirled around slowly for three straight minutes, holding the edge of her tutu in one hand and her rainbow cup in the other. It was a touching performance, if slightly dizzying. Immediately after class, she stripped off the outfit and asked for a t-shirt. She truly is my child.
Kid Busts Out
Where The Wild Things Are
Every night, when I ask Kina to pick out a book before bed, I pray that she will bring back Where The Wild Things Are, and every night she denies me. This is unequivocally my favorite children's book, by my favorite children's book author—a classic for rebellious kids who are doomed eventually to be responsible for other rebellious kids (in one form or another). I have a signed copy of this book on my shelf that I had for years expected to read to some kid of mine, and which I ultimately realized was too valuable to read even to myself, and so the copy of the book I have on Kina's shelf is a burner copy that has gotten barely any reading time, because she refuses to bring it to me out of spite. So last night, she knew she was giving me a special treat, raising her eyebrows expectantly when she told me we'd be reading Wild Things. I really went to town on it, too—roaring the terrible roars, and gnashing the terrible teeth, and rolling the terrible eyes, and showing the terrible claws (all in concert with a very solemn Kina). By the end of the book, we were both very sleepy, and she drifted right off, but I wished—as I did when I was a kid—that there might be a little supper there in the room right next to her, still hot.
dad