Discover more from The Daily Kina
Home delivery, frequently on a daily basis, of the world's most specific single-child report.
"There Are So Many Things I Do When It's Night"
Activities run gamut from sleep to play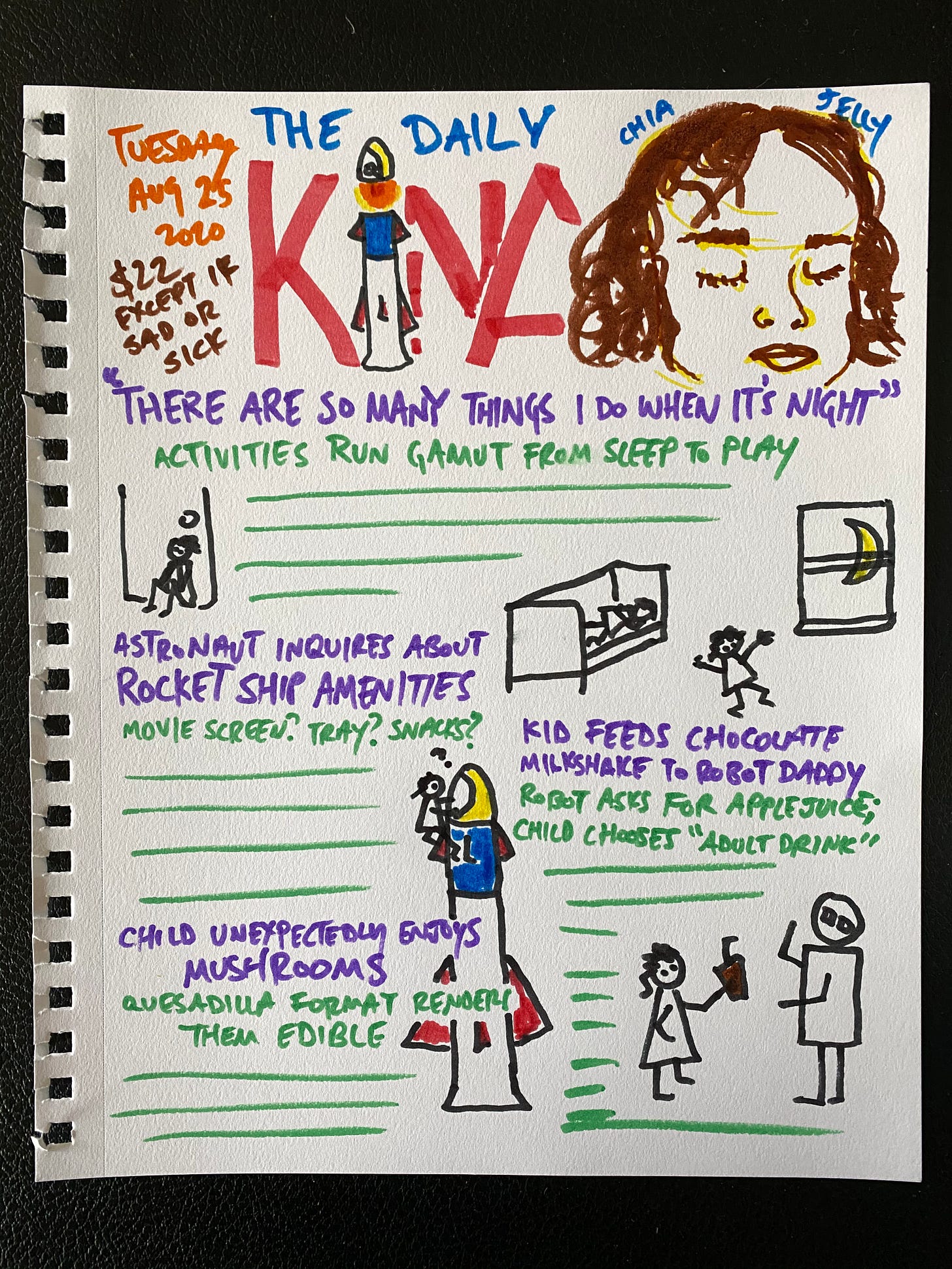 When Kina says "night" here, she really means "before dawn", as she flits about the apartment making mischief and "doing activity books". This has, of course, been a recurring storyline here at The Daily Kina, and requires no further detail, but I will note that she has lived her solitary morning life in relatively quiet ways lately (no skritchety-scratching, no knocking, fewer cacophonous emptyings of Lego boxes).
And yet: a twist! Laurea has worked late for the last few nights, so I've put Kina to bed without Mommy around. The evenings have been pretty manageable on the whole, but the real surprise comes at dawn, when she calls out to us at the agreed-upon hour of 6:24 from her bed. It seems that Kina's morning activity run is only relevant when both of us are around at bedtime, and that by my putting her to bed alone, we stand to gain half an hour of uninterrupted sleep. This is, you understand, a huge revelation.
Can we hope for a 6:30 wakeup? What impact can the adults of this household make on the world with so much extra slumber time? Can I just have Laurea stand outside the building every night until 7:45 PM? Reader, stay tuned.
Child Unexpectedly Enjoys Mushrooms
I was surprised, when ordering dinner for the two of us last night, that Kina chose a mushroom quesadilla for her meal. Careful readers will recall from the mushroom kit storyline that Kina does not like mushrooms, picking them meticulously from every slice of pizza and stir fry. I explained to her three times that a mushroom quesadilla has mushrooms inside—real mushrooms—and she nodded patiently at me. I asked if she would eat the mushrooms, and she assured me that she would. When the quesadilla arrived, I put it in front of her, and she opened it up (as she does all quesadillas) to promptly consume everything inside it—mushrooms and all. I have no idea what it is about the quesadilla that makes mushrooms acceptable (I know, for example, that if I were to put a slice of mushroom pizza in front of her, she'd have us disassemble it), but I felt just a little bit better watching her eat a quesadilla from the inside out like a little alien, knowing that her meal consisted of at least one ingredient that isn't cheese. Tiny victories.
---
I hope you're all not sad or sick, and that you're managing to afford this publication at its steep daily rate of $22—except if you are in fact sad or sick, in which case Kina gives you a pass today.
dad