She-Ra Finale Deeply Moving
Dad, former skeptic, joins kid as huge fan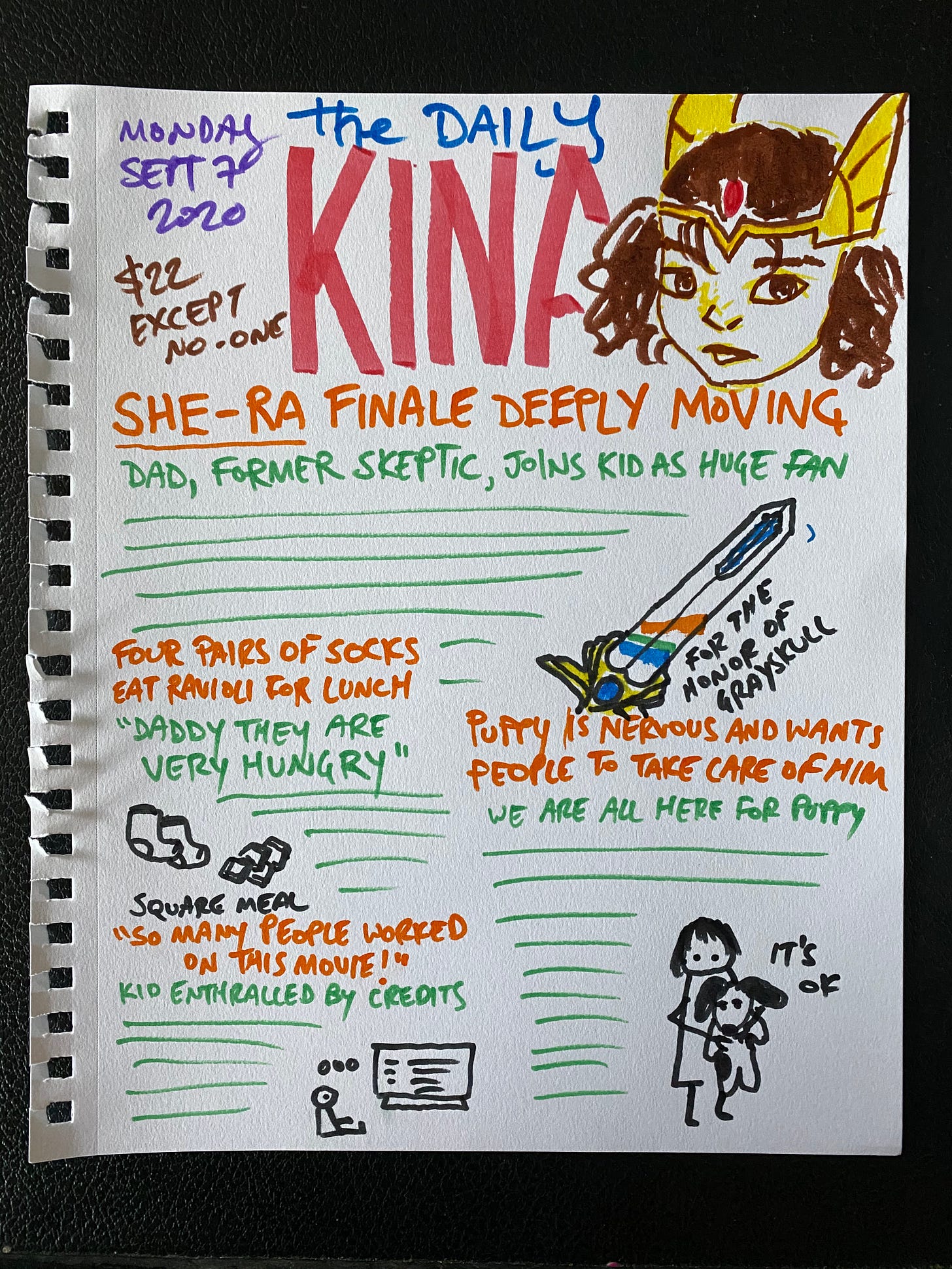 I remember when Laurea first told me she had let Kina watch an episode of She-Ra: Princesses of Power, having discovered it on Netflix one morning at 5:45 AM. If I recall correctly, I think I said, "No way." We'd been holding the line on non-educational pandemic children's television for over three months, and I wasn't about to let it slide for a remake of some '80s shlock, even if Laurea liked it as a kid. But, reader, I am here to tell you—one and a half months and five seasons later—that the new She-Ra is freaking amazing. When I draw this paper every morning, Kina and I agree on a single episode of television for her to watch, and for weeks now, it has been She-Ra. In the last week, as we've approached the series finale, I have found it legitimately difficult to actually draw the paper while she watches it. "Wait—what's happened to Catra?" I might ask, or, "When did Hordak become good?" I celebrated Entrapta and Catra's respective returns to She-Ra's side as though they were candidates in a political campaign.
It's rare to find a kids' cartoon with real character arcs and complex psychologies, let alone one that agrees to find its conclusion after five seasons, and that doesn't even begin to address how the show centers and highlights multiple genders, sexualities, and races in its storytelling. She-Ra had an all-female writers' room and barely any men in the regular cast; if it were anything other than an action cartoon on Netflix, it'd be a cult favorite—and maybe it is. Since I first posted about it on July 19th, several friends have divulged their obsession with She-Ra, and it's clear we're relatively late to the game in this household. Kina and I watched the two-part series finale this weekend, unencumbered by the newspaper. I won't spoil the ending, but there's a big kiss and somebody saves the universe. I wish I could follow them for the rest of their lives; their world turns out pretty good—and certainly much more verdant than ours, at the moment.
Puppy Is Nervous and Wants People To Take Care of Him
I mean, doesn't this basically describe us all? We are all Puppy. Find somebody you can take care of—and who will, in turn, take care of you. We call Kina.
dad