Discover more from The Daily Kina
Home delivery, frequently on a daily basis, of the world's most specific single-child report.
"Settle Down, Me!"
Kid energy overwhelming even for kid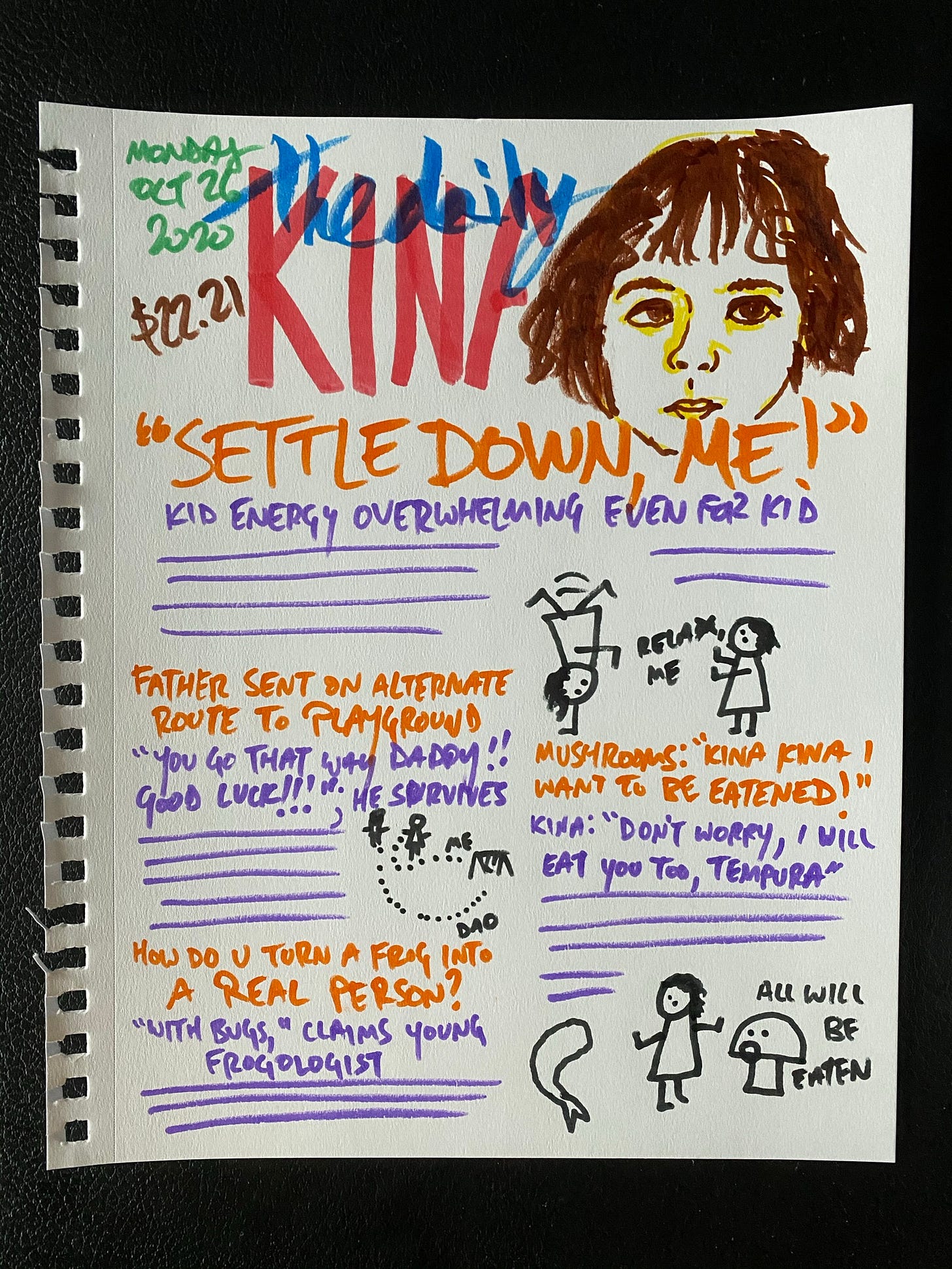 Here is everything we did before noon yesterday: Woke up at 6:45, watched some She-Ra, got dressed, went to buy bread and fancy tarts, ate said fancy tarts at home, drew the newspaper, put on our cozy jackets, drove to the coffee shop, threw a tantrum a block away from the coffee shop because the bench where we'd drink our coffee and juice was too far away, meowed, walked into McCarren Park, chased Daddy around the track, got chased by Daddy around the track, crossed the street to the playground, told Daddy to walk on the outside sidewalk while we walked on the inside sidewalk, wished him luck, rode the big-girl swings, rode the bucket swings, rode the other big-girl swings, visited the concrete water turtles, looked around on the ground for uninflated water balloons, saw a kid we sort of knew, didn't talk to him, spotted two actually inflated pink balloons on the other side of a fence, figured out how to get around the fence to seize one of the two balloons, saw another kid we knew, danced around with that kid, went to get the other balloon for our friend, shared it with her, threw a tantrum because she didn't share her doll with us, meowed, saw our Uncle Ken, danced around, showed him our balloon, played with him until the first kid left the turtles, said goodbye to that kid, screamed "Do you remember the time I saw you at the photo shoot?!?!" as he walked away, decided to go to lunch, walked back out of the playground, chased Ken around the track, watched a guy jumping rope, saw a dog, walked back to Mochi Appley in front of the coffee shop, drove to Queens, sat in a high chair for the first time in a long while, ate Thai food outside where it was chilly chilly chilly, made Daddy chase us around the fountain where some water splashed in his eye and made him worry he'd get pinkeye, said bye-bye to the ladies, announced our intention to take a nap in Mochi Appley, and followed through on that promise while Daddy drove home and we settled down for a long, long time.
dad