Scientists Explore Kid's Sense of Time
Yesterday, one month ago, a long long time, "when I was a baby", 1000 years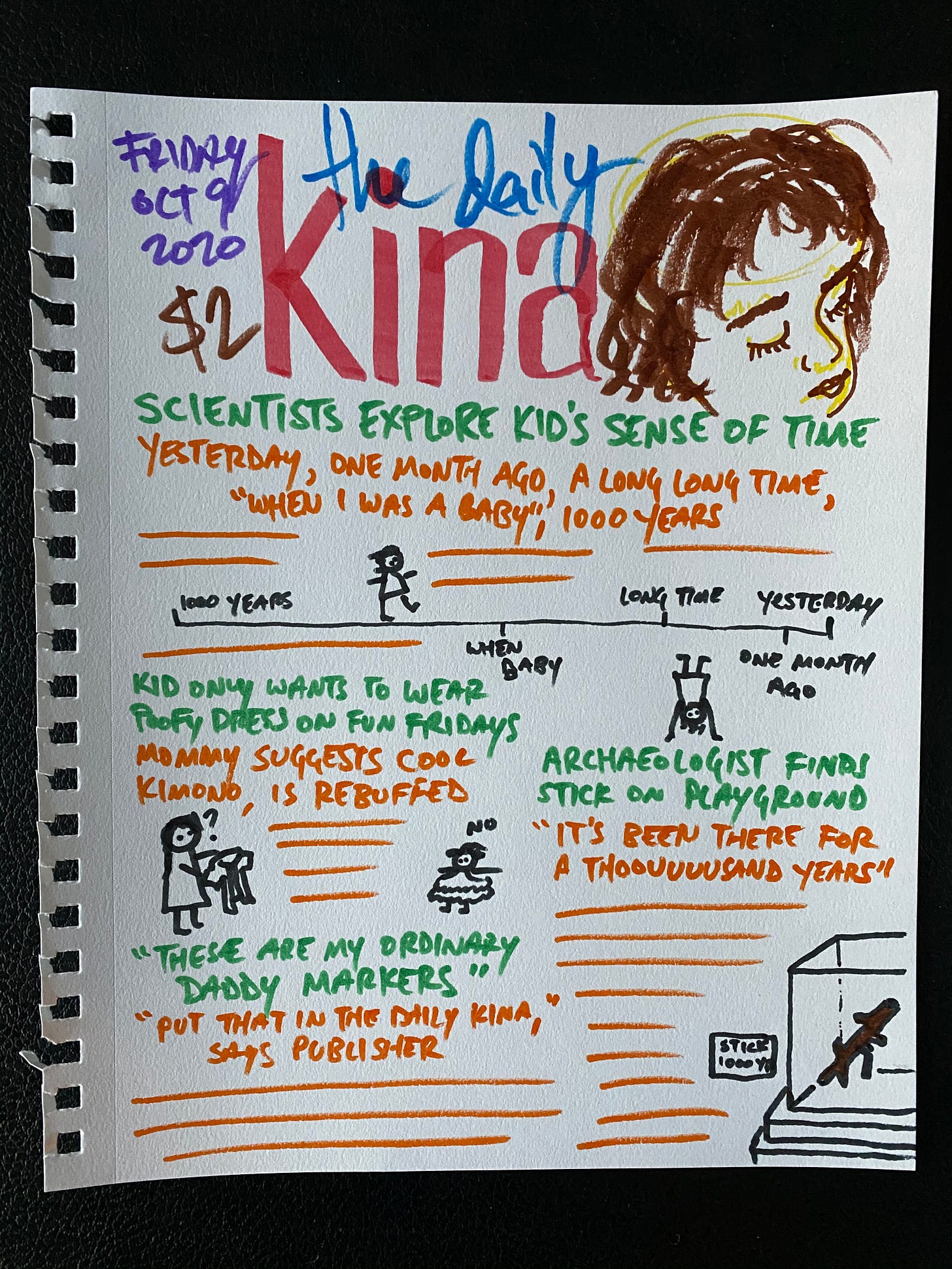 It must be wild to be three years old, as you just begin to realize that there are different kinds of "the past". Kina's relationship to things-that-once-happened has evolved dramatically as she's grown, but her journey actually started with "in a long long time"—a period that referred, in its infancy, even to things that had happened earlier that day (but was most often used to refer to books she had forgotten existed). "When I was a baby" then entered the scene as an epoch that predated "long long time", once she began to fully absorb that the Baby Kina we'd watch in videos was in fact her, as a baby. Kina then learned to distinguish between the recent past ("long long time") and the distant past ("when I was a baby"), which was at some times confusing, until the dawn of "yesterday"—a term whose precision has improved dramatically in recent weeks, but for a long time meant "not an actual long time ago, but possibly up to a week ago". More recently, we saw the emergence of "one month ago", which adds precision to the gap between "yesterday" and "long long time"' but which still often means two weeks ago.
But today's headline is the headline because of her statement at breakfast this morning that her stick was a thousand years old, which led her to a series of pronouncements that many things were a thousand years old. She has, of course, no concept of what happens in a thousand years, but it seems to be a placeholder for the totality of the period before "when I was a baby" (with the exception of one additional period called "when I was in Mommy's tummy" that she understands immediately predates "when I was a baby"). I'm pretty sure she learned about "a thousand years" from—and this is not in any way surprising to long-time readers—She-Ra and the Princesses of Power, whose two eponymous mortal incarnations, Mara and Adora, were separated by a millennium. Madame Razz, She-Ra's immortal garden witch (and one of Kina's favorite characters) knew them both, and often mistakes them for each other as she floats clairvoyantly through her own memories. Like Kina, Madame Razz plays fast and loose with time, compressing a thousand years into a day. Maybe we're all doing that these days; is March a long long time ago or one month ago? It's not an exaggeration to say yesterday and when she was a baby feel like near neighbors.
In any case, she got this stick on the playground. It might be from when she was a baby, but Kina says it's a thousand years old. Same diff.
dad