Discover more from The Daily Kina
Home delivery, frequently on a daily basis, of the world's most specific single-child report.
Researchers Study Daddy-Hitting Activity
Father, reliable target of whacks, eager to see report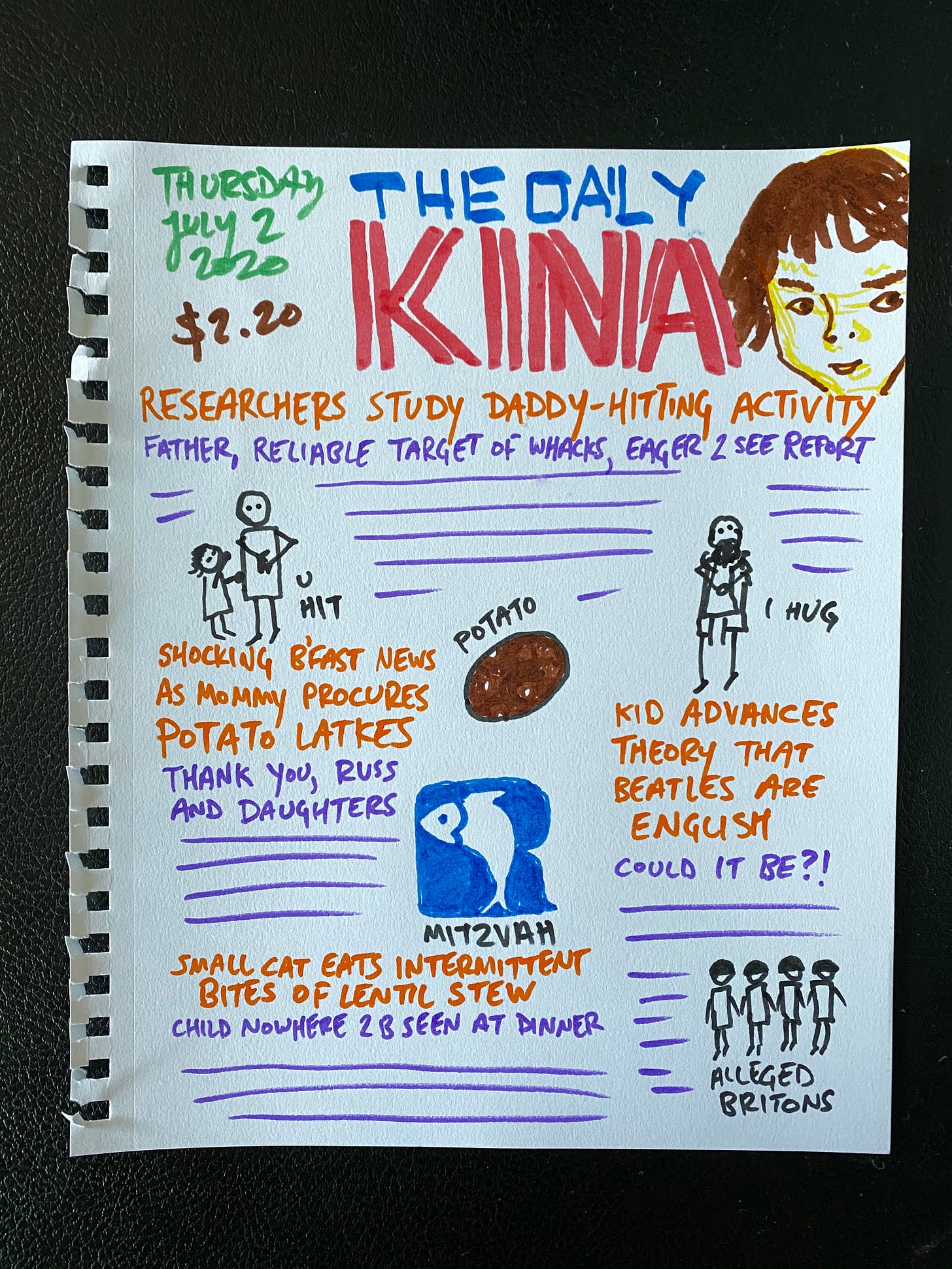 It occurred to me recently that Kina's been hitting me, and only me, whenever she gets angry lately. This, despite my best efforts to be a loving father and effective channel of strong Mister Rogers energy. I'm not really bothered by this, but I have been curious why it's happening, and I chalk it up to this: When we're angry at the world, it serves us best to find the thing it feels safest for us to be mad at. You can't yell at SARS-CoV-2, but you can yell at the people who work alongside you or care for you (though you shouldn't, obviously). I try as much as I can to check myself when I'm angry, to see if I'm accidentally redirecting my rage about [waves hands frantically everywhere] towards Laurea or Kina or the person working the desk at the car rental agency, and so I think I understand when Kina starts slapping my chest when her Lego tower falls down (which, careful readers will remember from yesterday, was quite tall and unstable), because she knows I get her, and that I've got her.
Notes on the two bits of food news: the bottom left headline refers to another weird thing that Kina's gotten up to in the last few months, which is walking away from the dinner table halfway through her meal, turning into a cat, and demanding we muse out loud about where the cat is and whether or not she would like a spoonful of beans. It's charming and slightly exhausting. Also, Laurea realized she could buy potato latkes for delivery from Russ & Daughters, for which she deserves (and repeatedly demanded) praise—you should all do likewise (buy latkes and praise Laurea).
There are now twenty-eight of you reading this. If you like it, find someone you love and punch them right in the gut. Ha ha just kidding, I mean share the newsletter with them.
dad