Pretend Ice Cream Is Not For Real Eating
Just make smacking noises + don't eat too fast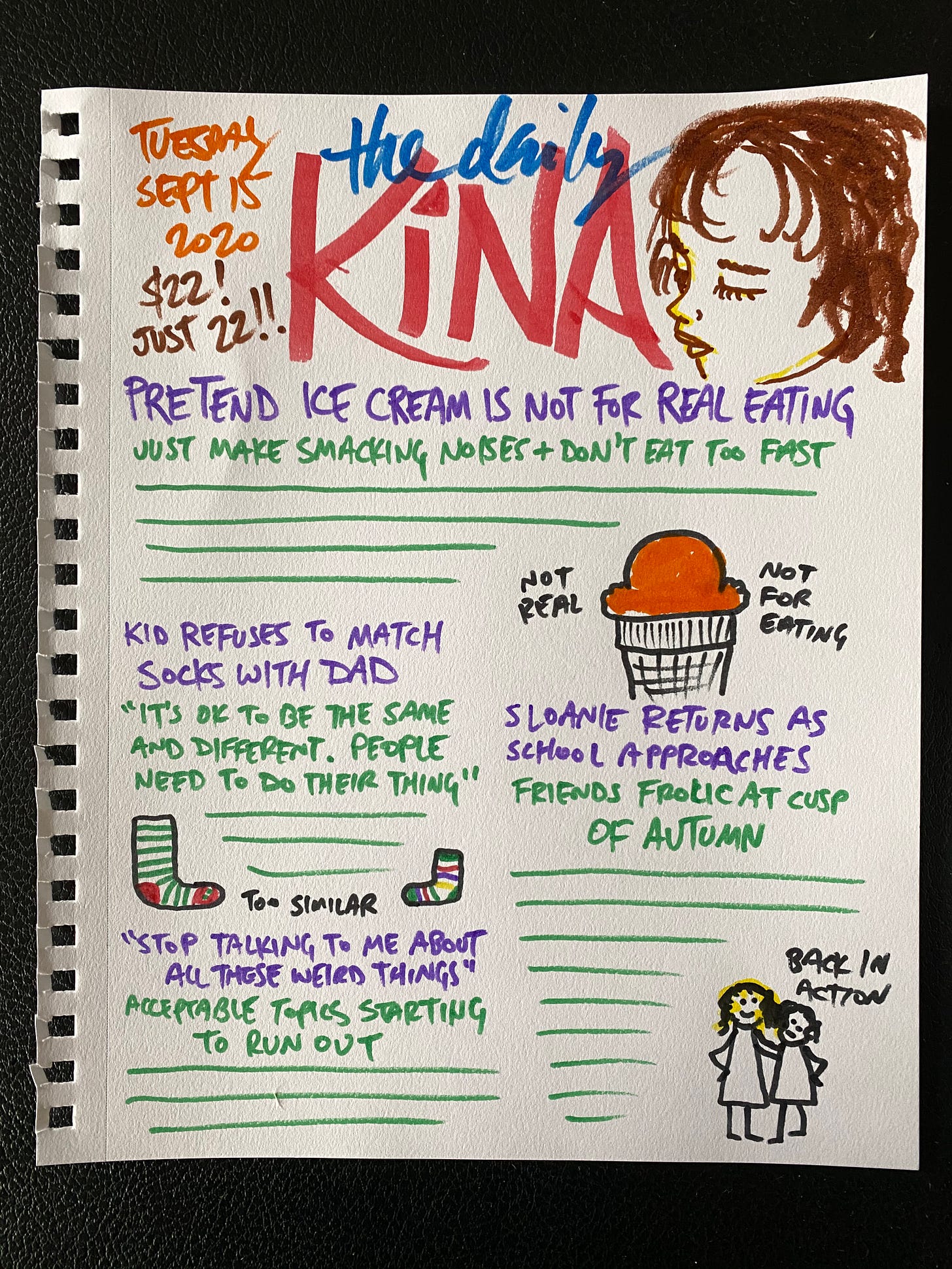 One of Kina's most beloved categories of plaything is Pretend Ice Cream. She has ice cream sticker books and cardboard ice cream puzzles, but her most prized possession is a little ice cream counter she got from her Lala last Christmas, which sits beside her bed on our most uncomfortable chair, manned twenty-four hours a day by Chuckie Avocado (a stuffed avocado who wears a paper hat from our local soda fountain). The ice cream counter has eight flavors of ice cream, two cones, a cup, and six different toppings. The toppings are my favorite part, because they're made of a satisfyingly chewy kind of rubber—which I say because I like to chew it, and that drives Kina bonkers.
On most mornings, she will ask what flavor ice cream we'd all like (hers is always strawberry, chocolate, and vanilla), whether we'd like it on a cup or a cone (she always wants a "cup and spoon"), and if we'd like to spring for toppings (for her, "chocolate drip-drops", which I think we can all agree is a much better term than "hot fudge"). Once served, I sometimes just swoop in and take a big chew out of my sprinkles or whatever she's allowed me to order that day, which elicits a proper scolding that "this is pretend ice cream, not for real ice cream." Chastened, I proceed to pretend-eat the pretend ice cream, but very quickly. This really sends her over the edge, because she wants everybody to savor their pretend ice cream, whereas it's my position basically that it doesn't matter how fast you pretend-eat the ice cream, because you can never actually finish it. Impervious to my reasoning, she then exhales deeply and takes my ice cream away. That is how the pretend ice cream game works.
She does, of course, like real ice cream, which I also eat very quickly—but she's usually too distracted to notice.
Kid Refuses to Match Socks With Dad
I don't remember how long ago this was, but we once discovered that somebody made The Very Hungry Caterpillar socks for toddlers—which was too cute a discovery on its own, until we discovered that they also made them for adults. As is likely true for most toddlers, The Very Hungry Caterpillar was one of Kina's favorite books, and in her very early toddling days, she would blow through those socks straightaway whenever we did laundry. And so—in the interest of being the cutest dad to the cutest toddler—would I. This family doesn't go in much for matching (Laurea will often change her clothes if she's discovered that we are wearing similar colors), but I took such great pleasure in wearing the caterpillar socks together that I recently bought new pairs for Kina and myself to replace the originals, which had grown threadbare. But today, when I saw that she'd put on her caterpillar socks and went to pull on my own pair, she went out of the room to change her socks. When she came back wearing her rainbow socks, she put her hand on my leg and told me, "It's okay to be the same and different, Daddy. People need to do their thing." I was simultaneously charmed, heartbroken, and awestruck by this. How could I resist such a well-stated truth? My child is growing up, and as she has clearly inherited the anti-matching gene from Laurea, I will have to learn to wear my caterpillar socks on random days. Such is life.
dad