Discover more from The Daily Kina
Home delivery, frequently on a daily basis, of the world's most specific single-child report.
Prehistoric Child Is Territorial
"This is my cave. Nobody can get in here exceptly for me and anyone"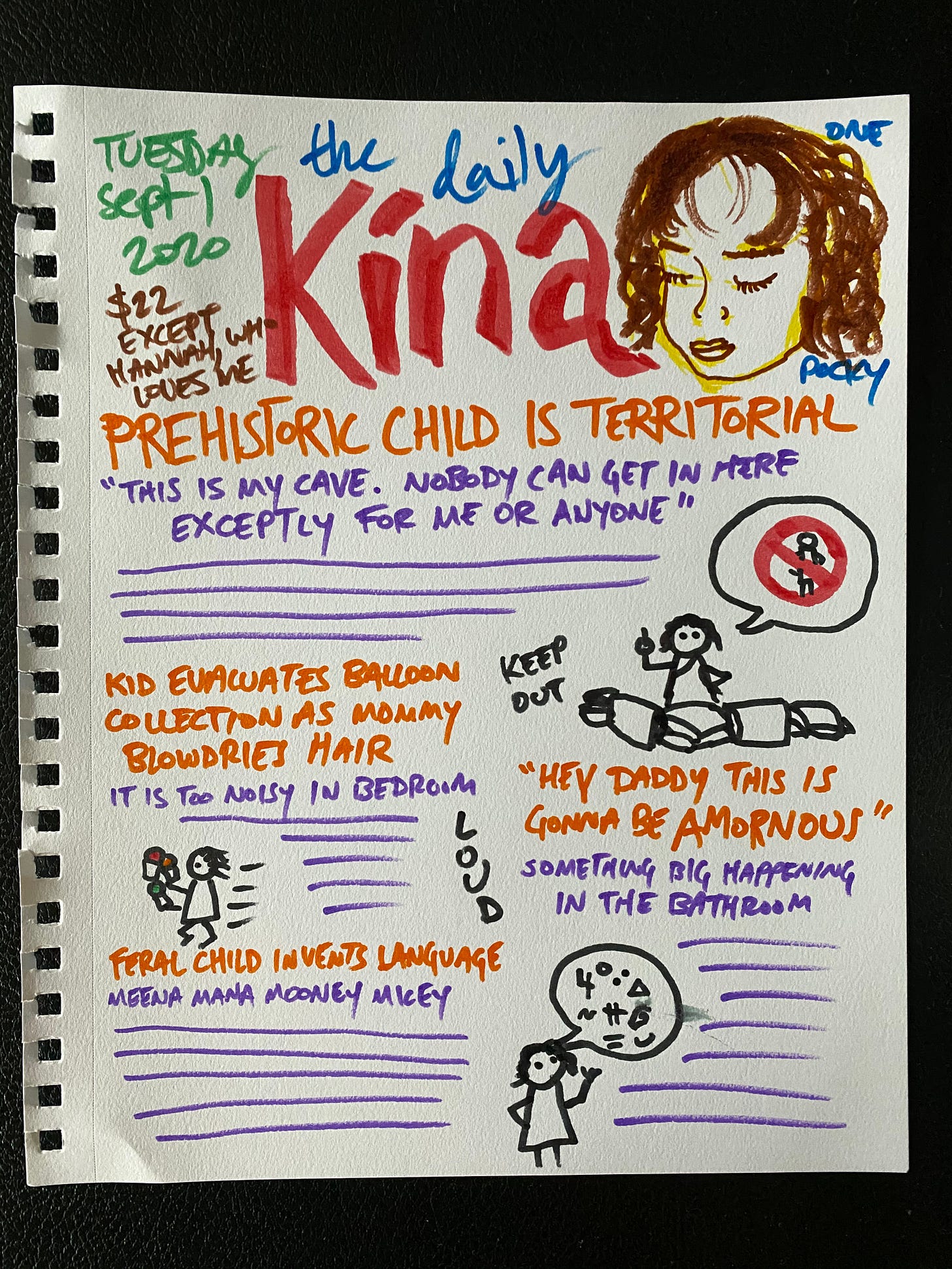 I am not going to complain about the size of our Brooklyn apartment. It is far bigger than it could be, and I have friends who have raised more children in less space than this. But, still. It can be challenging to share your apartment with a roommate who not only has no boundaries of her own, but creates arbitrary boundaries for you. We spend most of our time between two and twenty feet from each other—in one among our austere selection of rooms—and yet the pandemic has gone in some ways better than expected, at least in the area of family space discord. We're managing well in the house we have, even as our friends decamp to homes near the beach with two—nay, three—bathrooms. But even as we envy those friends, we are grateful to weather this together in the space we've loved for so long, to dwell in innocence, not having eaten of the Backyard Tree of Knowledge. I sense, among those dear departed friends, a genie-out-of-the-bottle situation, the cat out of the bag; once unfettered by multiple-dwelling apartment walls, I can imagine it is difficult to get stuffed back into them.
But even the smallest among us needs an extra room sometimes, which leads our protagonist to build corner pillow caves on our bed every morning and demand we draw close, so as to be denied admittance. The stuffies may enter, and even Mommy on a good day, but Daddy stays outside. The "exceptly" here is notable, not just because it would seem to include all of humanity, but because it explicitly carves out a space for her in the cave. Which is to say, Kina's imaginary clubs are so exclusive that even she requires an invitation.
Kid Evacuates Balloon Collection As Mommy Blowdries Hair
The only comment I have on this headline is that I woke this morning to discover five new balloons—three filled with water, two with air—ensconced in cups throughout the house. Her project continues.
dad