Parents Resort to Singing Conversation
Test declared successful as anti-talking lobby appears not to notice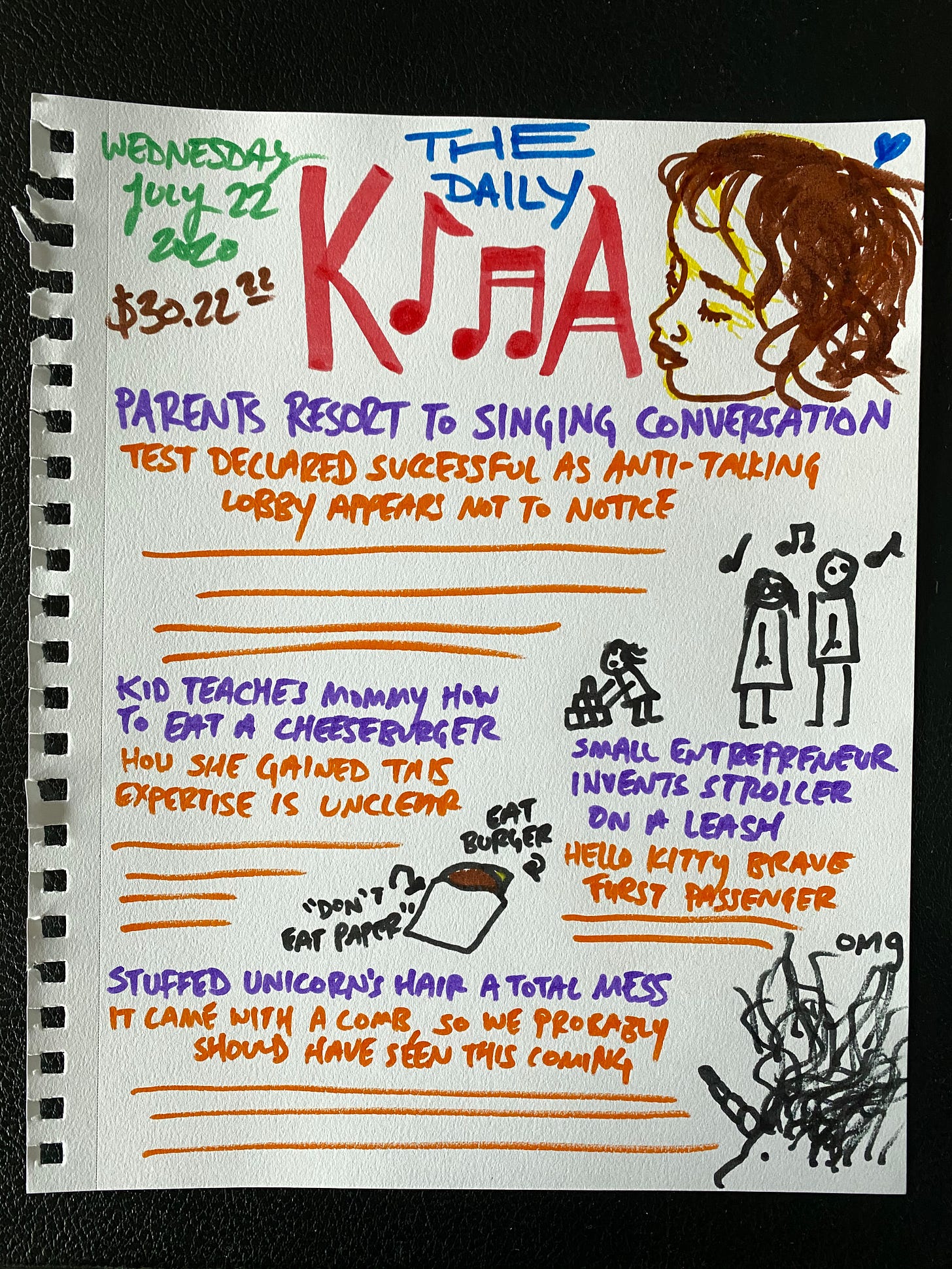 Kina has figured out the trick where Laurea and I talk to each other by piping our conversation through her, and she is greatly displeased. So, with that tactic out of the picture, we've come up with the frankly brilliant idea to merge our child's fascination with musical theater and our need to have the occasional adult conversation. The result looks a bit like Laurea and I performing chipper little Broadway numbers about interstate quarantine policy while Kina leaps and twirls around, emoting wildly. We did a long bit last night about a challenging work situation, in which we were able to rhyme "Daddy" and "gladly". Kina boogied emphatically, unaware all along that her parents were communicating directly with each other. One of the rare win-win situations in this household.
Kid Teaches Mommy How to Eat a Cheeseburger
So sayeth the cheeseburger expert: "See, Mommy, you have to peel the paper, then you put your fingers on the bun and you can eat it!" For somebody who has never in her life eaten a cheeseburger, she's got a lot of bright ideas about how you do it.
Stuffed Unicorn's Hair a Total Mess
My parents got the kid a stuffed rainbow unicorn (which, careful readers will recall, is the optimal Kina animal). When we opened the box it came in, we were struck speechless by its gorgeous flowing mane of multicolor nylon monofilament and the comb tethered directly to its back. "Why would you stitch a comb to the back of a stuffed animal," we asked, having never considered how the physical properties of human hair might differ from those of nylon monofilament. As it turns out, what we have is a mane-brushing routine masquerading as a unicorn. Since Kina sleeps with the unicorn every night, the tangles get worse and worse, and combing them out yields little nests of nylon. I never thought hair and mane care would occupy so much of my life in this pandemic.
---
If I may—I'm actually pretty proud of both the logo and the portrait today. Been a long time since this former music major wrote a good semiquaver, and I could do side profiles all day. Taking next week off work, so maybe I'll work on different angles (and note durations). Thanks, all, for sticking with us; I can tell you that it feels ridiculous to produce a daily newsletter, and I can only assume it feels slightly ridiculous to read it. Regardless, I hope it's a welcome and fortifying distraction from what is—let's be honest—a scary moment in history. If it's any comfort, Kina is happy.
dad