Opinion: It Is Bad to Wake Up at 5:30
Counterpoint: "The mushrooms are growing!!!"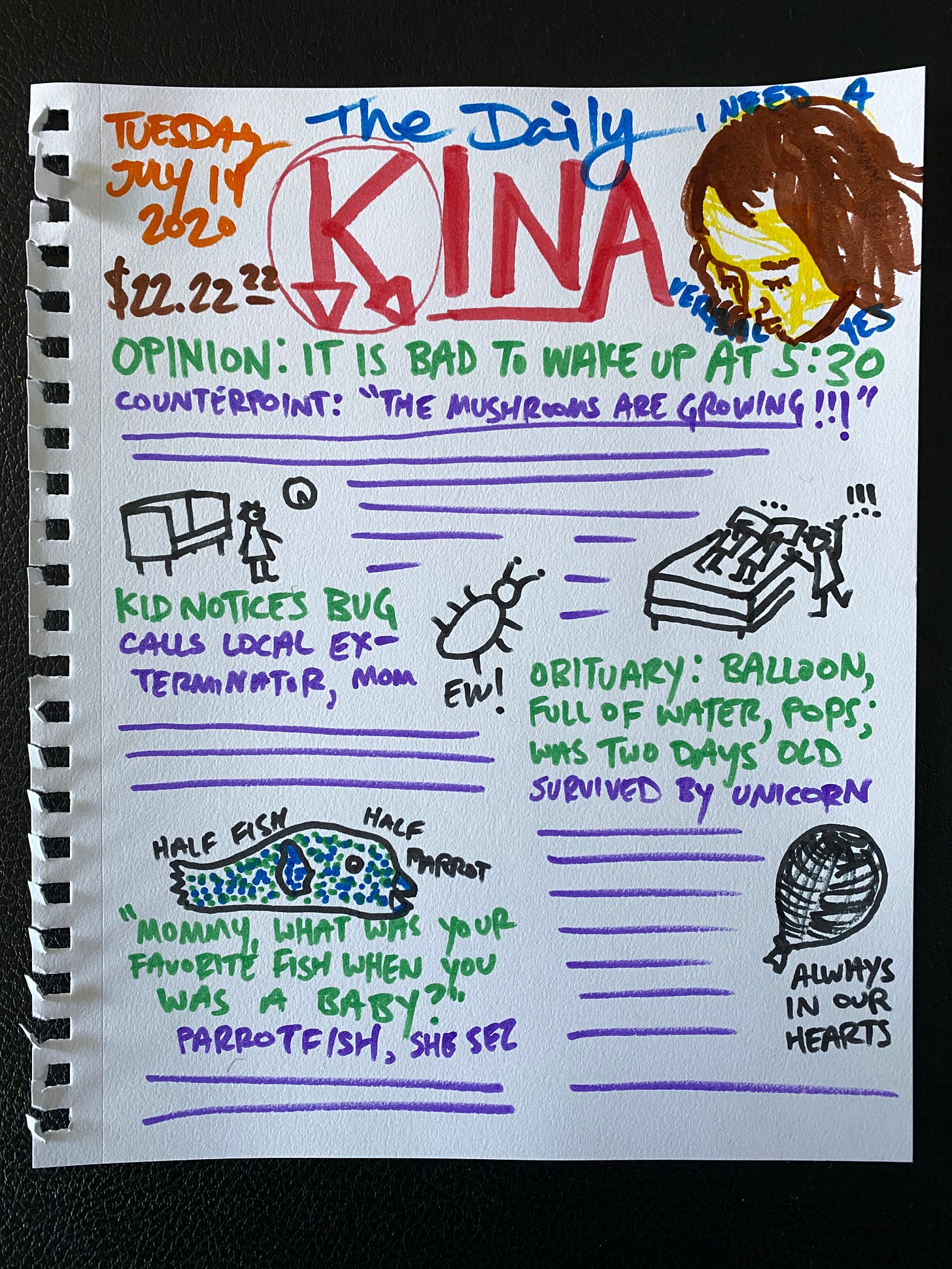 Kina has an "okay to wake up clock" that we bought for her the last time she enjoyed a good sleep regression. You set it for an appropriate wake-up time (we've set it, somewhat contentiously, for 6:24 AM), and every day the clock will light up green at exactly that time, at which point Kina will yell, "MOMMY, THE LIGHT IS GREEN!", and we will go perkily to fetch her from her room. This, at least, is the idea. In recent weeks, however, she has elected to ignore the advice of the clock, waking up closer to 6 AM every day to yell, "MOMMY, I GOTTA GO POTTY!" We cannot, for reasons that long-time readers will understand, argue with that assertion. So, every day, Laurea gets up to take her to the potty, after which Kina chirps, "Okay, Mommy, let's do an activity!"
This is bad enough, but today's wake-up potty time was at the god-awful hour of 5:30. I am The Serious Bedtime Guy, so I got up to see if I could get her out and back, to no avail. Attentive parents that we are, we decided then to let her simply have her run of the house, thinking she might entertain herself. Instead, she proceeded to bring every chair in the apartment into our room, show off her "new backpack" (a tote bag), drop off a selection of books by my head, steal various pillows, offer other pillows in exchange, and declare that the mushrooms had grown as we slept (they had).
There's not a moral to this story. We're just tired. At least she's using the potty.
Kid Notices Bug
Kina does not like bugs, and she has a sharp eye for them. So do I (on both fronts), and so when she freaks out, I also freak out. Laurea, when she spots a bug, yells like a marauding warrior and crushes it with the nearest shoe.
Obituary: Balloon, Full of Water, Pops; Was Two Days Old
It had a good run.
dad