Discover more from The Daily Kina
Home delivery, frequently on a daily basis, of the world's most specific single-child report.
Nobody Knows Anything About School
Maybe kid will just watch She-Ra all year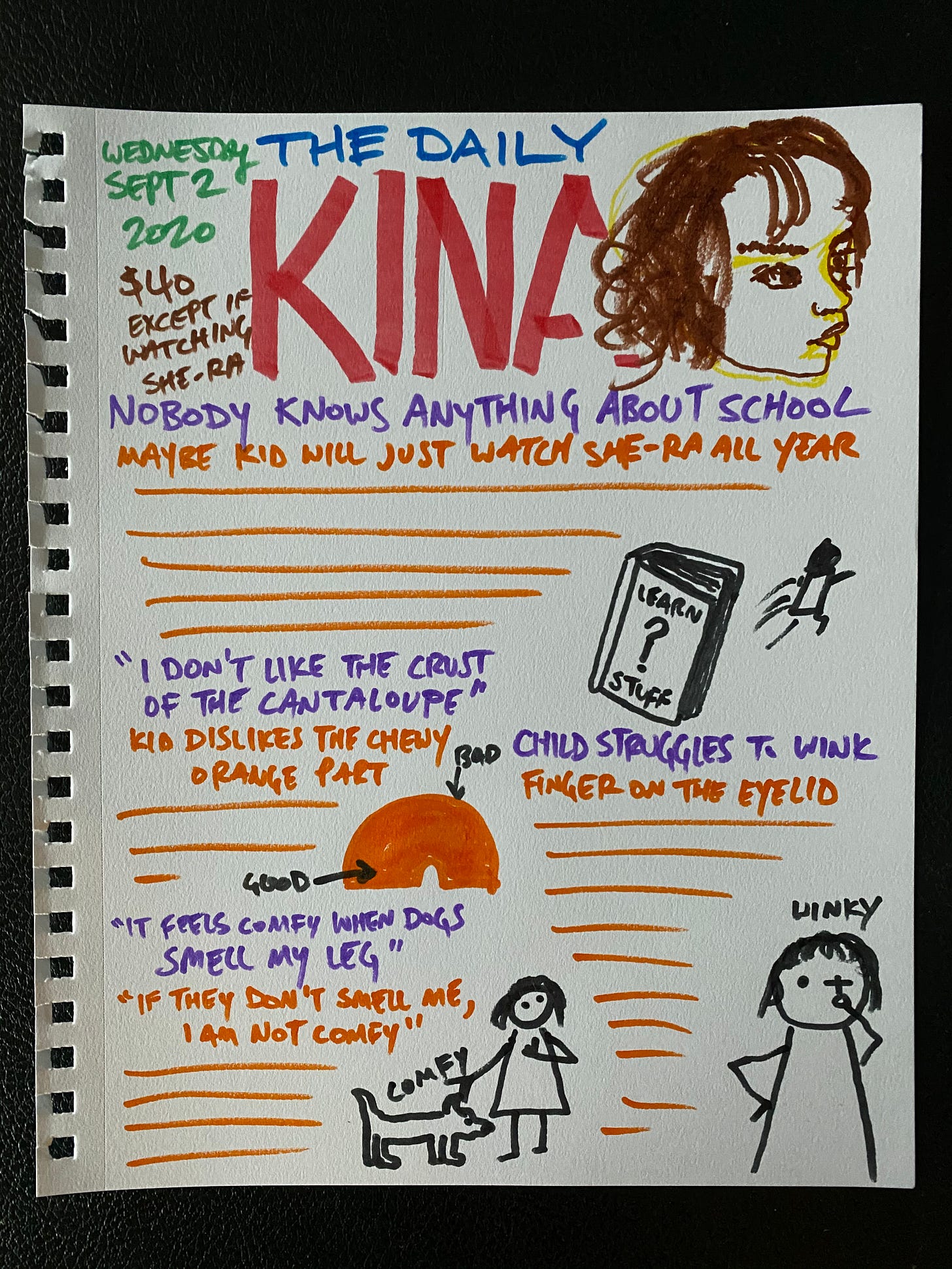 Yesterday, the city announced that school, originally scheduled to start September 10th, would start instead on September 21st. This has little bearing on our plan, which is to throw up our hands and "send" her to "Pre-K" remotely. Two weeks ago, Bill de Blasio announced that schools could implement outdoor learning plans—setting up tents outside buildings so that kids and teachers could share more thoroughly-ventilated spaces (an actually good idea, delivered far too late). Given the ongoing stalemate between the principals' union, the teachers' union, and the Department of Education—which may or may not lead to wildcat strikes (who knows!) on or near the first day of school—it seems implausible that schools will invest a ton of effort in sourcing and building tents. All of this chaos, on top of the warning that entire classrooms (with their families) would need to quarantine for fourteen days in the event of a sick teacher or child, led us to our decision to give the ol' Zoom-based preschool a try and wait for more sophisticated testing protocols to come along.
My friend and NYT Parenting co-founder Jess wrote a beautiful newsletter about keeping your kids excited about school today, which I would characterize as a provocation to all of us to do our best and know that our best is all we can do. I'm lucky that Kina has our time and attention (because we have that time and attention to spare), and I'm not terribly worried about learning loss for this kid at this age in our situation—though she and I both wish that she could spend real quality time with other kids—but there's plenty of other kids who aren't in Kina's situation and stand to really suffer because of the city's incapacity to plan, prepare, and pay for the welfare of kids. Their parents will do their best, too, while everybody else goes to the gym and our mayor refuses to articulate any sort of option to help the city recover. No, I'm not frustrated, why do you ask?
"It Feels Comfy When Dogs Smell My Leg"
This morning, Kina declared that she loved dogs most of all the animals. We tried to really dwell on that, asking her about her favorite dog size (medium), dog hair length (looooong), color (brown). As dog friendliness is concerned, she's not a fan of licking the face, but does quite like a dog that smells her leg because it makes her feel comfy. (We have seen her swoon when dogs sniff her ankles, it is true.) Any dog that fails to do this may be entertaining, but does not comfort her. Laurea and I have sworn to each other that we will not succumb to adopting a dog, and that if Kina really wants to spend time with dogs, she can start a dog-walking business and do it outside. Still, at 8 AM, when your kid tells you that she would be comfy if a dog were smelling her leg, it does make you question your priors. We're still not getting a dog.
dad