Discover more from The Daily Kina
Home delivery, frequently on a daily basis, of the world's most specific single-child report.
Mosquito Bite Relatively Minor
"It's not a lion bite"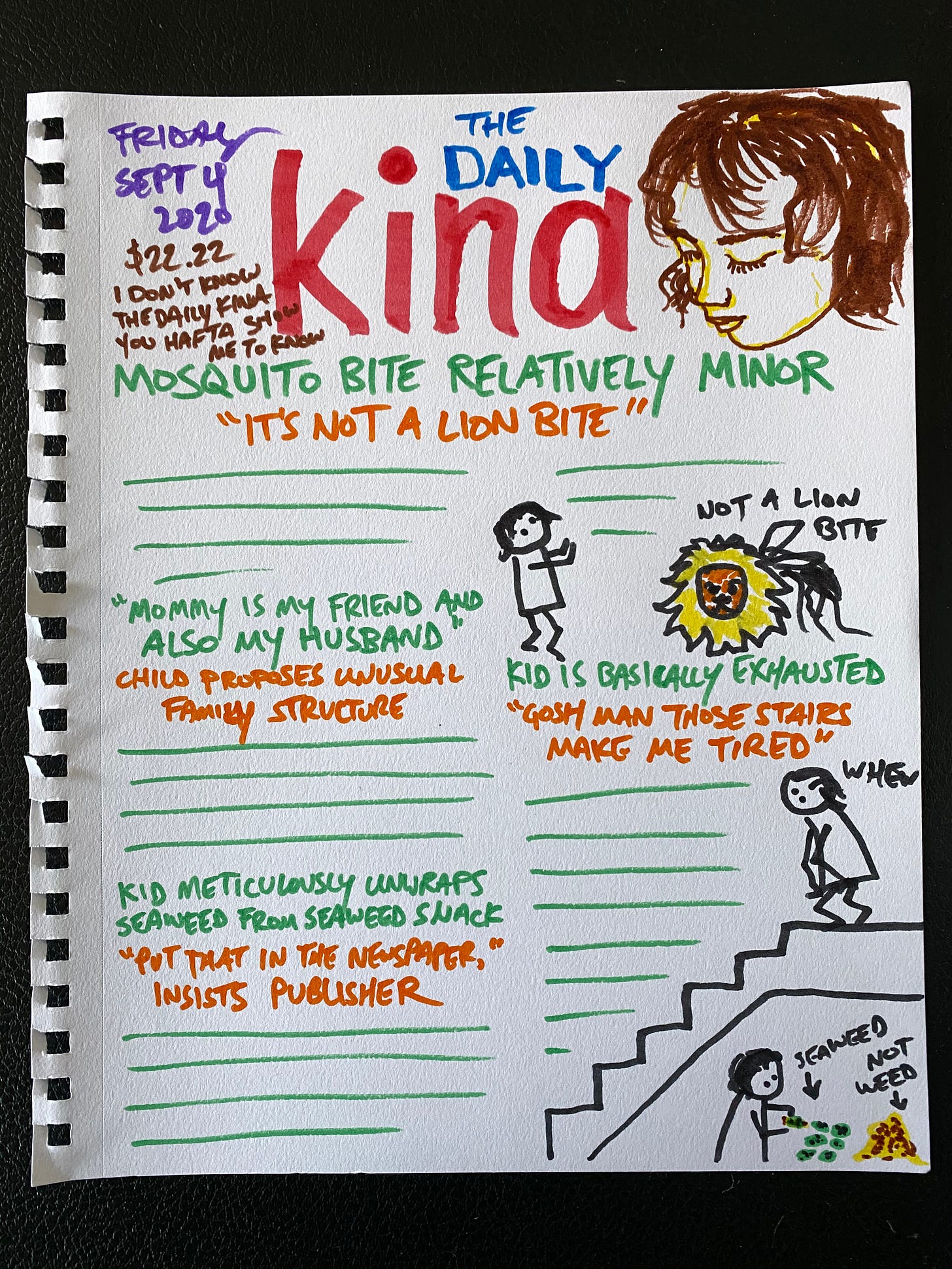 All the rain and heat seems to have produced a bumper crop of mosquitos in Brooklyn, some of which are feasting on our child. I've explained to her that mosquitos are bugs—mostly invisible—that sometimes bite us and make us itchy. She seems more curious than horrified by this, but asked nonetheless that I bandage one of the bites on her finger. As I did, she asked me what other animals bite. This was a question I felt I'd rather she answer for herself, and she replied, "Well, lions bite"—the kind of dangerous but nuanced truth that is largely irrelevant to a city kid. Later that evening, as we dropped off a painting downstairs for her friend Gabrielle, Kina asked if she wanted to see her mosquito bite. Gabs looked closely at the Band-Aid and gasped dramatically, which prompted Kina to reassure her that it was only a mosquito bite and not a lion bite and therefore nothing to worry about. I'm glad I'm raising a kid who understands that it's all relative.
Kid Is Basically Exhausted
We live on the third floor of a tenement building and have often wished we had an elevator—especially since we had a baby, and more so as that baby has turned into a kid. We often get to the top of the stairs, open the door, rip off our masks, and stand there panting for a bit as we catch our breath. Kina, who really has no problem at all climbing the stairs (because she only weighs forty pounds soaking wet) has started to imitate us, bending over dramatically with her hands on her knees and going "Whooo! Whooo! Gosh, those stairs make me tired!" It's humiliating. I need to exercise.
---
Hope you all have a good Labor Day weekend. Will continue through the holiday as planned, but trying to keep these newsletter sessions to under fifteen minutes for the next few days. Have a hot dog for us. Wear your masks. Love you!
dad