Mommy Escapes!
After 35 days of Daddy-Daughter time, Mommy work event concludes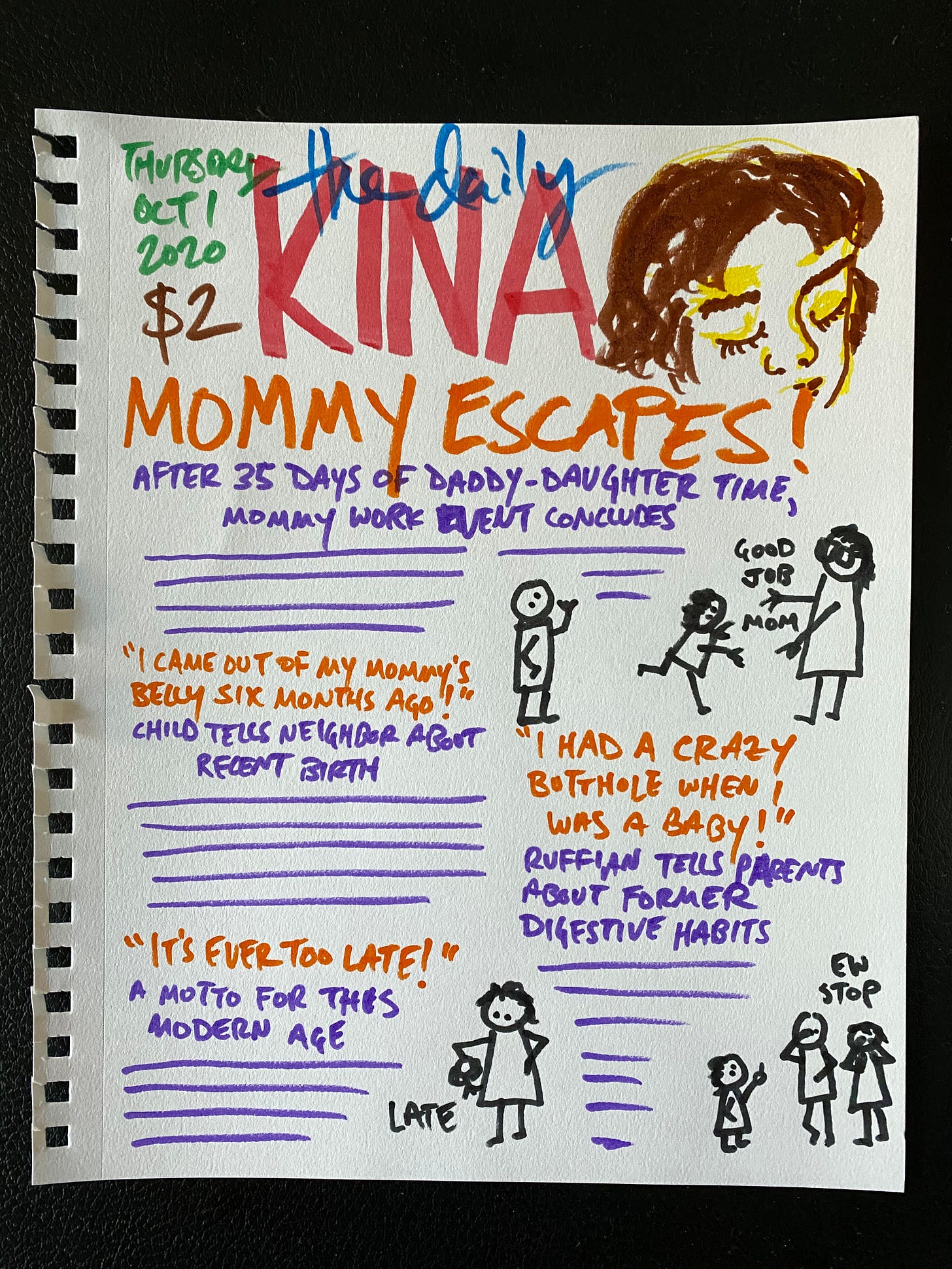 I have alluded a few times in the last thirty-five days to a giant virtual event that Laurea has been working on, which is now—officially—done. We are, of course, grateful to be working at all in this house, but hooboy has it been a haul. I was just looking back at the last month and change of TDK issues, and it's pretty astonishing how much happens in five weeks (considering, especially, how quickly the last six months have gone). Mostly what has happened has involved my spending a bit more solo time with Kina than usual—mornings, evenings, and usually one of the two weekend days—and relishing a moment in which my daughter does not treat me like chopped liver. Laurea is a tough act to compete with here, dear readers, and while she's been distracted by [checks notes]:
senators

former Secretaries of State

Gloria Steinem

epidemiologists

filmmakers

famous journalists, and

a number of surly old white men,
I have in the meantime been able to lean on my:
natural charm

capacity to invent stories

love of fart jokes

familiarity with She-Ra, and

shared love of cheese and bacon
in order to win the heart of America's most famous preschooler. A few weeks ago, we took Kina to the temporary office that Laurea is working from—a little glass-doored monk's cell on a massive floor of an industrial building. Kina has since been obsessed with the idea that Laurea must somehow "escape" from work, and with the injustice of her being trapped in that room at night (when she should obviously be putting Kina to bed, by her estimation). So, now that she has escaped, we have to rebuild all our equitable Kina rituals again, all while trying to make the readjustment as easy for her as possible. She is dealing with this mostly by calling out to Laurea from distant rooms at all times of the day and evening, listening for her own echo. Last night required a lot of hugs and returns to Kina's bedroom after we put her to bed, but she seems more confident today that Mommy has truly escaped.
I'm proud of what Laurea accomplished this September; it's certainly one of the hardest things I've ever watched somebody pull together, and it was a huge success. It's important to both of us that Kina knew she was doing it, and that seeing a bit less of her carried with it the message that Kina will herself someday boss surly old white men around, too. Gloria Steinem would approve, I think.
It's ever too late!
dad