Masked Kid Takes Subway
Operator waves; fellow riders make way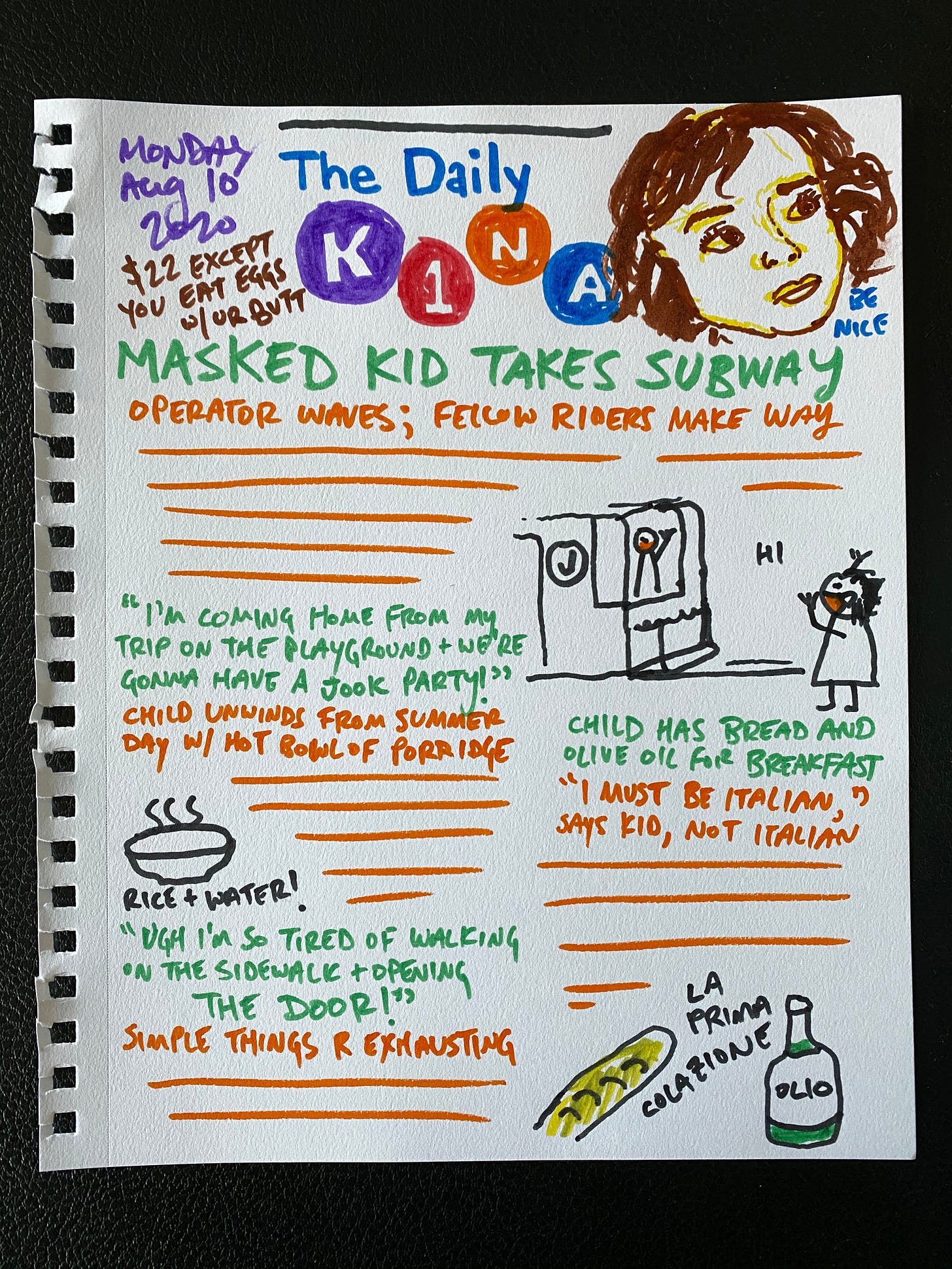 Given the loving soliloquy about Rice Car the other day, you'd think we didn't care about the subway, but you'd be wrong. I am a massive fan of New York City's subway system, having watched its recovery over the last twenty years; we as a family are card-carrying straphangers. Laurea and I actually talked about getting a car years ago, in the months before Kina was born, but we decided to lean into public transportation instead—and that decision served us well, carrying us all over the city with our newborn kid. Kina's grown up on the train. She knows the different lines, learned the letters "L", "J", and "M" by watching for approaching trains, and habitually waves at train operators (all of whom wave back heartily, if prospective parents are curious). In the months preceding the pandemic, we realized she didn't need a stroller anymore, and getting in and out of stations was suddenly a breeze. Soon she'd give up her nap, and our ride radius would balloon! We could ride to Central Park and not come home until after dinner! We could do the Transit Museum and Chinatown in the same day! Then, of course, the thing happened, and all bets were off (cue Rice Car).
Yesterday was our first time on the train as a family in five months, and it wasn't stressful in the least. We had a bench all to ourselves, and Kina wore her mask patiently. (A note here on kids and masks: People tend to assume that kids won't tolerate them, but Kina is totally nonchalant about wearing hers, and I've seen similar behavior from other three year olds. To them, it's no more absurd than being told to wear pants.) We traveled only one stop, to the Lower East Side, but I would have felt comfortable going all the way across town, and Kina was excited to be back on the J. Moreover, I was excited, and grateful for a transit system that is still holding it together (even as it confronts the reality of massive losses). I want Kina to grow up with the subway, as challenging as that sounds, but I'll take every ride we can get.
dad
P.S. The price today comes with a horrible discount, but if you do eat eggs with your butt, please send along a note and we'll refund your twenty-two bucks.