Discover more from The Daily Kina
Home delivery, frequently on a daily basis, of the world's most specific single-child report.
Marine Biologist Identifies Fave Jellies
Moon jelly, Atolla, Lion's Mane all good candidates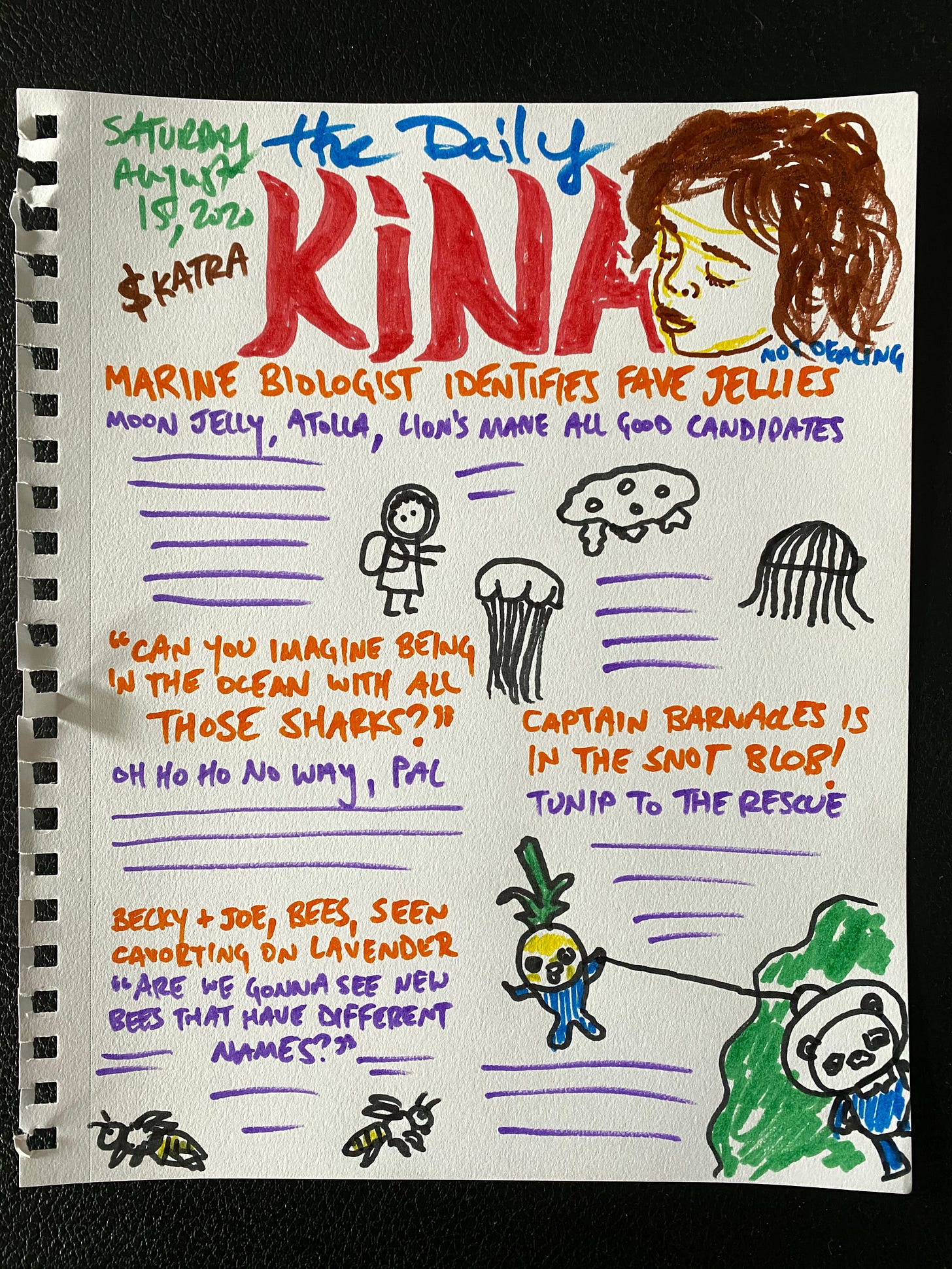 The ongoing fish research project that Kina and I are conducting has progressed to its jellyfish phase. After an initial obsession with the Cassiopeia jellyfish, which sunbathes lazily on the shallow coastal seabed, Kina has moved on to deeper sea invertebrates. She finds the humble moon jelly fascinating, but has shown interest in its scarier and weirder cousins—the kitschy Atolla, the spaghettilike Lion's Mane, the unfathomable Stygiomedusa Gigantea). I am no fan of jellyfish and live in constant fear of encountering one in the wild, so our shared YouTubing here is a form of exposure therapy for me.
As it turns out, most of this morning's headlines are about marine life. She encountered a photo of a hammerhead shark yesterday and very understandably lost it. (Have you looked at one recently?) In the world of large oceangoing things, Kina rates hammerheads well above most other sharks and whales, though still well behind her beloved and goofy ocean sunfish. (As with jellyfish, you can count me out when it comes to swimming with the things. Don't trust something that can put its mouth around my head.) The other ocean headline here is a major plotline from the Octonauts Christmas special, which is mainly an opportunity for the Vegimals to strut their stuff by saving Captain Barnacles and the other non-Vegimal crew from certain death in a "snot blob" made of decayed organic matter. Today you will learn—as I have—that sea snot is a real thing, and that it is, of course, spreading wildly due to climate change. I'm trying to keep her inspired by the ocean, but these Wikipedia articles are depressing!
Becky + Joe, Bees, Seen Cavorting On Lavender
For our morning Daddy/daughter hang on Friday, we skipped off to the local coffee shop for our cheddar-cheese-and-bacon sandwich and sat outside by a patch of lavender. Kina hates bugs, longtime readers may recall, and I've been trying to make her comfortable and familiar with bees so that she doesn't develop an irrational fear of these very important (and largely harmless) pollinators. So, to that end, the two bees who were drinking lavender nectar while we ate our sandwich came to be known as Becky and Joe; now she kind of thinks that all bees are either Becky or Joe, and she's really hoping to meet more bees. I can't help feeling that I've set my own trap here.
---
The price today, "$Katra", is a reference to a villain from She-Ra. She was Katra all day at the playground today (except when she was frustrated and self-identified as She-Ra herself). Katra's super mean and underhanded but you kind of get that she's been hurt in the past. I dunno, I'm getting too into this show.
dad