Discover more from The Daily Kina
Home delivery, frequently on a daily basis, of the world's most specific single-child report.
Kid Enjoys Pasta Picnic in Zentals Park
Scarfs noodles while cavorting amidst tall oaks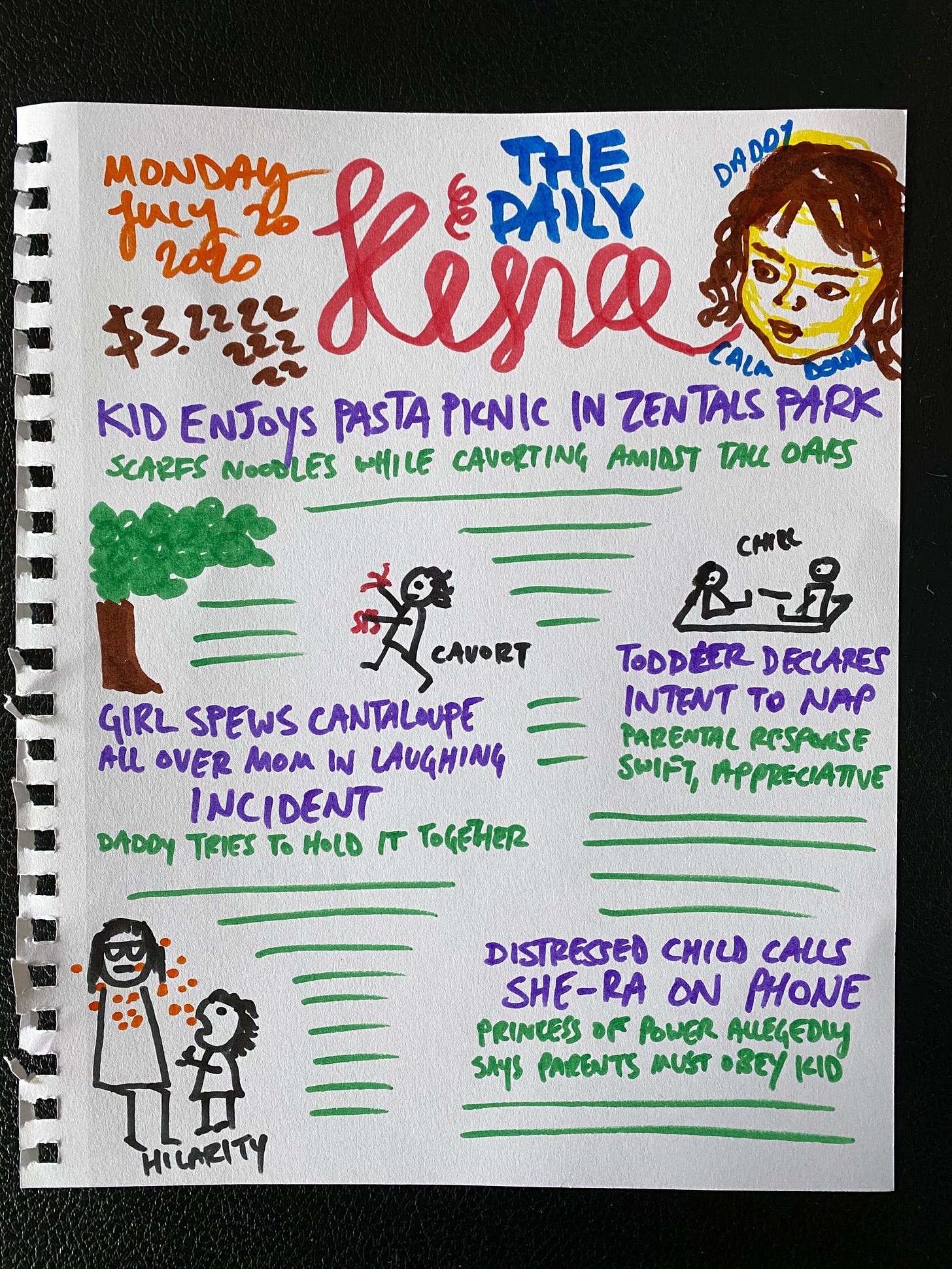 Kina has talked about visiting Zentals Park (or Lentils Park, or Sentol Park) several times during this pandemic. In her fantasy Park world, we take the train, or we drive, or we take a balloon. It's never clear exactly what we're supposed to do at Zentals Park, but yesterday we finally decided: a pasta picnic. So, having procured a parking spot and some noodles at Parm in the Upper West Side, we located a broad clearing at the edge of Central Park with nobody in it to enjoy a little nosh. Kina, as is her wont, went back and forth between eating spaghetti and sprinting around the trees, pumping her arms valiantly like an Olympian. As she chased starlings, Laurea and I talked about nothing in particular—a luxury Kina seldom allows us when we're in close quarters. I don't think I've felt so relaxed since, honestly, last year. Something about rediscovering a place in New York that I love so much and has felt so inaccessible to me since the start of the lockdown really helped us all reset a bit. It felt normal. After a run through the sprinklers, we grabbed some ice cream and drove home. On the way downtown, Kina said, "I'm going to take a nap now" and passed out cold. If you don't see how amazing this all is, you clearly don't read The Daily Kina.
Girl Spews Cantaloupe All Over Mom in Laughing Incident
The headline says it all, but the illustration really hammers it home, in my humble opinion. I felt bad for Laurea, of course, though hearing Kina laugh is one of the finer experiences in life. As somebody on whom Kina routinely slobbers, it all feels tolerable. We abide.
dad
Correction: I sent this email out with the subject "Kind Enjoys Pasta Picnic in Zentals Park", which would be more embarrassing if the headline didn't include the word "Zentals".