Discover more from The Daily Kina
Home delivery, frequently on a daily basis, of the world's most specific single-child report.
Kid Visits Bronx Zoo
Wears cute tiger mask, complains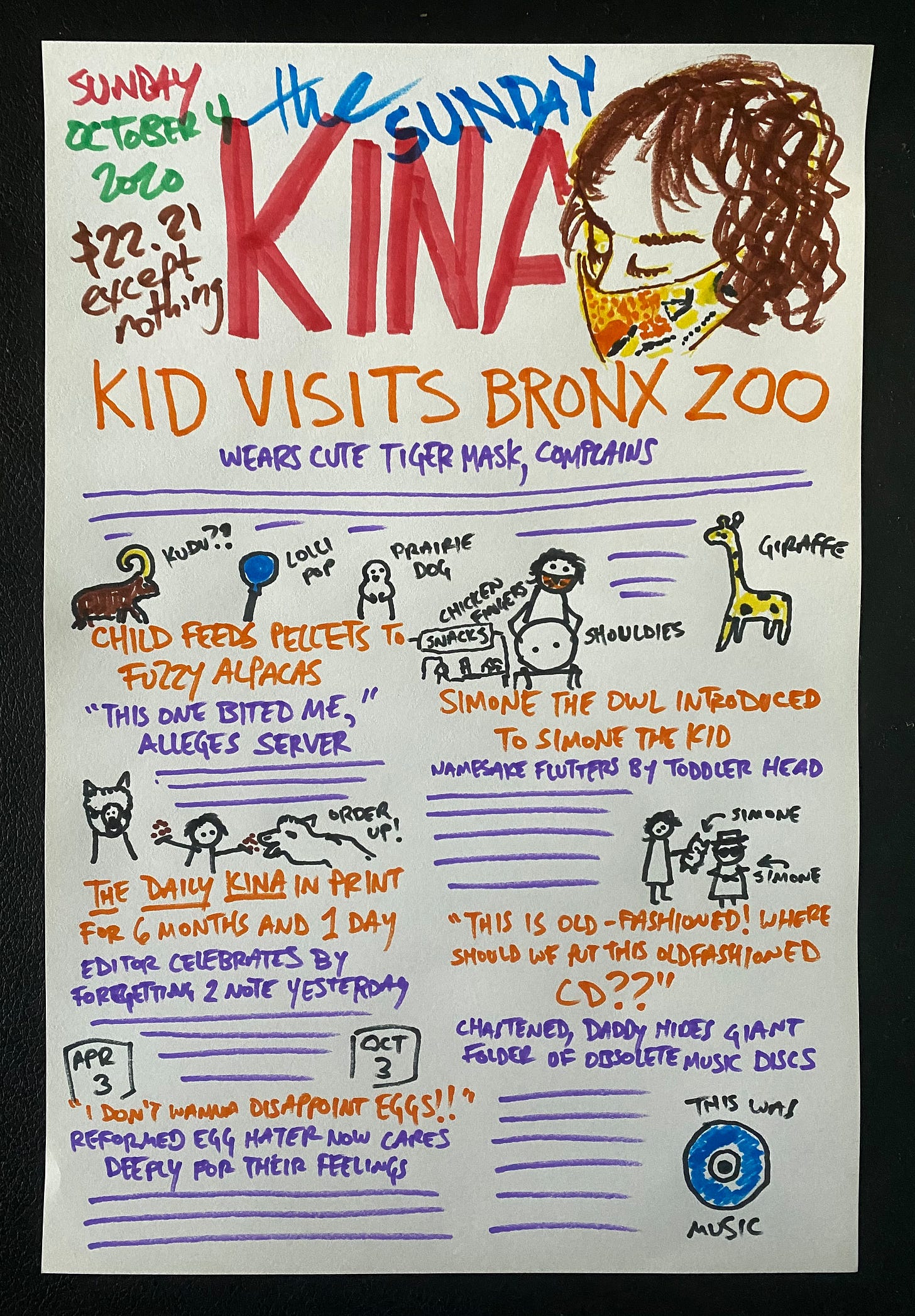 Our friend Amanda invited us to join her and her two kids at the Bronx Zoo yesterday—another escape we have somehow never made, due to the fact that getting to and from the Bronx by subway is unreasonably difficult for a kid who naps. Now, of course, that Kina barely naps and we own a car, the time was ripe for us to make our first visit to New York's premier zoo experience. Lions! Giraffes! American Bison! All the finest of Earth's creatures, laying out languorously on reconstructed veldts. Kina has long been a fan of zoos—or "zoo", singular, since the only zoo she's ever seen is the Oakland Zoo, with her Lala. On her two visits to that zoo, she was a huge fan of tigers, giraffes, and baboons (whose red buns were a source of tremendous fascination). We expected similar responses this time.
And yet, as we really ought to have expected, her response was dissimilar, a mishmash of demands for treats and apathetic responses to small mammals. We made an early raid on the Children's Zoo—which was probably our best move, even though it's laid out like an Ikea; you're there for the alpacas, but you have to walk through catfish, prairie dogs, otters, and flamingos first. In any other situation in which alpacas were not involved, each of those animals would inspire prolonged adoration, but Kina was impatient and had no interest in tarantulas. So, upon reaching the besieged pellet vending machines ("Sir, please keep moving. There are more stations farther along. We are trying to social distance. Ma'am, please keep moving. There are more stations…") we purchased a handful of mealy pellets and sent Kina down a gauntlet of goats, sheep, and alpacas to feed them all. Kina, ever the paragon of fairness, tried to identify those animals most ignored by the other kids (even when they—the alpacas, not the kids—chomped her fingers), coming to me frequently to purchase more and more fifty-cent handfuls of kibble. I think I spent at least six bucks on pellets before we literally washed our hands of it and made our way out.
Reader, that was the highlight of the visit.
Other medium lights: the shuttle to Wild Asia (a part of the park that, once you reach it by shuttle, you cannot see except by monorail), two curious peacocks, the three-dollar grapes, the "candy trail" (don't ask), and numerous outcroppings of Manhattan schist—over which Kina patiently led her young friend Simone the Person whenever we encountered it.
Things that did not register: lions, giraffes, the tiger mask we asked her to wear, kudu, antelopes.
Things she asked to do, and which we could not do because she was too small or it was not permitted: crawl through the log, walk up the stairs, sit in the turtle shell, climb on the rope course.
On the whole, I suspect the Bronx Zoo is a very fine zoo. If there had not been a 45-minute wait for the Wild Asia monorail, Kina might have enjoyed seeing a tiger. It did not cross my mind to find the baboons—with their red buns—but I fully intend to go back and try again. Next time, I'll walk her straight through to the alpacas.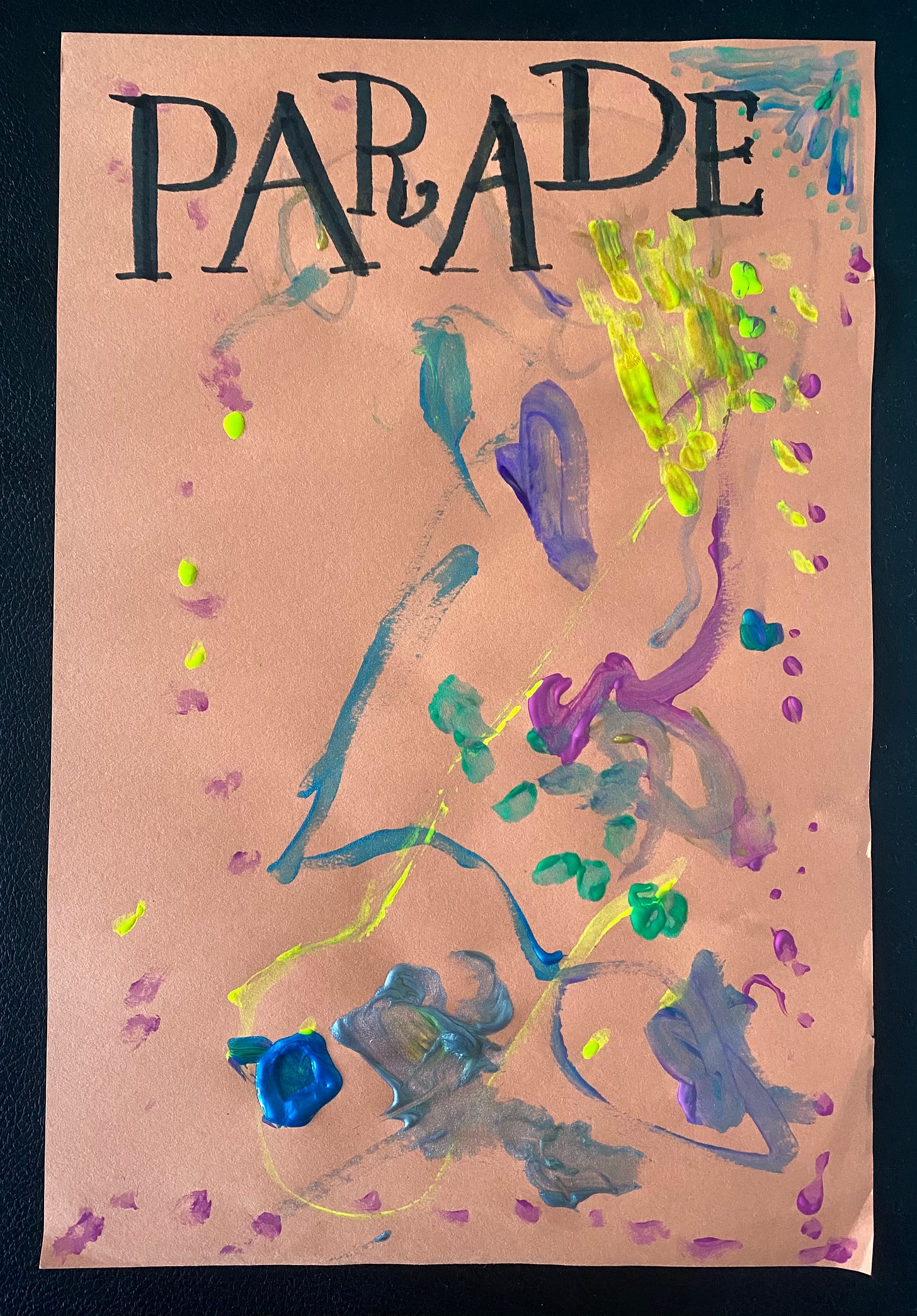 The Daily Kina in Print for 6 Months and 1 Day
Today's Parade is a nameless abstraction, painted suddenly by Kina in the minutes before we had to leave the house today; the paint you see captured in the photograph above is still wet. I have decided that this is a cover commemorating the six-month anniversary of our esteemed daily publication. Though much has happened in the few months since our One Hundredth Day edition, there's a lot still the same. We've built a rhythm here—not just in writing these front pages, but in living through a pandemic. I said early on that I figured I had about a hundred of these drawings in me, and now I have nearly twice that. As of yesterday, I've written these little newsletter essays for a hundred days straight—and I wasn't betting I'd make it more than a week. The sheer volume of doofy dad jokes I see when I scroll through the history of this publication is mind-boggling. We have definitely reached the phase of this hobby when I'm actually really impressed with my own effort, and I can only hope that Kina someday appreciates that it wasn't just so she could watch She-Ra every morning. I don't want to bet I'll make a year, but I hope I make it to the end of 2020. I hope we all do.
---
After yesterday's tale of seeing flowers in Kina's brain, a few of you asked to see our flower-nose portraits. Herewith, the flowers threading up into our own newly-wed brains. In each of these, we are mere milliseconds from sneezing.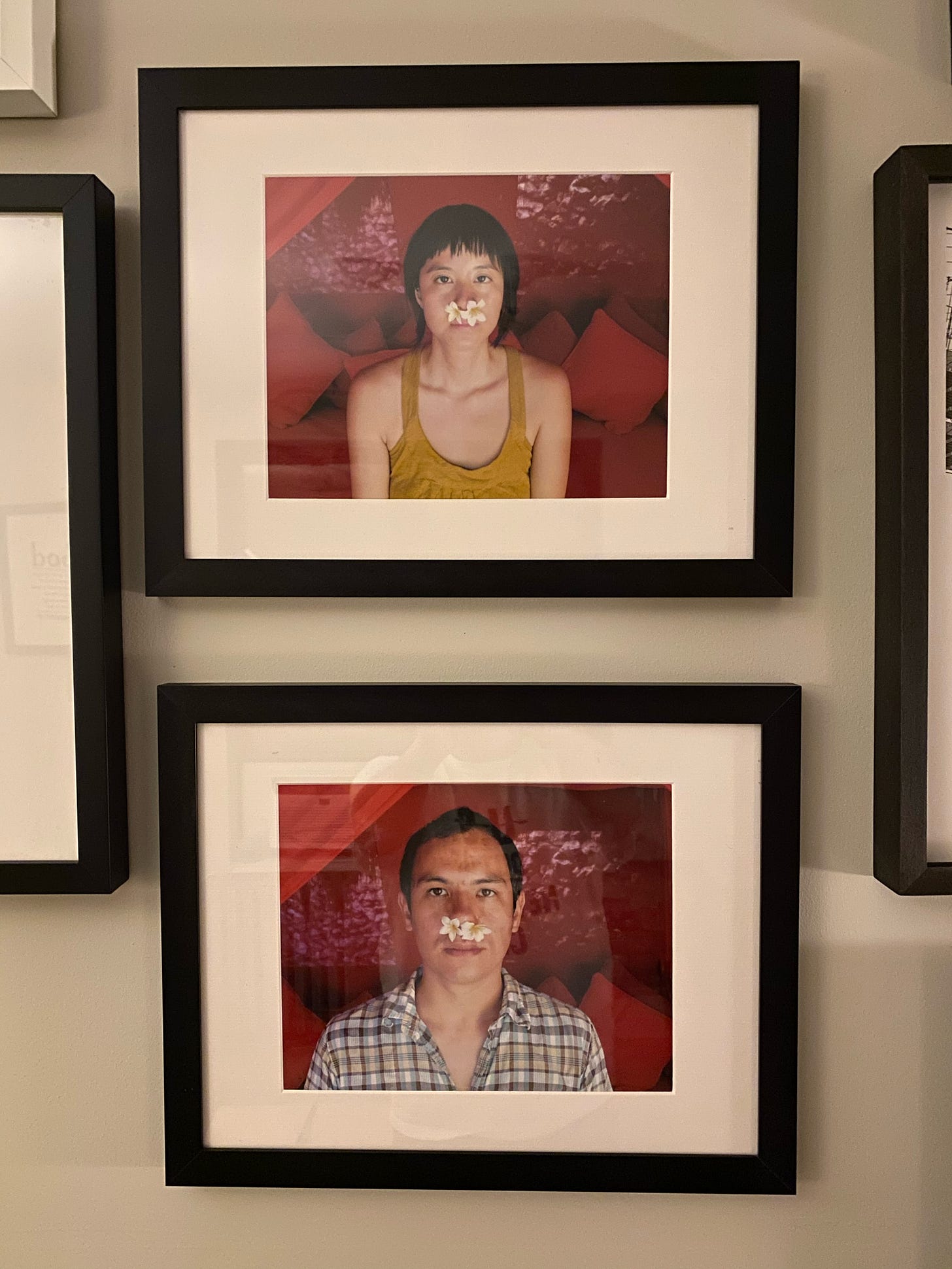 Have a good week, everybody, and remember that if you own any CDs, you are a dinosaur.
dad