Kid Sounds Out the Word "Cat"
Daddy, astonished, snookered into late bedtime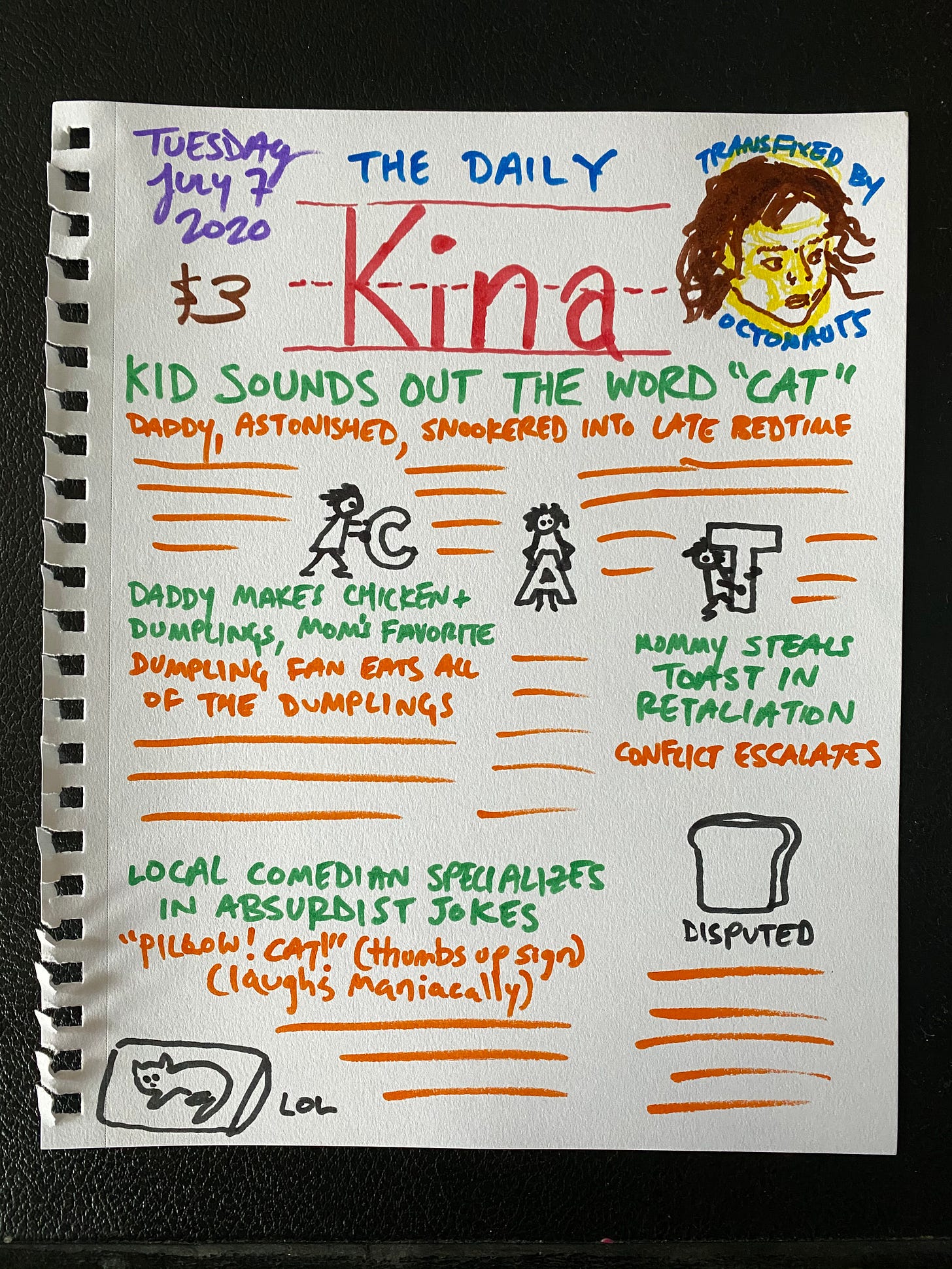 Pandemic parenting is a double-edged sword, and while the extremely sharp and long edge is having to care for your child full-time at home while working, the other edge (which parents often cite, in an effort to make it all feel manageable) is being able to watch your child grow and learn in ways that would be otherwise largely the domain of teachers at their school. I feel privileged to be so heavily invested in helping my kid learn to read, and it's clear that Kina is at an advantage in that I can work from home and that we do have the energy to read to her every night, but working on this is still just a slog. She's supposed to be able to write her name when she starts school in September, but I have no recollection of being able to do the same at her age, and my capacity to get her to sit down and do anything more than draw a single vertical line ("I drew an 'I', Daddy!") is pretty limited. So when we have a moment like last night, in which she slowly sounded out the letters that spell CAT in her favorite Richard Scarry book (an endless series of scenes and words that she often chooses in an effort to delay bedtime) I was overjoyed. It was—and longtime readers will understand what I mean here—easily as exciting as when she first took a crap in the toilet. It made the hard work worthwhile. We're working on "dog" now.
Re: Jokes. I keep trying to teach Kina what a joke is—not in an academic way, but in terms she can understand, which means we are starting with knock-knock jokes. Every few months, I get her a little farther on the concept: First, you say "knock knock", then the other person says "who's there", and that is about as far as we've gotten. The next bit is a hurdle—there's nothing gratifying about saying "orange"—and the part after that is the crux of the conceptual challenge in a way that I'm really, really looking forward to introducing, but the moment I'm saving up for is when I can bring her to the payoff, when the whole thing comes together and she just collapses in guffaws. I seriously think about that moment a lot. If you had told me before a kid that I would be investing heavily in a multi-year exposition of the knock-knock form, I would honestly first be totally thrilled, but also slightly puzzled? Parenthood is about the long game. In this game, I'm in about the third inning, which has my toddler spitting out her food after telling a joke that has literally no form or comedic tension. I did laugh, though; you had to be there.
Today's price is three dollars. Felt like you all needed a break on the pricing. Pay it forward, tell a friend a knock-knock joke (or pass the newsletter on if it helps).
dad