Kid Rediscovers "Goodnight Moon"
Barely familiar, she still recalls the "hush" part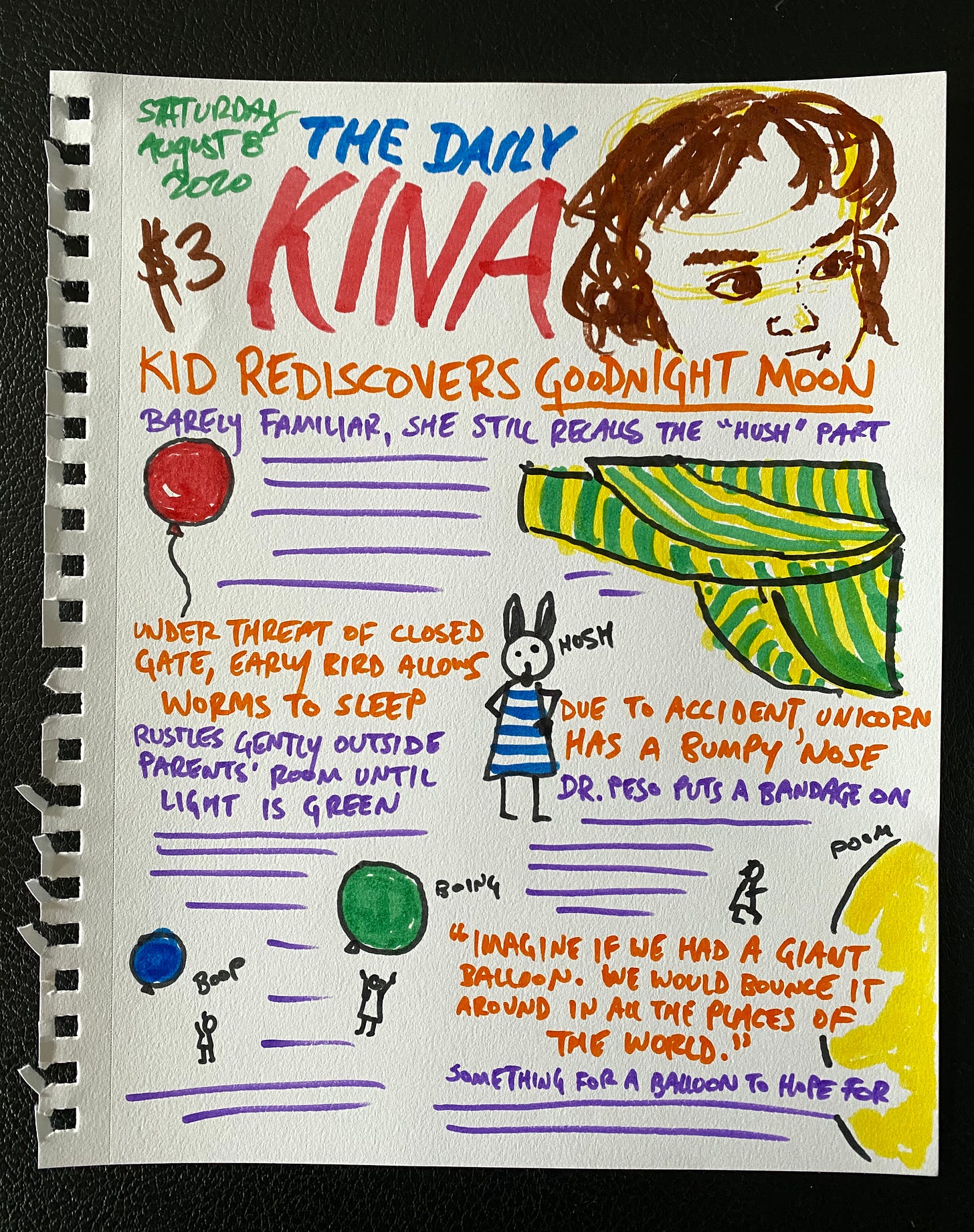 I started a daily ritual of reading Goodnight Moon to Kina before she could understand books, rituals, or the moon. We shared it consistently every night until she was almost two and a half. With all that traffic, it's gotten some wear; there's a little bite mark (two tiny incisors and a canine) that serves as a reminder of how small she was when we started reading it, and the spread that includes the passage "Goodnight little house, and goodnight mouse" is a bit sticky from all the times she leaned in to smooch the little mouse cameo. Kina, like many kids, will get obsessed with a book for weeks on end, learning it until she has it memorized (She once accurately recited the entirety of Madeline to me while I was changing her diaper.) But Goodnight Moon was the very first book she memorized with us, and in our nightly litany, she'd finish every page herself—leaning particularly hard into the last word of "Goodnight to the old lady whispering 'hush'".
Though we get a lot of mileage out of each book she owns, she's begun to forget them as her library grows, the dialogue no longer in her head, the names less familiar. "It's been a long time since we read this," she'll tell us, as we set off to relearn Pierre or Corduroy or Little Owl's Night. As we read, I try to dwell a moment to let her finish the lines; sometimes she does ("hush"), but when she doesn't, we just rest on the page quietly—the kind of silence that follows a recalled memory.
Ever since we first read Goodnight Moon, I've always amended the last farewell of the book, a goodnight to noises, to say, "Goodnight Kinas everywhere". She does remember that part; it's less fanciful, but this is our book, and it's one of my favorite things to say to her before I take her to bed.
dad