Kid Inquires as to the Origins of Things
Wants to know where bubbles, lamb, balloons come from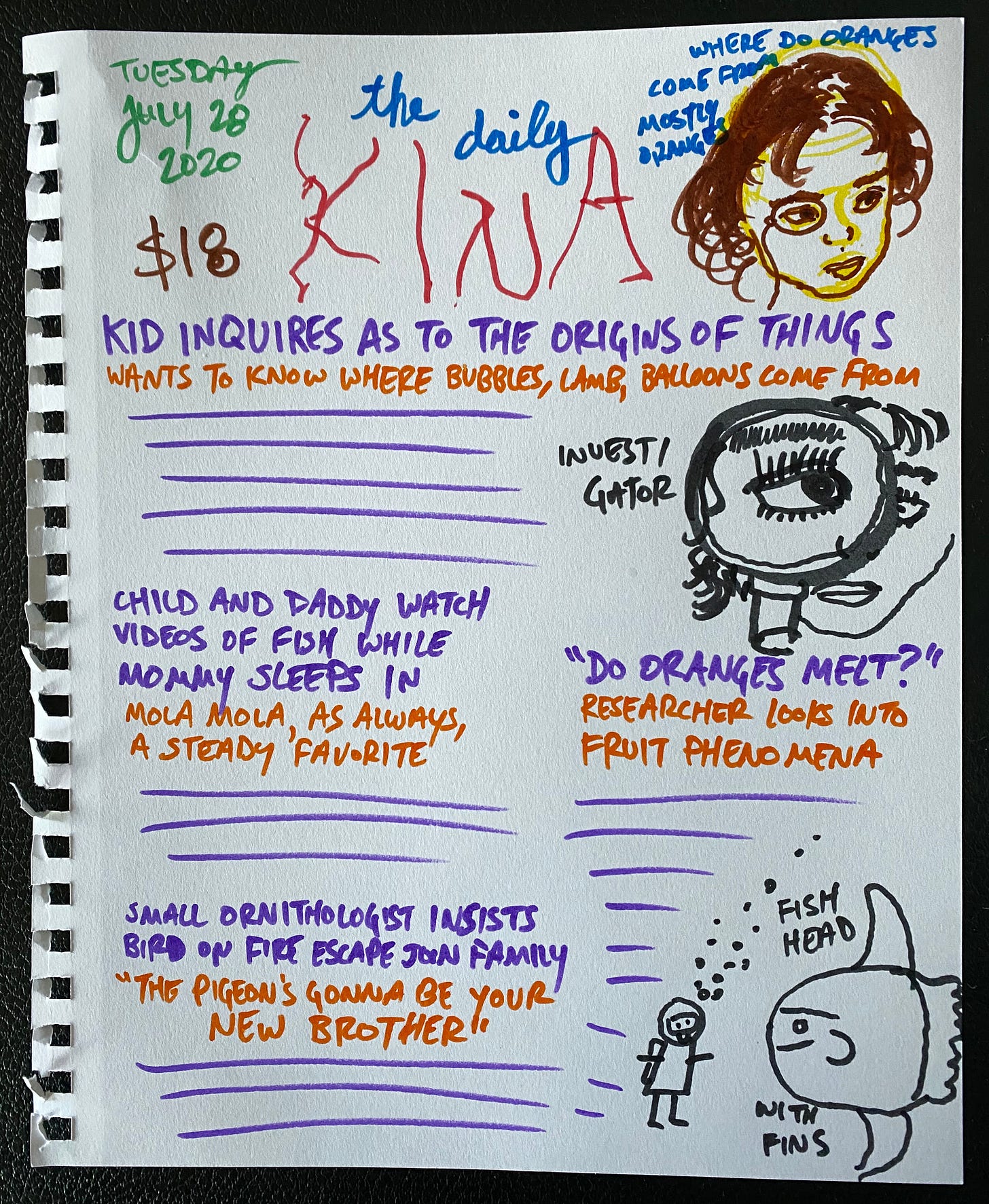 And, just like that, she's entered the Scientist phase of child development. I take notes every day of the things she says and does, so that I have material for the next day's edition of The Daily Kina, and when I looked at my notes from yesterday it was all about Kina's fascination with basically everything. In the last few days, Laurea and I have come to expect a constant barrage of the following sort of question:
"Where do XXXXXX come from, mostly than XXXXXX?"
For example, "Where do muffins come from, mostly than muffins?" or "Where do Legos come from, mostly than Legos?" I have no idea what inspired that sentence construction, but it's cute and we always try our hardest to answer the question. As it turns out, lots of things come from either farms or the ocean!
Speaking of the ocean, she's also really into fish, and has taken to asking me if we can watch videos of marine life whenever we have a free moment. My approach to this is to search YouTube for "bbc FISHNAME", which usually yields a high-quality David Attenborough video about parrotfish and the fine sandy parrotfish poop that makes up most tropical beaches. Also, we have learned that ocean sunfish skin has over forty kinds of parasites, and that the sunfish float listlessly among schools of cleaner fish that eat those parasites. (A side note here: Laurea and I, after first seeing a giant ocean sunfish at the Monterey Bay Aquarium, made up a little song for it called "Fish Head With Fins") Kina's favorite fish video as of today, I think (based on a conversation we just had at dinner) is a video about flying fish, which "have wings like birds [flap flap flap]" and live in a sort of hellish ocean surface hunting ground where they are consumed alternately by mahi mahi (another Kina favorite) and marauding birds.
Speaking of birds, we have befriended a shabby-looking pigeon who comes to roost on our fire escape. We recognize him because of his rakish little white underwings, and because he's utterly imperturbable. Kina talks to him while sitting on our dresser, asking him how he's doing, and telling him that he can be my (Dad's) little brother. In return, he stares at her with his beady little orange eyes. They are the best of friends.
Speaking of orange, I have no idea why she got it in her head that oranges melt, but I'm glad she asked. I suppose they eventually melt, but not fast enough to deny our home's most avid orange fan her daily snack.
Gotta read up for tomorrow's quiz. Everybody have a good night, and may your dreams be filled with zoned-out mola mola.
dad