Kid Imagines What Mommy's Work Is Like
"Hang on, I have to look at a picture from Kina, my daughter."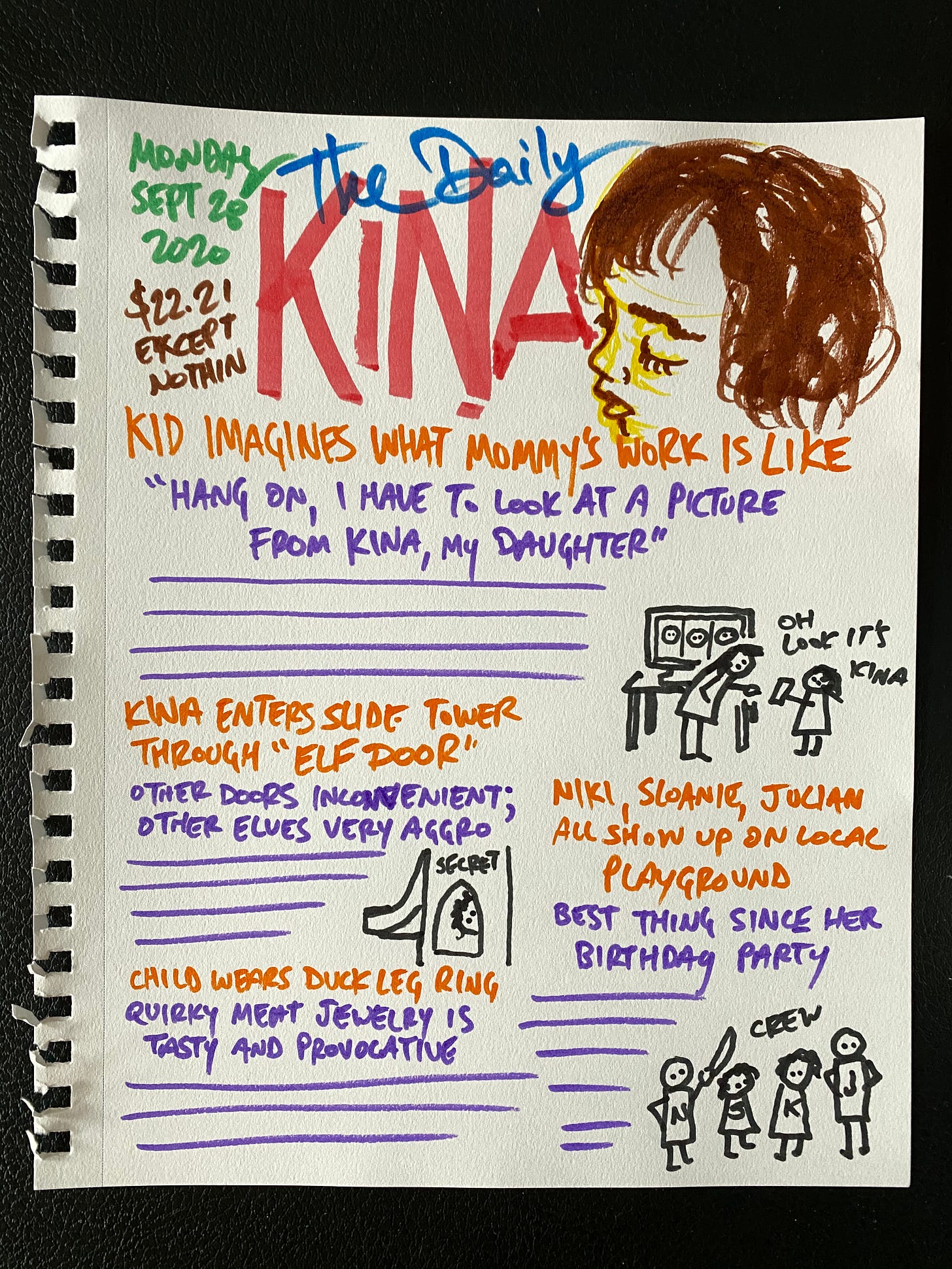 As Laurea approaches the finish line of her month-long odyssey of long, exhausting days, Kina has just now begun to get a sense that there are coworkers involved—and we all know how much Kina loves coworkers. Of course, without direct access to Mommy's colleagues, she's had to lean on indirect interactions in order to charm them: a Lego "air thing" that her mother can use to breathe more easily in moments of stress, for example, or cute pictures and animated recordings of unicorns. The crowd of people on Laurea's screen has included more than just coworkers, though; in the last month, she's produced conversations with Hillary Clinton, Rachel Maddow, Willie Nelson, and Beto O'Rourke. These are important people! And yet Kina's worldview (rightly) suggests that Laurea might interrupt HRC briefly in order to see a cute picture of Kina draping herself over a swing in the playground with her friend Nikola, and that Hillary herself might feel a sense of sweet relief if Laurea were to show that picture to her. I mean, just imagine. It's a great picture.
Kina Enters Slide Tower Through "Elf Door"
Kina is at an interesting playground age, in which she is big enough to be adventurous but still eager enough for her parents' company to want us to join her on large-ish playground equipment designed for small-ish butts. We're often telling her that she'll have to go on her own, that her parents aren't allowed to enter into some twenty-foot-tall enclosed spiral stairwell with four-foot ceilings (true), and that the elves who live inside it might get squooshed (false). Accordingly, she must go through the little "elf door" at the base of the tower herself, navigating the rowdy big kids on her way up to the turret and whooshing down the slide into a fluffy sand pit on her own. It is something that I have no interest at all in doing myself (false), but I love to watch her sense of joy and accomplishment as she does it herself (true).
dad