Kid Fears Hiccups Will Last Forever
"When will they stop?!?!"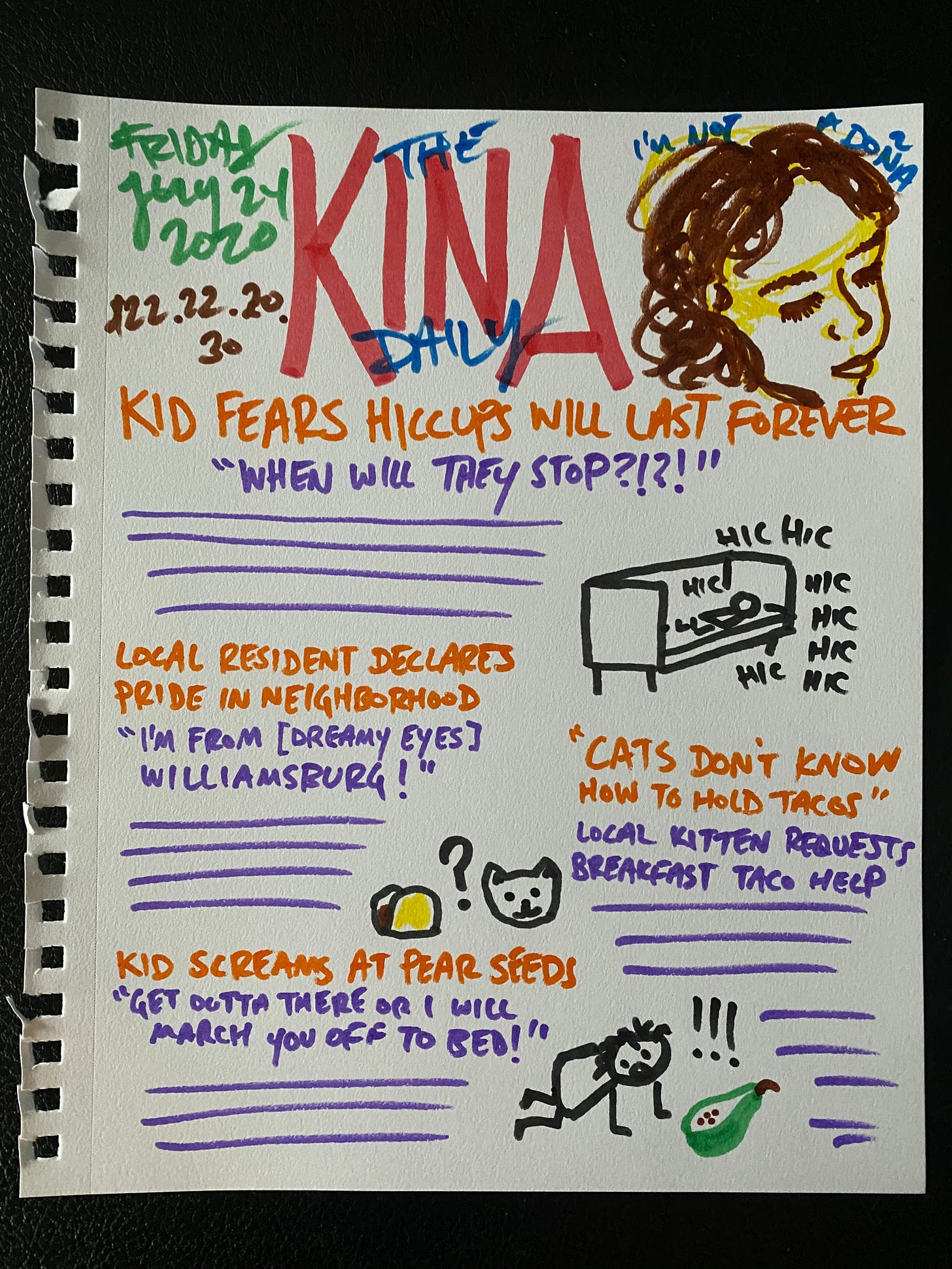 Let's add hiccups to the growing list of things Kina dreads (see also: rain, bugs, ricotta). I realized last night, as Kina was begging me to MAKE THE HICCUPS STOP, that I do not remember the last time I actually had the hiccups, nor when in my life they stopped. Is this normal? Am I an evolutionary oddity? I could just be forgetful, because I also don't remember the last time Kina had the hiccups, but it's likely just because she didn't care about them until having finally realized that hiccups are a thing to which nature is subjecting her. I tried a few angles last night:
"Hiccups are like a friend stopping by to say hello. They'll leave soon."
"Let's rub your tummy and breathe."
"Just close your eyes and they'll go away."
Laurea stopped by the door and offered a drink of water, which goes against our rule of "no drinks before bed or she'll wake up to pee at 4:30". Kina wasn't interested, in any case.
At the end, I just ended up checking in on her a bunch for maybe half an hour or so, as she required my reassurance that, yes, hiccups go away—and no, you will not be hiccuping forever. I am, it bears noting, living proof of it.
Local Resident Declares Pride in Neighborhood
Sometime down the line, when this has passed, I will be insufferable about having never left the city. People will talk about The Hard Time, and I will say "but did you live through it? Did you walk the empty streets like Will Smith?" I am particularly proud of having stuck by my neighborhood, and am also proud of Kina, who insufferably sighs that she is "from Williamsburg"—and in particular "from Borinquen Place". She will always be from here, even if we leave, which of course we won't, because we're stubborn and insufferable.
Off to bed with all of you!
dad