Kid Fascinated By Paper Planetarium
Friend Kelli makes inventions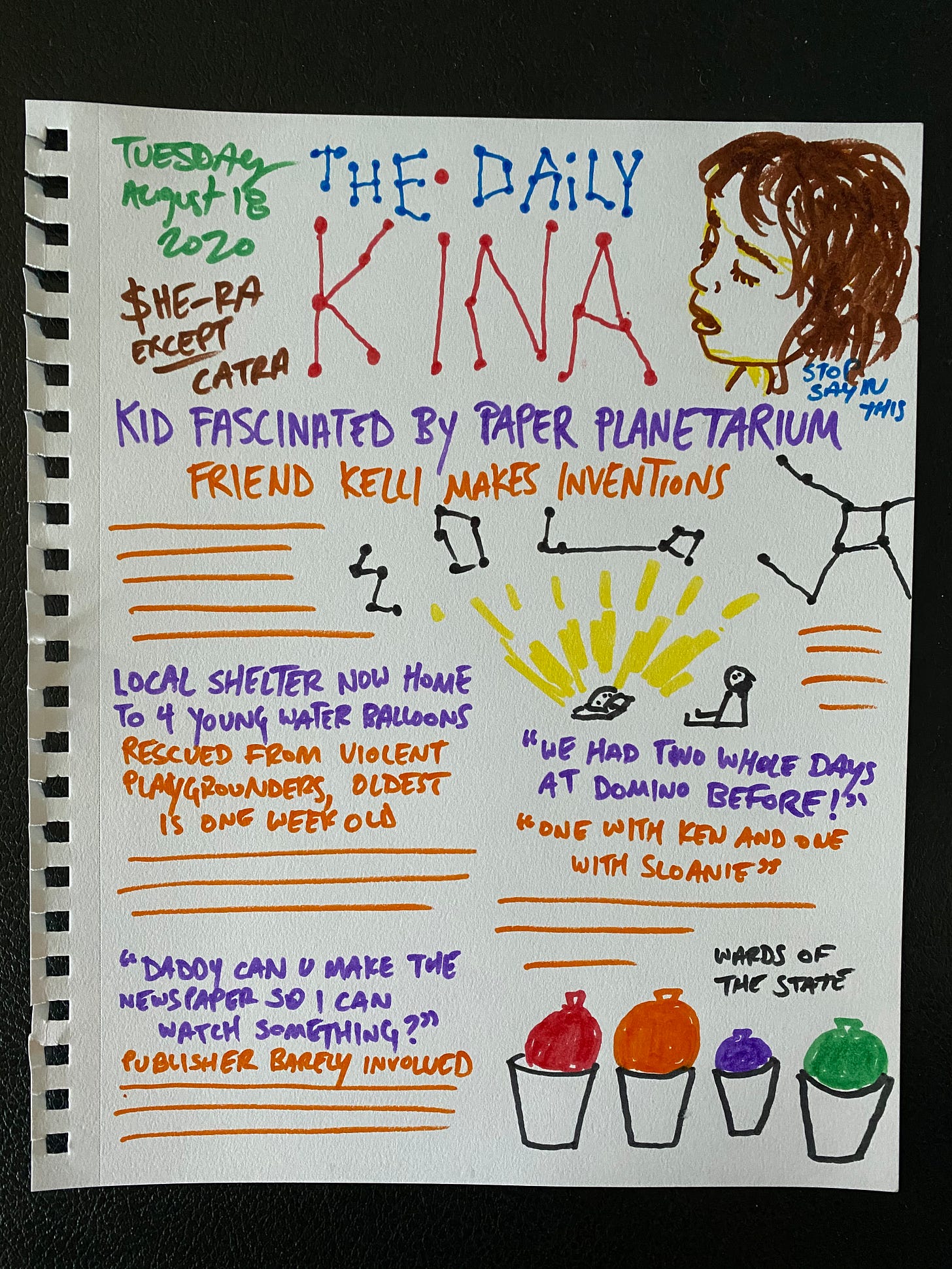 Back when our friend Kelli first released This Book Is a Planetarium, Kina wasn't yet a year old, which didn't bode well for a popup book (no matter how well-built it is), and so we left it high up on a shelf for, well, a moment and an age like this. Given Kina's skyrocketing curiosity, we decided finally to break it out and give her a tour of its many functioning machines. The spirograph got a bit of play a couple weeks ago, but today's discovery was maybe the best spread in the book—a planetarium. We turned off the lights, switched on my phone's flashlight, placed it under the dome, and stared in collective amazement at the stars of the Northern Hemisphere projected on our living room ceiling. Kina was rapt.
I'm not entirely sure that Kina grasps what stars are, to be honest, aside from characters in a song she loves. The idea that those stars are part of something bigger, that people without phones told stories about the stars, that we stitch the stars together to make sense of things—it feels like she's beginning to encounter those ideas. I almost hesitate to explain it all to her, because then she'll know it, and I can't open that book for the first time again. Laurea makes fun of me because I'm scared of the vastness of space; I find comfort in the way that stars break up the darkness, but it frightens me that they're so far away. I don't know if I want Kina to feel at peace with the stars in their distance or to maintain an innocence about them, to know them only by the outlines they trace. Sometimes a giant bear is the less-scary option, and that's the story I want to tell. Eventually, I'll have to tell her the other story, another way that being a parent is about growing up twice.
Local Shelter Now Home to 4 Young Water Balloons
We think she's hustling these balloons from unsuspecting parents, hovering close to the water fountain and looking sweet until they hand one over. When we've seen her do this, she always says "Thank you", which feels like the appropriate exchange rate for a kid her age. Laurea and I joke that she's a balloon rescuer, because she never, ever, throws these water balloons. She looks on in horror when other children toss them at the ground or pelt other kids with them. They're spending mere seconds with their balloons; Kina keeps hers for literal weeks. She's figured out a way of storing them in cups so they don't burst, and only occasionally takes them out to cradle them in her hands. When one started to leak yesterday, she mourned it. This is not something I prepared for as a parent, and I'm assuming the phase will pass, touching as it is. Until then, we are going to have to find more cups. Think of Kina next time you see some little ruffian throwing a balloon, and send it comfort.
dad