Discover more from The Daily Kina
Home delivery, frequently on a daily basis, of the world's most specific single-child report.
Kid Excited For Flu Shot
Remembers blood draw fondly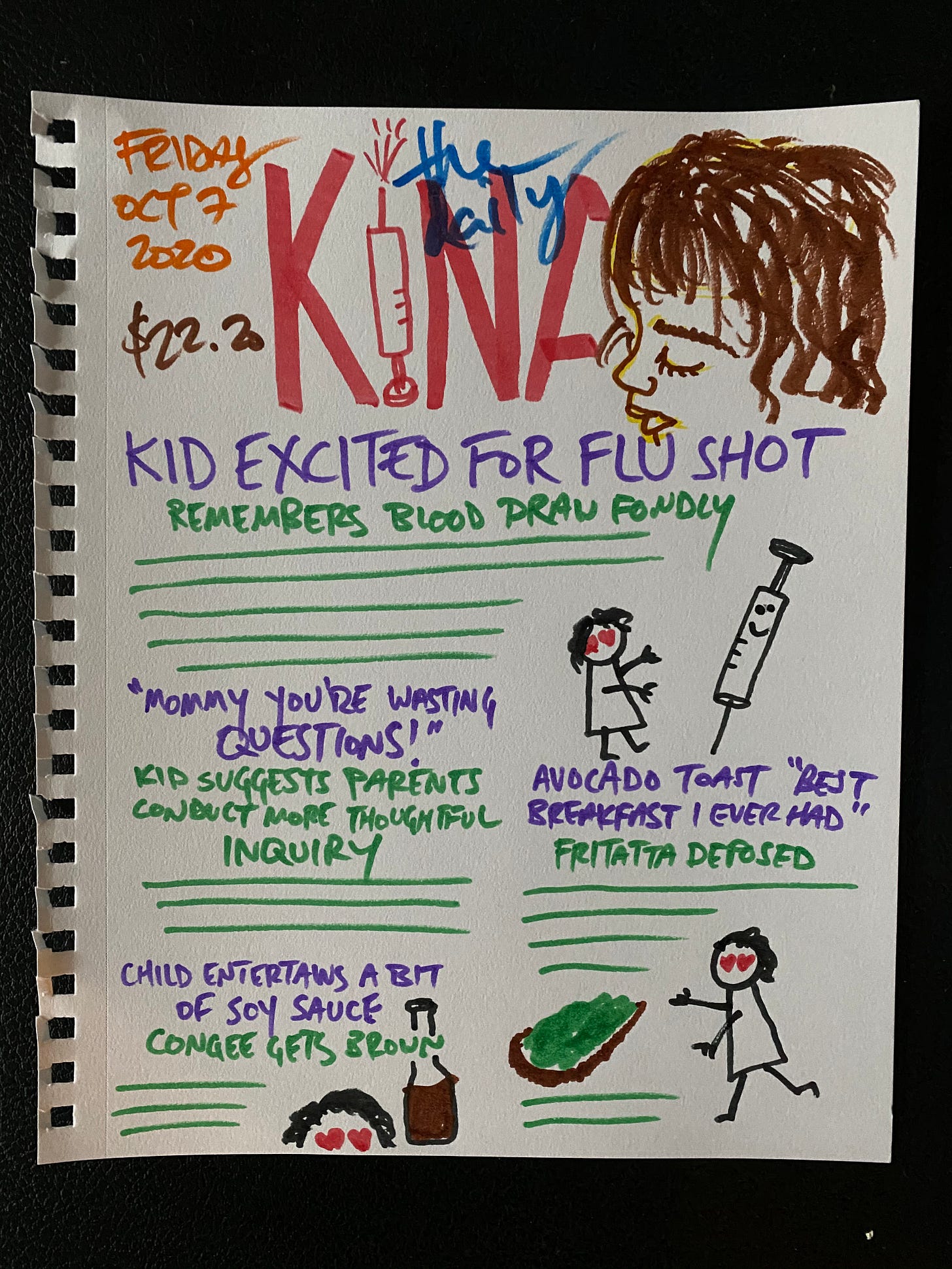 Kina has been asking all week about her flu shot. "When is my flu shot?" she will ask. "Are we going to pediatrics?" "Is it tomorrow will I get a flu shot?" Well, reader, our esteemed publisher has finally awakened to Christmas in October—the day of her scheduled vaccination against seasonal influenza, a fantastic day on which she will receive a lollipop. As we were eating breakfast this morning, she asked which pediatric office we'd be visiting, and we told her she'd be seeing her regular doctor a couple blocks up Grand Street; she was fine with this, if mildly disappointed, because her very favorite place to be stuck with needles is the extremely-sterile LabCorp facility on 14th Street in Manhattan, where she has twice had blood taken.
The first time we took Kina there, Laurea and I had prepared ourselves for the worst. The only other time she'd had blood drawn before that, Laurea and two nurses had to restrain her, and I nearly ended up curled up into a ball myself. We would not be caught off guard again. The phlebotomist walked us to the back of the storefront lab into a fluorescent-lit, minty blue room festooned with decals of Minnie Mouse. She calmly asked Kina to sit in her mother's lap and put her arm in Mommy's hand. I braced as she swabbed the inside of Kina's elbow and placed the needle against it. And then: silence. Two vials of blood were drawn in complete, tranquil silence—as Kina looked on directly. The needle was withdrawn. A band-aid proffered. Lollipop granted. Stickers stuck. We walked to a nearby playground as Laurea and I basked in the miracle of a perfectly-content and recently-poked lollipop fiend.
One year later, same story: Minnie Mouse, Mommy's lap, needle in, Kina watching, blood drawn, needle out, band-aid, lolly, stickers, playground. Blood draws are Kina's happy place. You can see why she was mildly disappointed.
A couple months back, you will recall, we got Kina a new doctor's set, and one of her very favorite things to do is to give and receive vaccinations. She applies "lotion" to my arm, raises the syringe, and tells me to look at Mommy, that "there will be a little chimp". A brief sense of pressure. "Not so bad, right!?" I am very, very healthy now.
Today's shot—at her regular (and extremely comfy) doctor's office—was apparently a great hit. The very famous (in our household) Doctor Stephanie Desgrottes showed up wearing a very chic black skirt and matching black sweatshirt, addressed her adoring fan, asked about her companion Simone the owl, administered the injection swiftly, and applied a neon-orange band-aid. Girls, she assured Kina, never cried when they got shots; boys, invariably.
A lollipop was offered. Strawberry. The patient had a fantastic day.
dad