Discover more from The Daily Kina
Home delivery, frequently on a daily basis, of the world's most specific single-child report.
Kid Enchanted By Giant Hole at Beach
Spends hours within; Daddy builds steps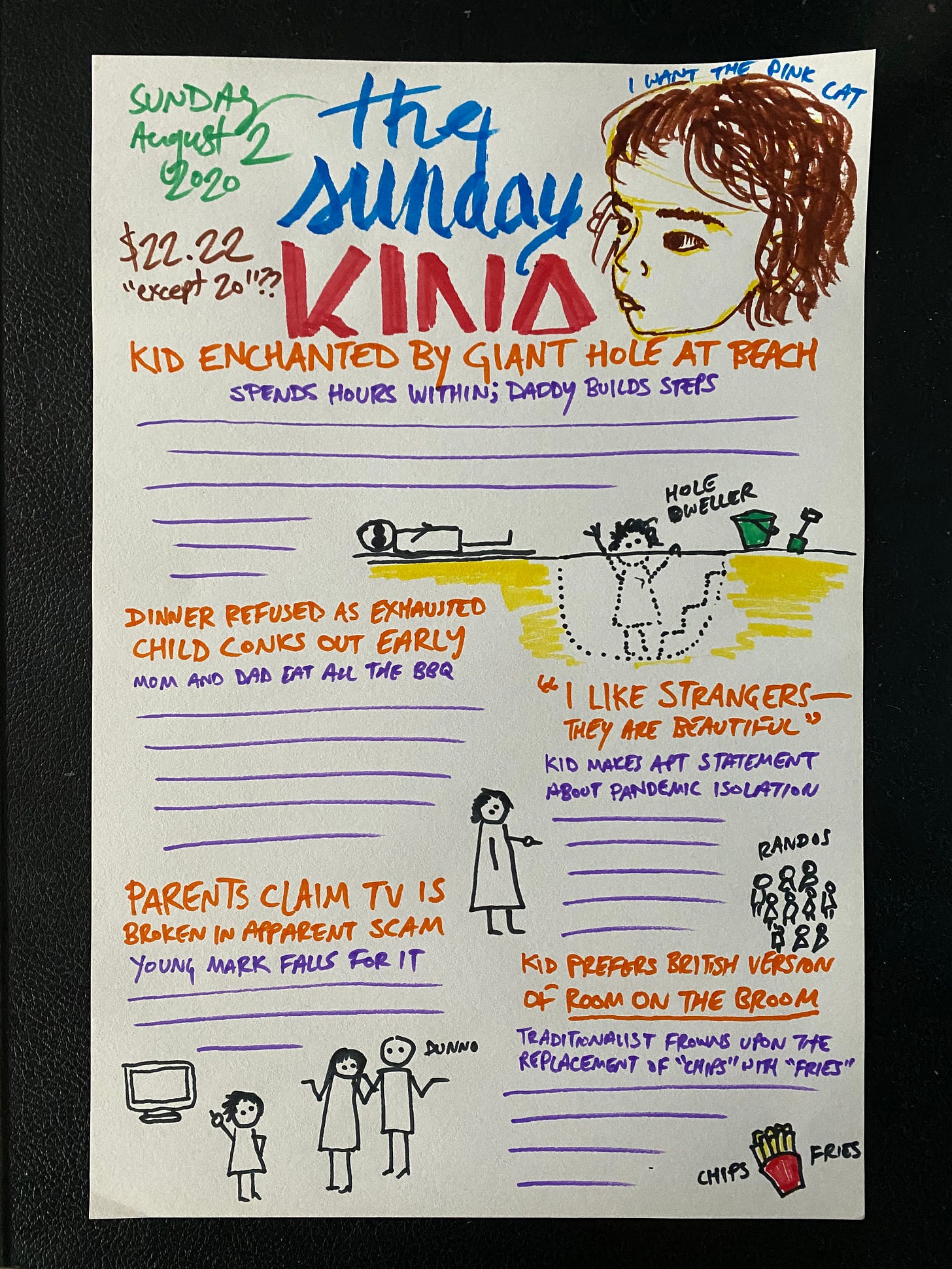 I learned a lot about the integrity of sand holes yesterday, having spent an entire day slowly expanding one at the beach. I learned that that you cannot simply add stairs to an existing hole, that instead you must carve them into the land surrounding the hole. I learned that no amount of wet sand will actually prevent a giant hole from slowly filling up in a matter of minutes, and that it requires constant tending. I learned that kids at the beach love holes, and that you can quickly become the most popular parent at the beach if you put your back into it—which I did, with a little plastic shovel, to the detriment of my back. Kina, for her part, was proud to be the primary beneficiary of this enormous pit, and she guarded it jealously from invasive toddlers; when she was not in the water, she was tumbling into the hole and asking me to build more stairs. As a former kid who appreciated a good fort and bunker, I was pleased to make her requested improvements. Before we left the beach, when I started shoving sand into our construction project (safety first), a neighboring parent asked me to leave it empty so that her toddler, who had been eyeing it from inside his (much smaller) hole, could take ownership of our huge and well-appointed cavern. We graciously obliged—a good sand pit is hard to come by in this market.
Parents Claim TV Is Broken in Apparent Scam
We have come to beware a tired child bearing requests for TV shows, as it typically ends in disaster, tears, and misery. She was extremely tired last night as we unpacked our dinner (which, as noted elsewhere in this edition, she did not eat) and begged us for "a show". Knowing better, we told her the TV was broken. She asked if I could fix it. No, I replied, I cannot, but Eddie the Super might be able to. She asked when he would fix it. Tomorrow, we ventured, at the earliest. She demanded proof that the TV was in fact broken. I handed her the remote while I unplugged the power strip. Pressing every button on the remote, she asked why the lamp had turned off, but reluctantly accepted our assertion and made off to the bathtub. This, reader, was a huge and hard-earned win, but it did not keep us from giving her an episode of Octonauts at 5:45 this morning, just for the extra sleep.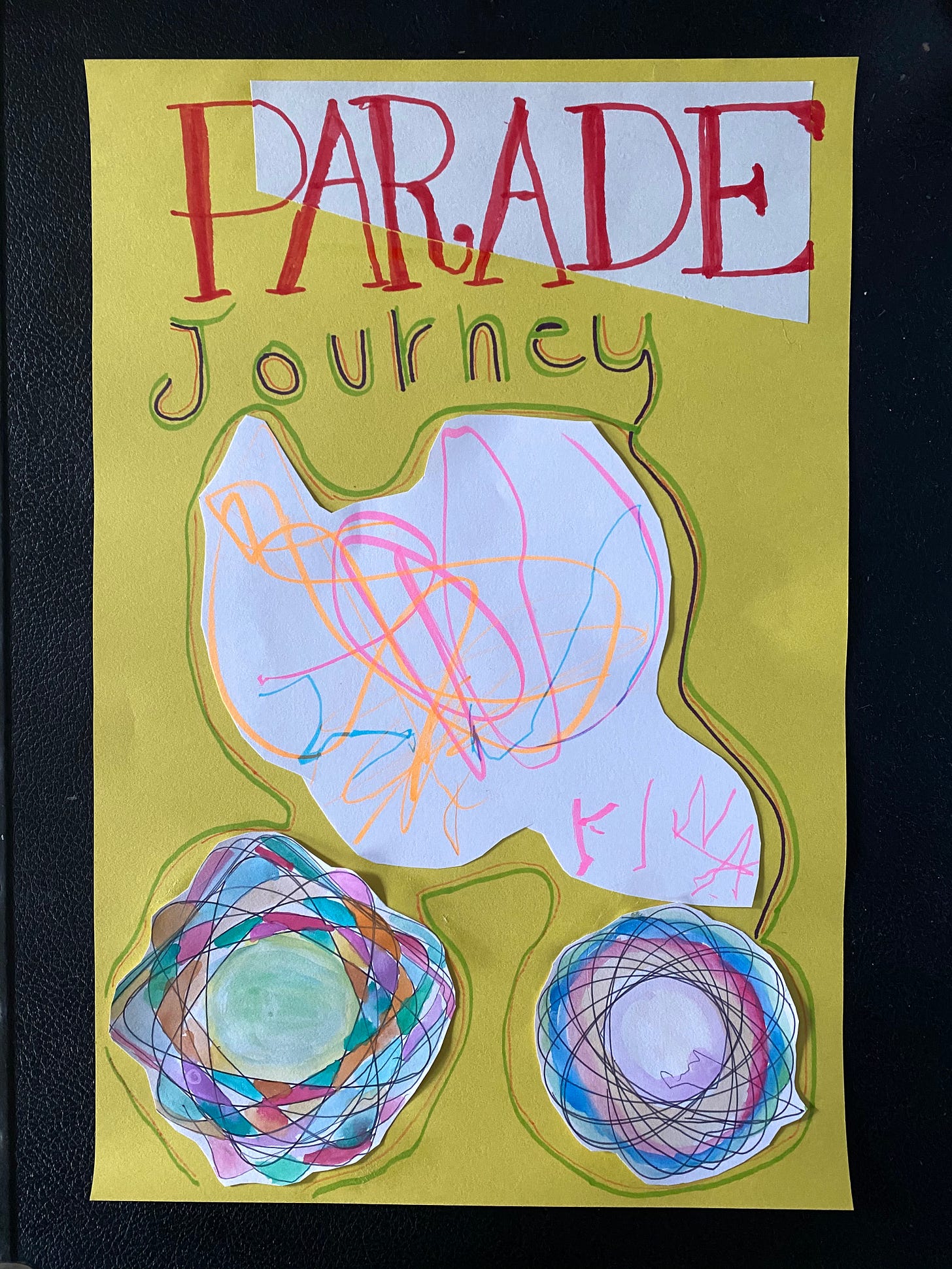 The Parade this week took shape over the course of the last few days. Our friend Kelli Anderson built an amazing popup book called This Book is a Planetarium, which we recently showed Kina for the first time. The last page in the book is a working spirograph, so we drew a bunch of these designs, and Laurea helped Kina watercolor them in. Kina's neon abstraction this week, according to her, is a journey, which gives the magazine its weekly theme.
---
All of you, strangers or not, are beautiful. Remember that as you head into the mouth of this week. Don't worry—we'll keep the hole around for you.
dad