Kid Eats Pizza Incorrectly
What kind of monster have we raised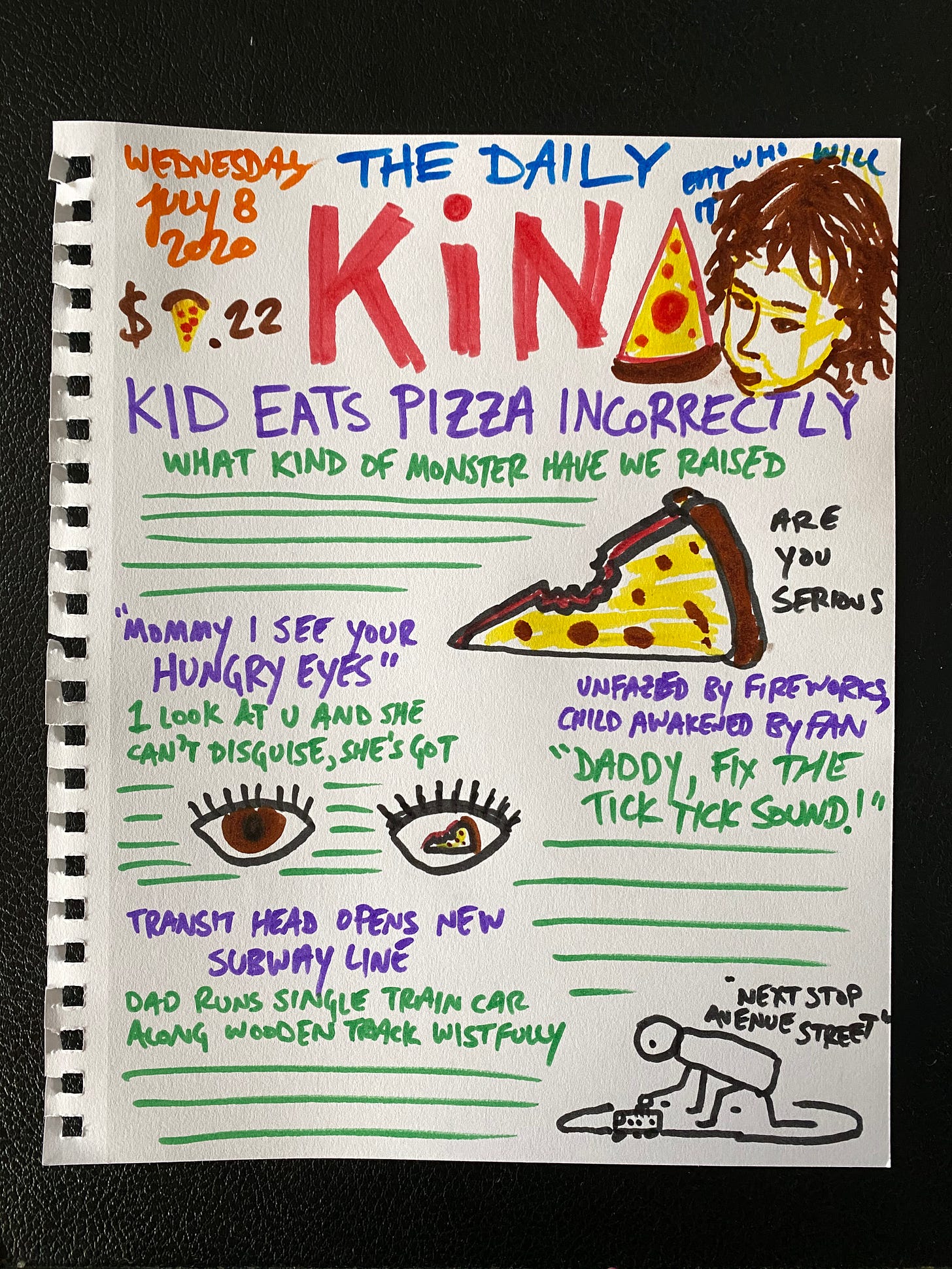 Regarding Pizza
I cannot for the life of me get this kid to eat pizza in any reasonable way, and maybe I need to just get over it. In addition to the chaotically evil "chomp it from the side" approach seen here, I have seen her consume a slice of pizza from the top down—picking off the pepperoni, eating all the cheese, and then literally scraping off the top layer of crust with her fingernails. At best, she eats it flat like a Californian—an abominal approach she shares with her mother. Kina seems only to enjoy pizza so long as the process of eating it entertains her, which means that Laurea and I often end up eating the damp crusts of deconstructed, ruinous slices of pizza. "This is the work of parenthood," we say, as we clean up after her. "WASH MY SAUCEY HANDS," she screams in response.
Regarding Trains
Kina has always been extremely into the wooden train sets at dentists' offices and toy stores, so we bought her a box of train tracks at the New York Historical Society just before the pandemic. They came with a single subway car (we bought the N train), which we figured was just enough train for our apartment. Despite her passion for pre-assembled tracks, it's only recently that Kina has developed an interest in building her own track layouts. She seems to prefer the "long, straight track" approach to route design, but today she built a more circuitous two-station line and asked me to be the train conductor. We decided between us that the first station would be Eldert Street—the home of a pool where she took swimming lessons a year ago—and the second one would be Avenue Street, which is by far her favorite imaginary train destination. In the midst of this transit crisis, the most soothing reminder of the Before Times is hearing Kina yell, "The next station is… Avenue Street! Stand clear of the closing doors, please! Ding, ding!" It's so much cheaper than buying a MetroCard, and reminds me of what we ultimately are going to have to recover.
There are forty of you now, and we are nearing the hundredth issue of The Daily Kina on Friday. Our subscriber growth is healthy, but if you want to give TDK as a gift, great—just remember that it's free and totally not guaranteed to last a year. Tick, tick!
dad