Kid Dunks Head in Atlantic Ocean
Frolics with shells, pita chips; a hole is dug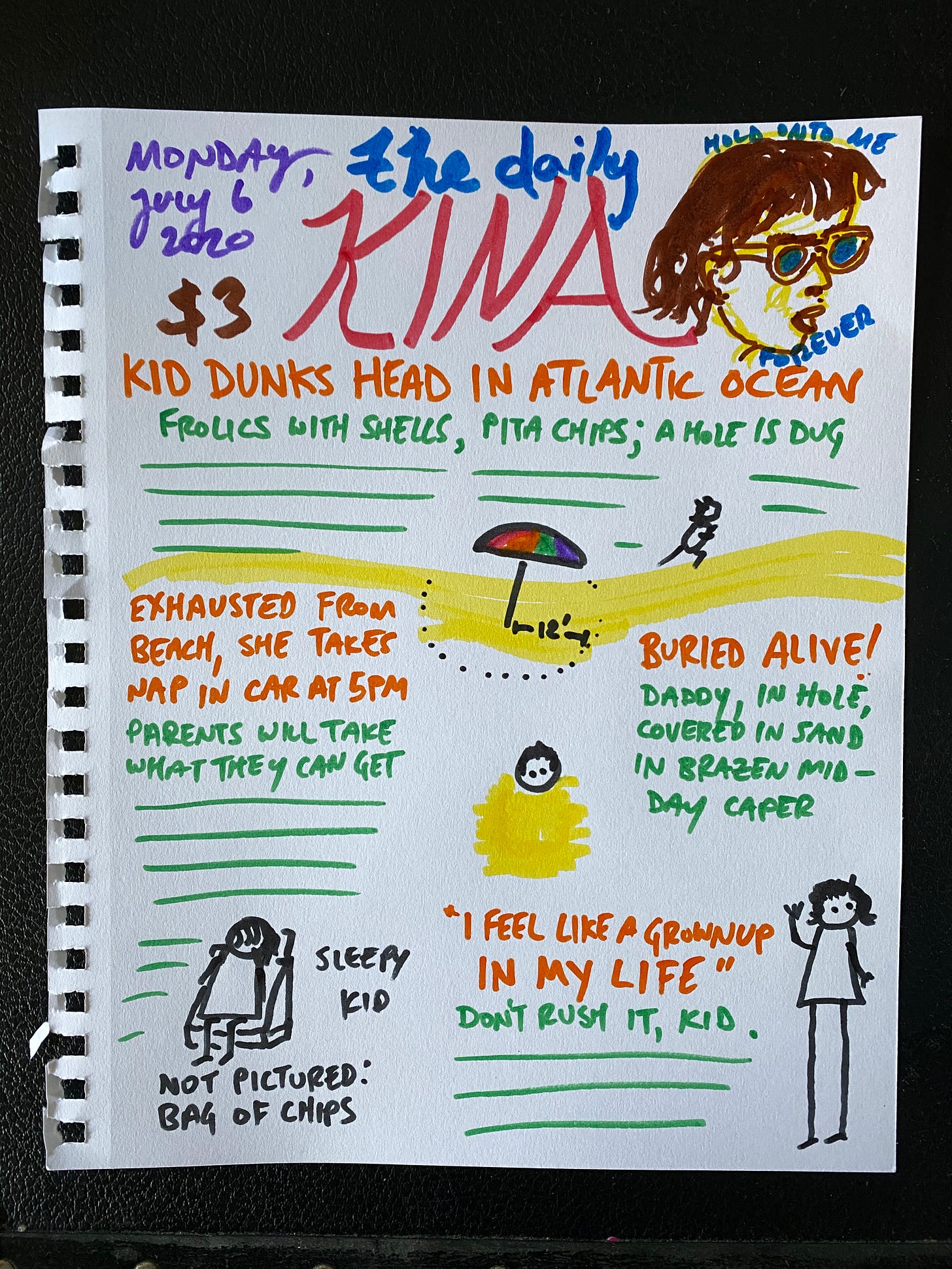 Longtime readers whose subscription to the Daily Kina predates the existence of this newsletter will recall that the family have rented what Kina calls "the Rice Car"—a domestic hybrid with unremarkable acceleration that we use to get out of the neighborhood and into isolated locations where Kina can scoot around and picnic. One of those locations, early on, was Jacob Riis Park—a beach at the southwestern end of the Rockaway Peninsula that's just far enough away to be readily accessible and not terribly crowded. When we took first trip out there, at the very beginning of May, the beach was almost entirely empty—thousands of feet separated us and our nearest fellow beachgoers; Riis quickly became one of our favorite spots. The beach has grown gradually more populous, though not nearly so crowded as we've seen it in past years—there's plenty of space to breathe and relax. Yesterday's visit (our fourth this year) felt safe and comfortable enough for us to finally dip in the water, jumping together over the waves as she clung to us and taking the intermittent dunk, which she weathered like a champ. Kina loved the whole thing, and we stayed all day. I have a terrible sunburn.
The illustration I'm proudest of today is the twelve-foot boundary I've drawn around our spot on the sand, which I maintained religiously yesterday. Part of that impregnable boundary was an enormous hole, dug over the course of several hours and filled, ultimately, by me. Highly recommend being buried by a preschooler, if you ever get the opportunity. At the end of it, she placed a shell on my chest, which was touching.
Don't go growing up too fast, any of you, and get some rest.
dad