Discover more from The Daily Kina
Home delivery, frequently on a daily basis, of the world's most specific single-child report.
Kid Demands Socks and Slippers for the House
Bare feet no longer comfy enough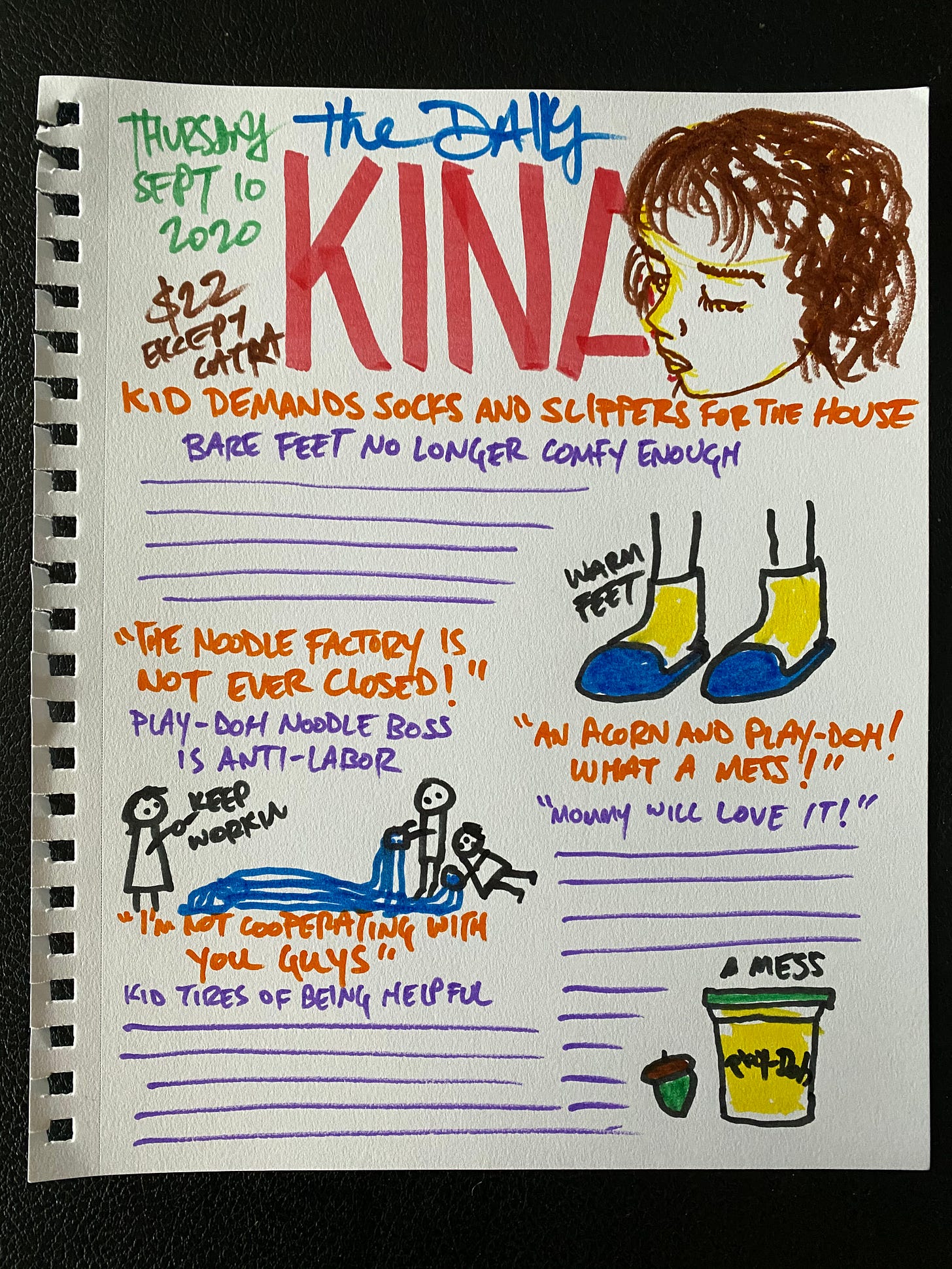 We are a no-shoes household, and it's summer, so we're a bare-feet household at the moment—unless you are our daughter, in which case it's a rainbow-sock moment. Kina decided last week that she wanted to wear socks in the house "because they make me comfy". That's fine, of course, as long as her feet don't get all sweaty—far be it from me to tell her what is and isn't comfy, within the bounds of proper foot hygiene. This morning she upped the ante on us suddenly, declaring that she wanted both socks and slippers. This requires a bit more thought. We have never been a slipper household, and I'm honestly not sure how Kina even knows that slippers exist. How would we identify a proper slipper for her? What does it signify that our daughter is a slipper person? Are bathrobes next? Is this a sly commentary on our floors? I keep having this vision of Kina emerging from her bedroom, yawning over a cup of coffee, wearing raggedy slippers. I'm probably making too much of this. I hate slippers.
"The Noodle Factory Is Not Ever Closed!"
Remember that week that Kina woke up every day at 5 AM and made piles of Play-Doh noodles? Today I learned how much work that actually required, as she forced me to extrude a series of Doh noodles from what appeared to be a syringe. Some readers will recall from their 70s and 80s childhoods a series of ads for the Play-Doh Fun Factory or, worse, the horrifying Play-Doh Drill and Fill. I would watch those ads and wish that my parents would buy them for me. I could extrude huge ropes of Play-Doh! Create ersatz Play-Doh fillings! It all looked so fun and easy, with the dough just squooshing out of the extruder like pastry cream. If you, like me, were never the proud owner of a Play-Doh Fun Factory as a kid, let me tell you what I have since learned: Squeezing Play-Doh through the centimeter-wide hole at the tip of a plastic syringe is like pushing a loaf of bread through a colander. It is hard work with almost no payoff. The only person happy with the final product is the three-year-old who is using the noodles to make a bracelet—the same three-year-old who somehow did this herself several times a morning, and who will never know a childhood without a set of plastic extruder attachments. Kina forced me to do this all morning. Privilege makes for horrible bosses.
dad