Kid Apologizes To Sleepless Daddy
"It's just not meant to be"; not actually her fault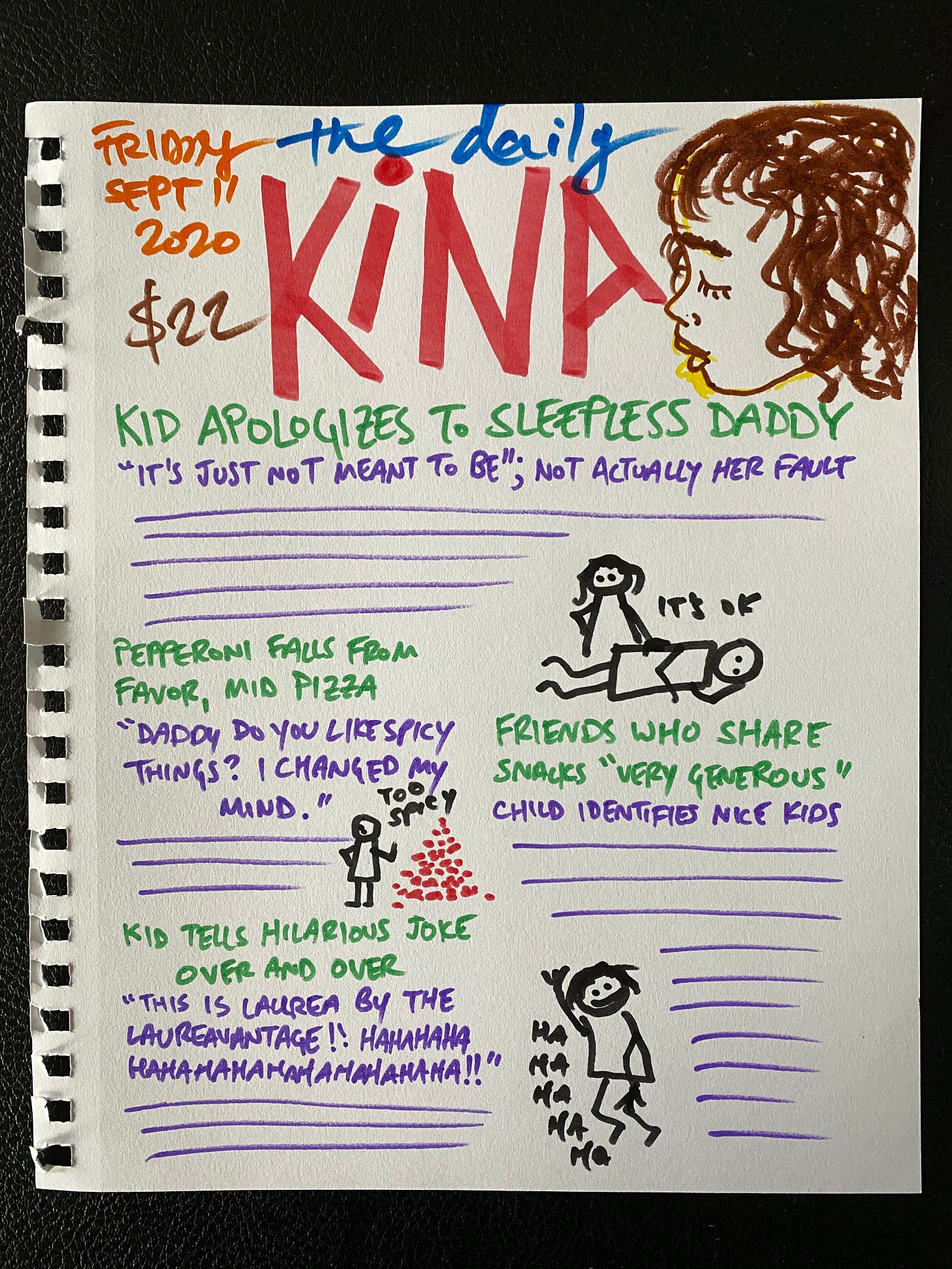 I have been fortunate, in the midst of this universal maelstrom of viruses and social collapse, to sleep relatively well. Much of this is because I am so tired all the time—either because I am tending to a small person who is constantly running or because of, you know, all of this. Last night, though, I found myself for some reason tossing and turning all night, and by the time Kina burst into our room for the 6:24 wake-up call, I was a mess. Our occasionally-sympathetic child, with the best of intentions, leapt to my side on the bed and repeatedly patted my shoulder, muttering "It's just not meant to be, Daddy," which isn't really that comforting, but is at least slightly hilarious. As I dragged my way through work today, I tried to remind myself that the things that kept me up all night had nothing to do with her, and that I loved my awkward semi-comforting offspring.
Kid Tells Hilarious Joke Over and Over
For the last few nights, Kina's insisted on repeatedly telling me her best joke, which consists only of the punchline "My name is Laurea by the Laurea-vantage!" and like forty-five seconds of outright cackling. She insists, after each telling, that I also laugh, and I do—mostly because her belly laugh is so funny. If, for some reason, I try to change the topic, she grabs my face and looks me straight in the eye as she cocks her head to deliver another hilarious zinger. This often goes on for at least half an hour. Tonight, her "joke" was to hop all over the house screaming "best of butter!!!!" It was, at least, a reprieve.
I'm exhausted. Hope you're not. See you tomorrow!
dad