Discover more from The Daily Kina
Home delivery, frequently on a daily basis, of the world's most specific single-child report.
June 27, 2020: Kid Bids Hyped Farewell to Teachers
Bittersweet affair turns sweet as kid leads Ms Ines and Ms Jamika in butt-shaking dance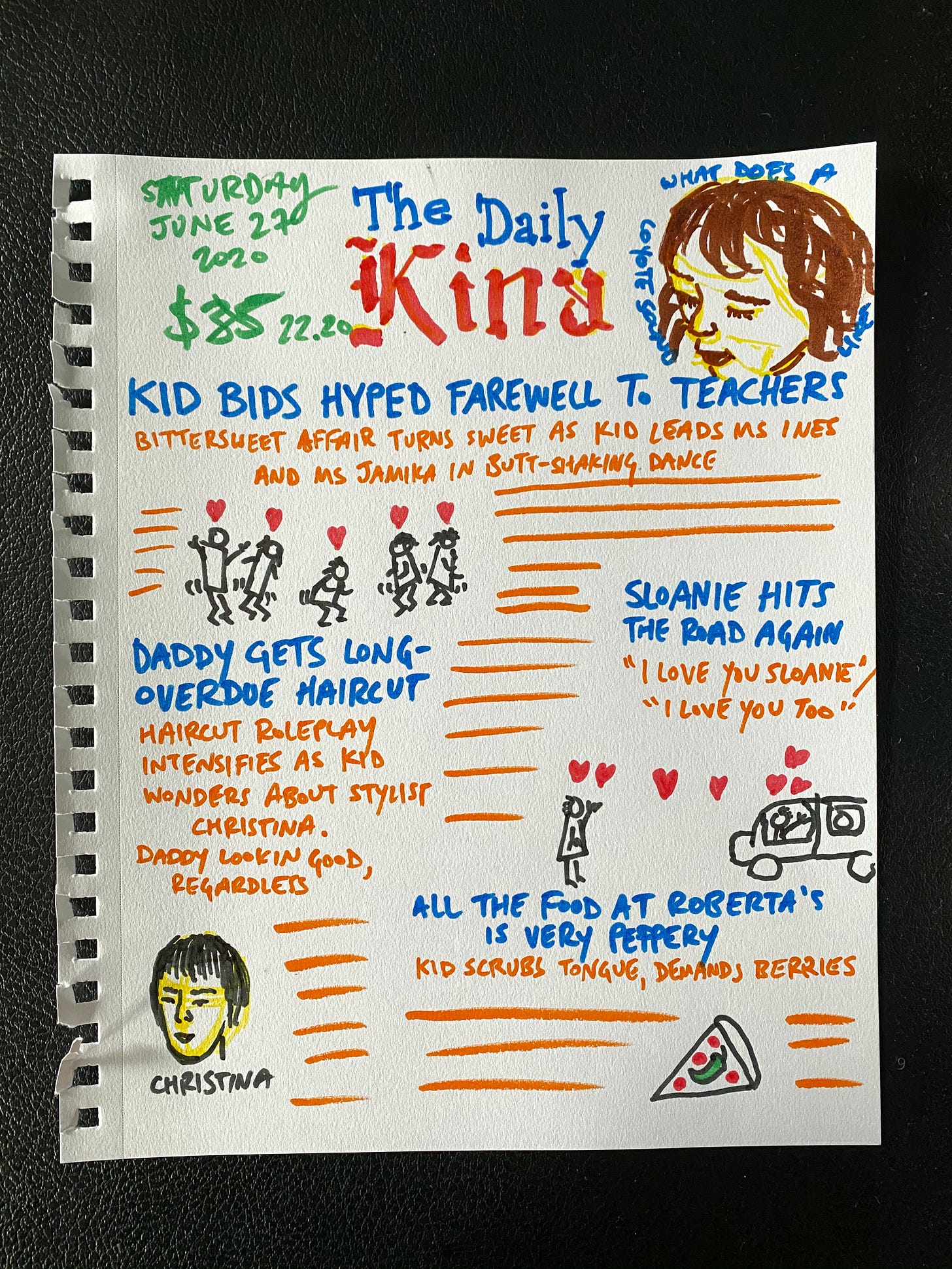 This is the eighty-sixth edition of the Daily Kina. The first edition was published on April 3, 2020, just as we were emerging from a family-wide bout of COVID-19. It was drawn entire in blue crayon, cost twenty-five cents, and led with the headline "YOU A CHEESE FIEND HUH". Today's edition, like every one of the preceding ninety-five, took shape in about thirty minutes while Kina was running around asking for "special treats" and stealing markers from me. I ripped it out of the notebook, took a picture of it on the trunk in our bedroom, and taped it up on the cabinets so Kina would know what the news of the day was without having to spend [checks image] $22.20 on a personal copy.
Kina is three and a half years old, New York is in a strange lull in course of this pandemic, and these daily editions are probably the things I've most enjoyed while it's all been unfolding. Someday we'll make a book of them so she can remember.
In the meantime, I am not exactly being deliberate about this newsletter, which exists for basically two reasons: First, and most importantly, I want you to have this in your email inbox so it's not all horrible in there. Secondly, the Venn diagram of "people who love Kina" and "people who use Facebook products" is not a circle, so to whatever extent you know people who like Kina, and who also want email inboxes that are less horrible, let them know.
I may never write this much actual text in the newsletter again, so I'll leave you with this note: Today, there are three of you reading this. None of you follows the others on Instagram, which makes Kina the one thing holding you together.
See you tomorrow!
dad