"Is There More in the Pot If I Want Some More?"
After two bites, Kina asks for seconds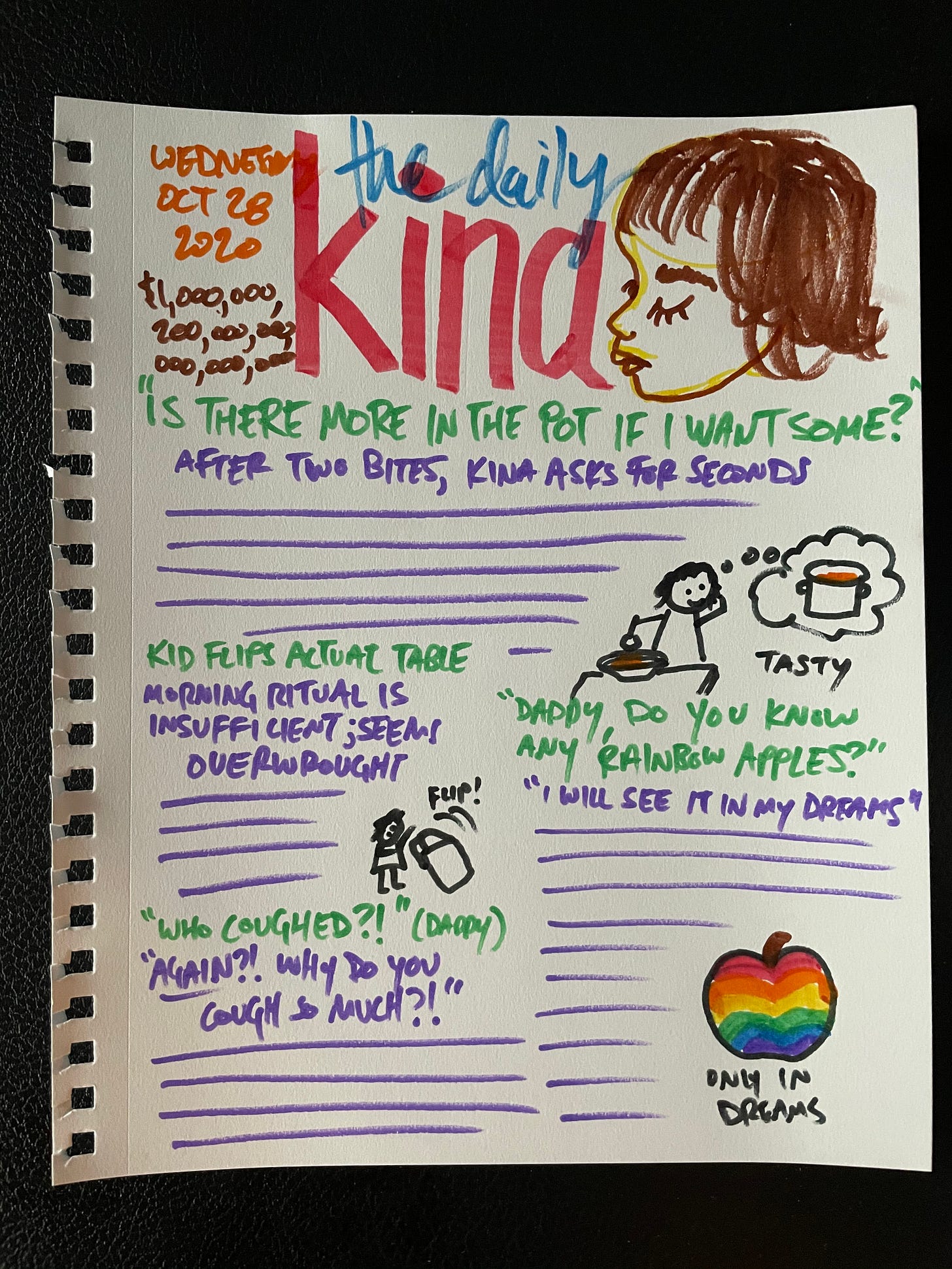 In her youth, Kina was known neither for her varied palate nor for a gluttonous appetite. As most contemporary first-time parents likely do, we imagined a diet for her that would be riotously colorful and diverse in its flavors: Fish eggs! Molé! Hummus! Kimchi! Injera! What we got: avocado, scrambled eggs, and allergies to peanut (no molé) and sesame (no hummus). As she grew in size, she shrank from culinary challenges, retreating to the inevitable noodle-and-french-fry diet for which she is still occasionally known. In recent months, though, she's demonstrated a newfound appetite for risk: Strange vegetables! Tofu! Spicy things! Fungi!
You can't always tell when Kina won't eat her dinner (about a one-in-three chance these days), but you know she'll clean her plate when she asks, "Is there more in the pot if I want more?" (She asks this regardless of whether the dinner we've made is in a pot or in a baking dish.) It's usually after the first bite or so that she starts waxing rhapsodic about all the meals she'll eat from the leftovers—
"I'll have farfalle and squash for breakfast and aaaaaalllll the time!"
"Tomorrow I will eat all of this for lunch!"
I didn't necessarily imagine, in the Before Times, that we'd be eating dinner with her every night. Laurea and I often got home after Hannah had fed Kina dinner, and we'd put her to bed before making dinner for ourselves. The pandemic has given us the gift of sharing the same dish at dinner, which has pushed Kina to eat all the things we eat. (While we consider her palate as we cook, there was no way we were going to eat quesadillas every night—much as we love cheese.) The pre-newborn versions of us probably fantasized about making farfalle and squash—with kale and pancetta, as Laurea prepared it tonight—for our daughter, but the real-life versions of us were too scarred from failed attempts to foist flavorful purées on the kid. That we now get to share our experiments in the kitchen together, with Kina, is what I think we actually should have been aiming for all along, and we get an unflinchingly honest critic as a bonus.
We're lucky that there's always more in the pot if she wants more. I don't take that for granted, and I come from a family that cares deeply about having more to eat. That she wants to eat more, and that she tells us that she does, is the most exquisite demonstration of love.
dad