Intense Fashion Model Refuses to Smile
Strikes increasingly confrontational poses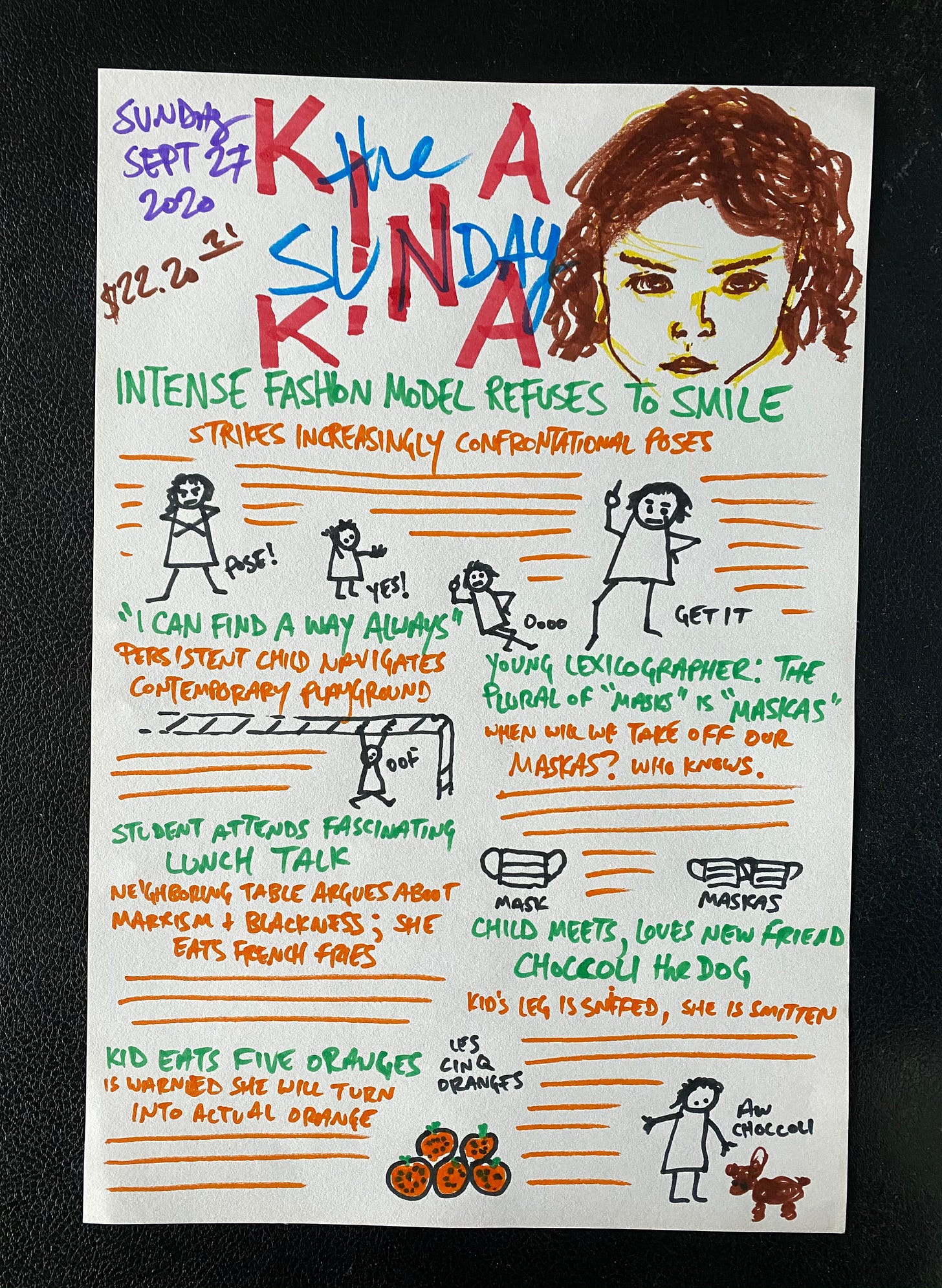 A clothing-designer friend invited us to have pictures taken of Kina wearing various clothes that this friend had designed, for the purpose of selling more of those clothes—which makes a ton of sense, given that Kina is very fashionable and influential in certain newsletter circles. Kina has never been one of those photo shoot kids, unless you count the thousands of photos we have taken of her on our phones, and Laurea and I have never shown her what the absurd art of modeling entails, and yet.
And yet Kina has somehow osmotically absorbed the art of disdainful model faces and weird contorted poses that really show off cozy knitwear. The other kids on the shoot lolled about as kids do, looking pleasantly at the camera and playing with toy trains, but our esteemed publisher, a fashion icon to her core, glared witheringly at the creative staff and growled through the entire shoot. The only way you could infer that this was modeling and not misandric rage was that she stood patiently (albeit dismissively) on the seamless the entire time.
It is conceivable that she might actually have stormed off, actually, were it not for the bag of Trader Joe's gummies that our friends brought for their kid. By the end of the shoot, all those kids were so wired on sugar that the whole thing turned vaguely manic. I imagine this is what real photo shoots are like. But what do I know? She didn't inherit this from me.
I can't wait for the pictures.
Today's Parade is a collaboration between Laurea and Kina, and it commemorates the last weekend workday in a thirty-five-day stretch of extended production days for Mommy. We suspect that most readers can identify the parties involved, but for those who are new to this publication: Laurea is on the left, and the hairy melon with legs is Kina. This is an unusual self portrait for Kina, in that she typically draws all her giant-headed people with "buns" (two ovals underneath the head). It could be that the finish line is blocking them. This is what the art historians will say at the exhibition of these Parades, some forty years from now.
dad