"If We Open the Window, Will We Get Wet?
Will our stuff get wet? Will it take us away?"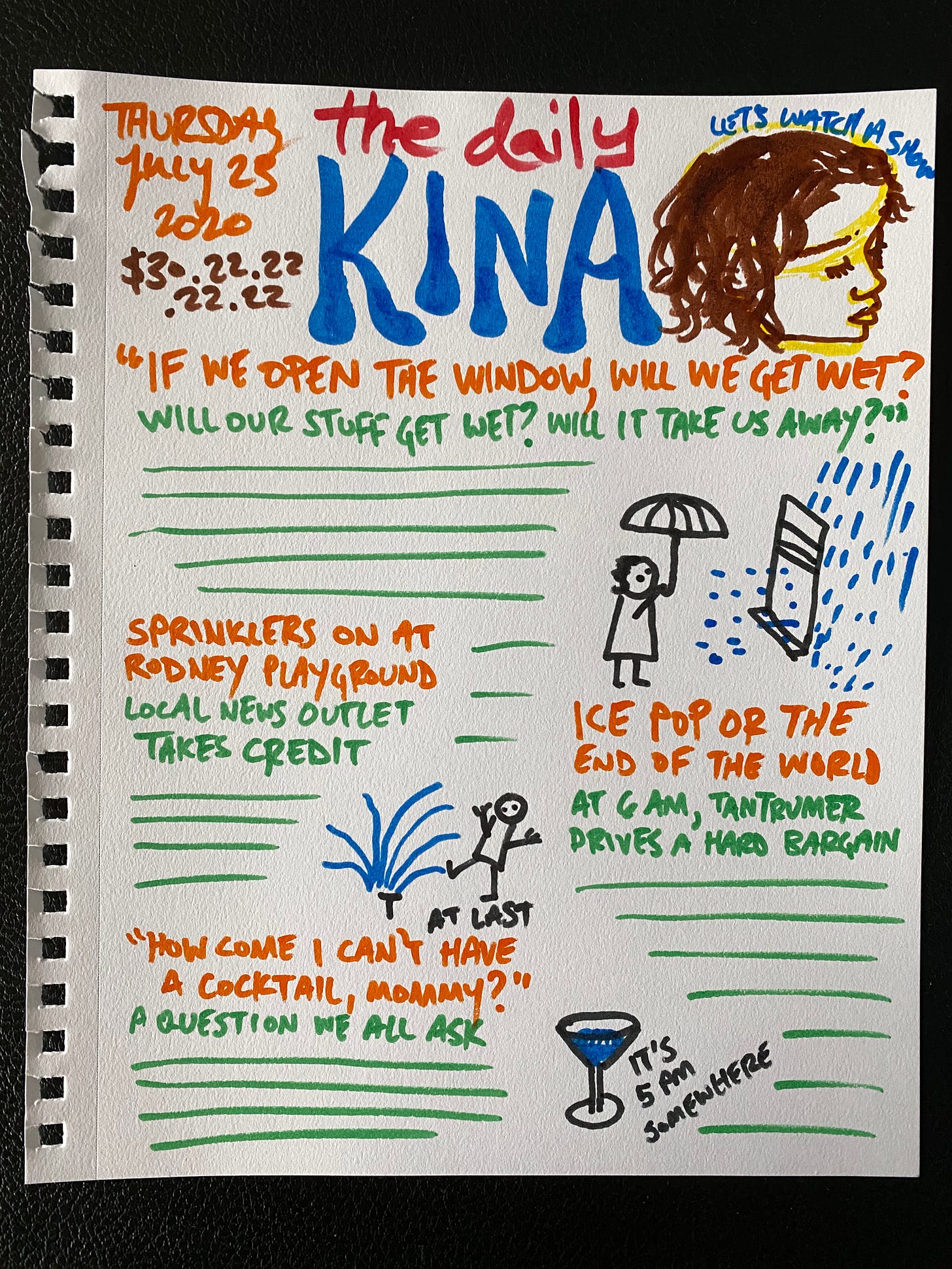 I had always heard about this pivotal moment in the development of a child's mind—the sudden realization that things do things in ways that you cannot control and that may, if you are not careful, make your life unpleasant. I had been thinking about this recently as it related, in particular, to thunder. It's been a torrential summer (for us. For you, too?) and she has seemed not at all to notice the rain, let alone the flash and bang of the passing storms. But lightning struck close last night—about a block away—and the sudden peal of thunder startled her enough to distract her from an episode of She-Ra (a big deal). Staring intently at us, she then spent about ten minutes at the window asking about where the thunder was, and why we kept the window closed in a storm. What would happen, she asked, if we were to open the window? Would the rain get on the front door across the room? (No.) Would it get our stuff wet? (Probably.) Would it come and take us away? (No, the rain will never take us away.) It took some time for her to wrestle with the idea, and she had us lift her up to look out a few rain-slicked windows before she let the matter rest, but I know she's thinking about thunder now, reckoning with the mystery of it—in ways that I think I am, too.
Sprinklers On at Rodney Playground
The editorial board here at The Daily Kina takes our mission very seriously, and when we're called on to hold our local government to task, we rise to the occasion. So when Kina arrived home yesterday from her short afternoon walk soaked to the bone, we nodded solemnly in the knowledge that our work in defense of the Rodney Playground sprinklers was not in vain. Either that or the Parks Department just got around to it. I mean, honestly, they just got around to it. In any case, East Williamsburg got its water—a month and a half into the hot season. Stop by, bring a towel.
And make yourself a drink.
dad