"I Will Love Everybody Who Needs a Hug"
Momentous announcement from hug billionaire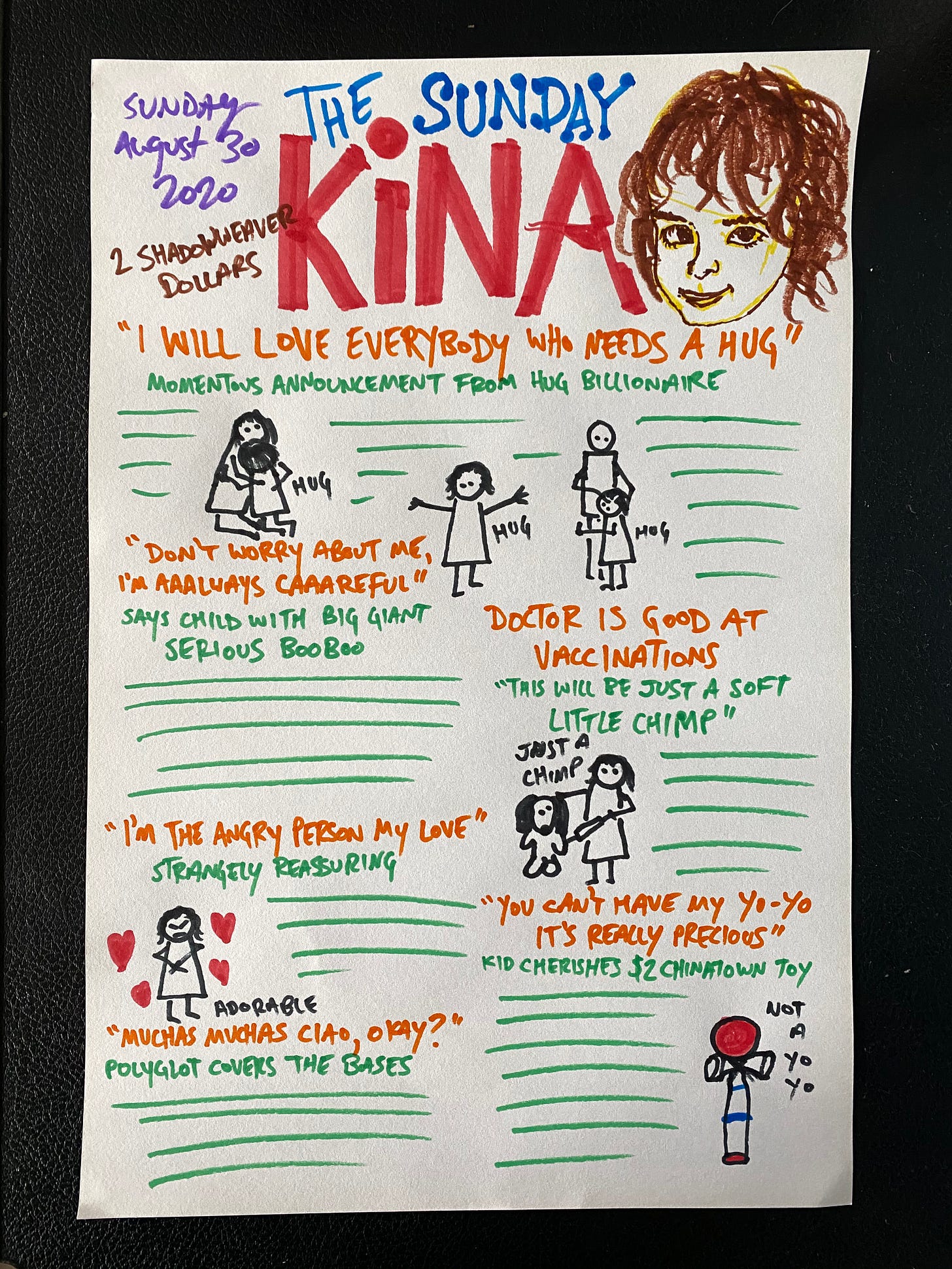 Of the many things wrong about this time in history, the absence of hugs as a salve against existential pain is a notable insult. In this house, of course, we still hug liberally, but there are many people whom Kina could be hugging right now and are currently, tragically, hugless. I don't take our child's hugs for granted—one of the earliest rituals we developed during the pandemic was a nightly provocation to "hug me forever and ever and never never let go", which Kina would just about deliver on, squeezing me by the neck for minutes on end. The hug would always end with Kina saying "Okay now get offa me", but the cure was effective nonetheless. She is storing up hugs for the proverbial winter ahead of us, for the family she loves and sees only at a distance. As a beneficiary of that hug endowment, I can assure you all that her accounts are deep and overflowing. Writing this brings to mind one of my favorite articles in the last few months—a primer on how to hug in a pandemic; use it sparingly at your discretion, should you and your loved ones require it.
Doctor Is Good At Vaccinations
We have covered shots before, in an edition from May 9th of this year—before this newsletter existed. At the time, a local doctor said, "Okay, this shot's not gonna hurt a little bit. It'll hurt so so so so much." We at The Daily Kina wanted to note that this same pediatrician (whose patients include Daddy, Mommy, Puppy, and Simone) is now much better at giving shots, and her patients now feel only a tiny chimp at the moment of injection.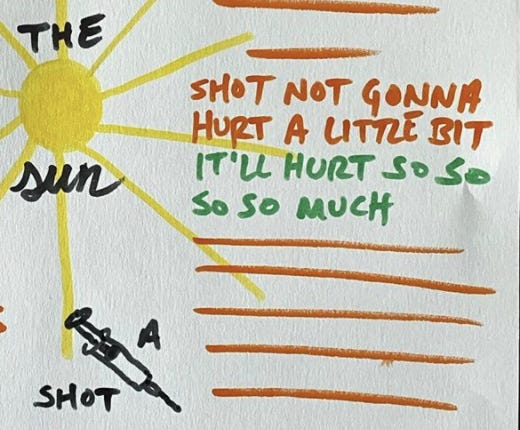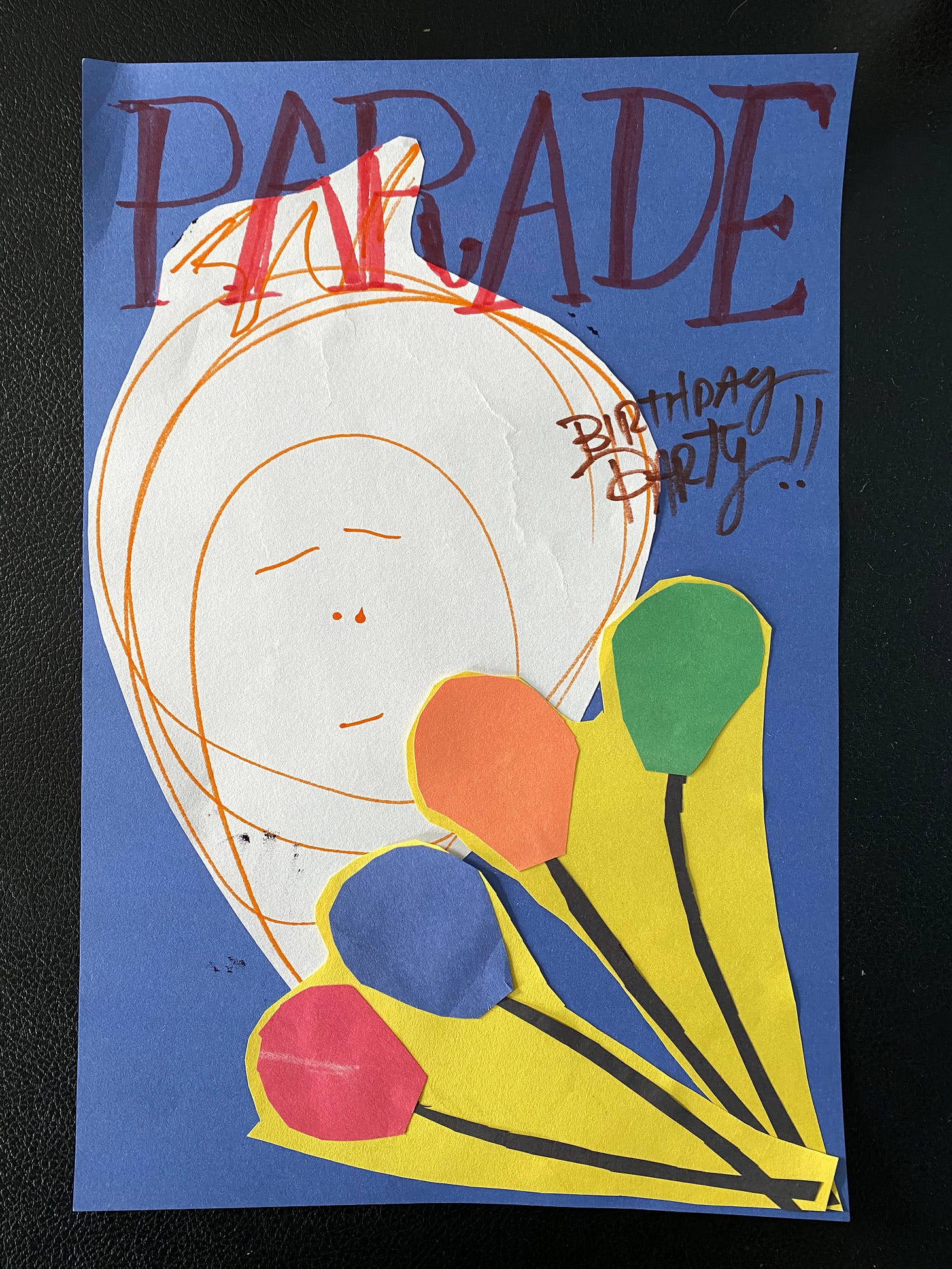 Kina decided that today's Parade would have a "birthday party" theme. Laurea made the balloons on what we thought would be a yellow cover, but then Kina decided to go her own way and draw a "big orange face" (complete with sympathetic eyebrows!) so we compiled the whole thing on blue. It feels very 2020-festive and is one of my faves so far.
Muchas, muchas ciao—
dad