"I Do Impressive Things To Scare People"
Kid lays out PR strategy, waves cane over head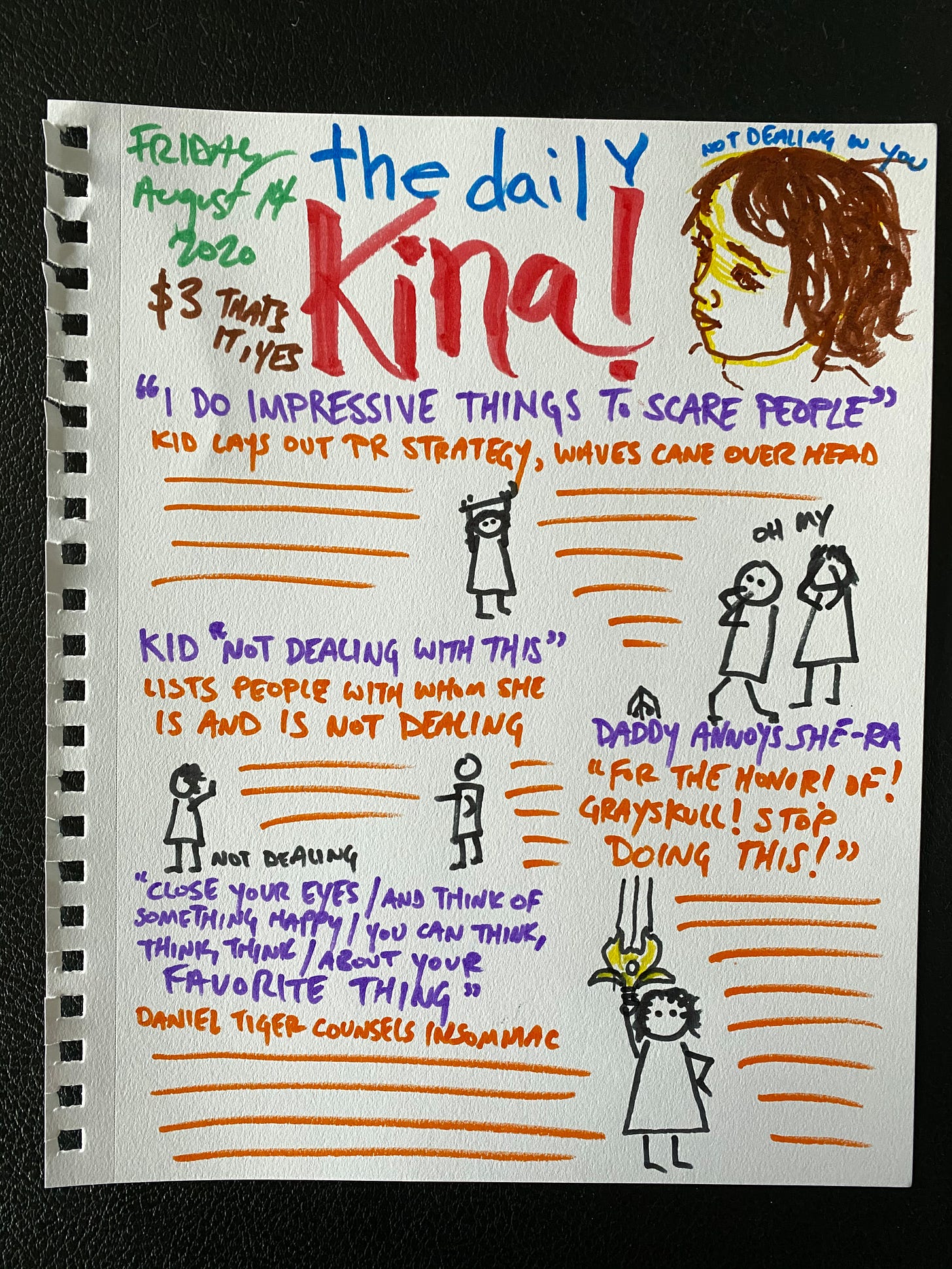 I think I know what she means when she says she does impressive things to scare people—most of those impressive things look a lot like walking around with a stick or cane yelling "For the honor! Of! Grayskull!" at the top of her lungs. If you aren't expecting that at 5:30 AM, it is quite scary, but otherwise it's merely impressive. On a more existential level, though, the impressive things she does—comforting us with gentle whispers, sounding out words, learning what rules mean, building absurdly large towers—are in fact quite scary, in the way that watching a human brain acquire skills is scary. I find on most days that I'm impressed with her, and that what's scary is setting this person up to be okay in the world outside the apartment door, but I'll let her believe it's the shouting.
Kid "Not Dealing With This"
Today, she is Dealing with:
Mommy

Andrew

Des

Grandma

Lala
Today, she is Not Dealing with:
Daddy

Nikola (sorry, Nik, she wavers on this)
The way you know she is not dealing is that she is walking around quietly shaking her head, muttering to herself, "I am not dealing with this" and waving her hand around behind her. Neither Laurea nor I have any comment on the matter of where she learned this.
"Close Your Eyes / And Think Of Something Happy / You Can Think, Think, Think / About Your Favorite Things"
All I have to say about this particular Daniel Tiger song is that I had only ever heard Kina sing it until about one minute ago, and that when she says "think", it still comes out as "tink"—so when we sing this song at night, it's mindblowingly sweet to hear her sing "You can tink, tink, tink about your faaaavorite tings".
Have a good weekend, and may you deal with all your tings.
dad