Discover more from The Daily Kina
Home delivery, frequently on a daily basis, of the world's most specific single-child report.
Everything Is Useless For Everyone!
Nihilist makes her morning rounds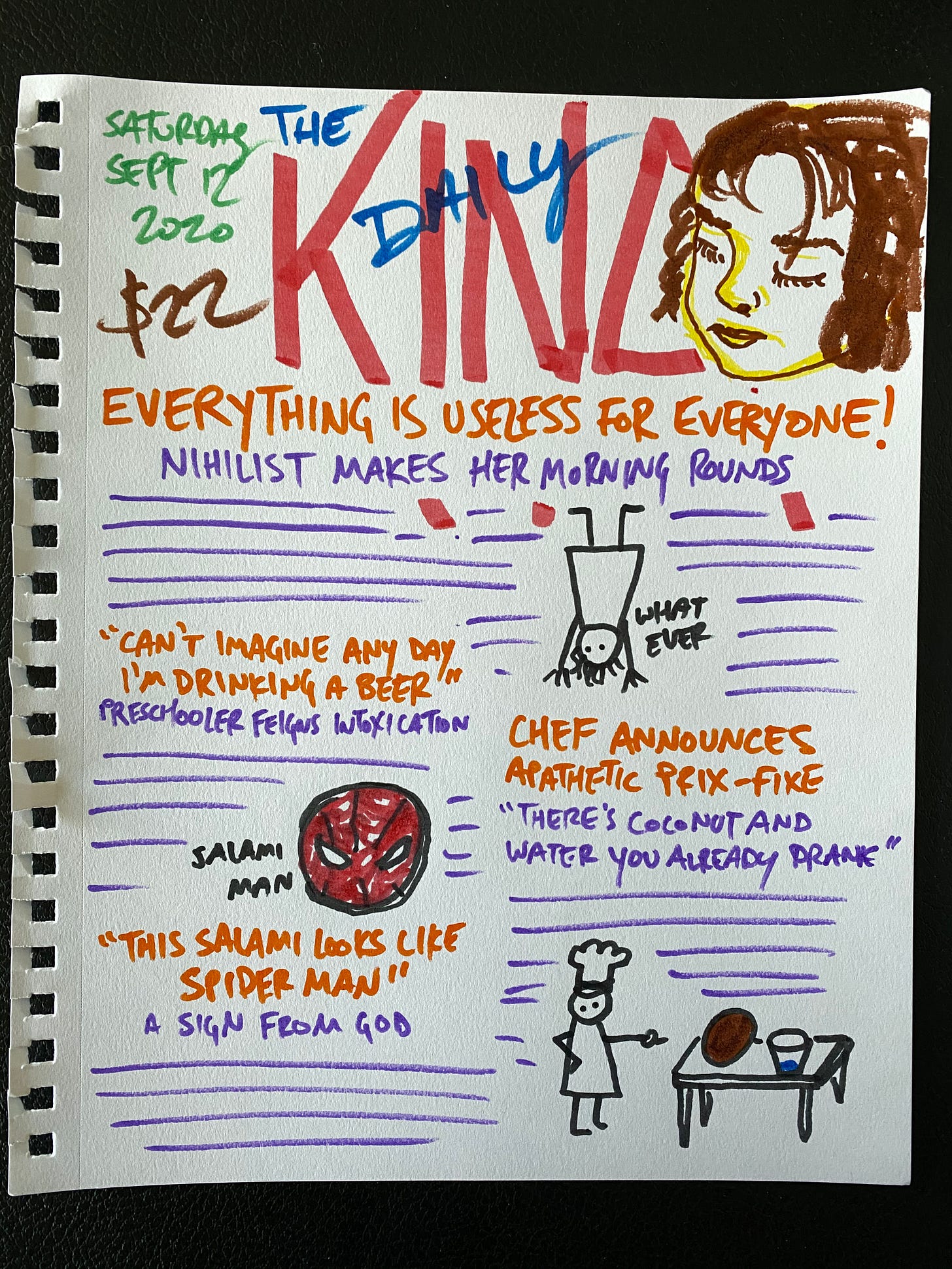 I can't even recall the context of the quote in today's top headline, but it seems like an apt reflection on the zeitgeist, does it not? As we were driving around earlier, it occurred to me that all these new things she says that I find so funny are things that either we have said or that she heard on She-Ra. Is our own frustration with the state of things leaking into her bemused worldview? Are we that resigned? (Yes. Sometimes.)
It is worth noting that I, a depressed optimist, believe that not everything will be utterly without use for literally everybody for all eternity—though all those things do feel universally aligned lately. My complaints are real and (sometimes) constructive, but they mostly serve to mark the passage of time, and if (or when) I say things like "Wow, everything is useless!" it is a way of keeping the mood from cratering as I dig in for the hard work of making things useful. My friend Jess and I frequently toss this GIF back and forth in a running text thread:
When I see it, it tells me both to let it go and suck it up. Do we want to raise a child who will spend her life crippled with rage, or one who will confront the absurd unfairness of the world with feigned nihilism, bitter resolve, and excellent taste in GIFs? This is not a hard question to answer!
In the meantime, I believe that Kina had no idea what she was saying, and that her utterance was a message from the collective unconscious. I love her, and I am resolved.
Chef Announces Apathetic Prix-Fixe
I have read the quote "There's coconut and water you already drank" several times today, and it makes me laugh out loud every time.
dad