Discover more from The Daily Kina
Home delivery, frequently on a daily basis, of the world's most specific single-child report.
Everybody Has Their Lane
Mommy has exercise lane, Kina has She-Ra lane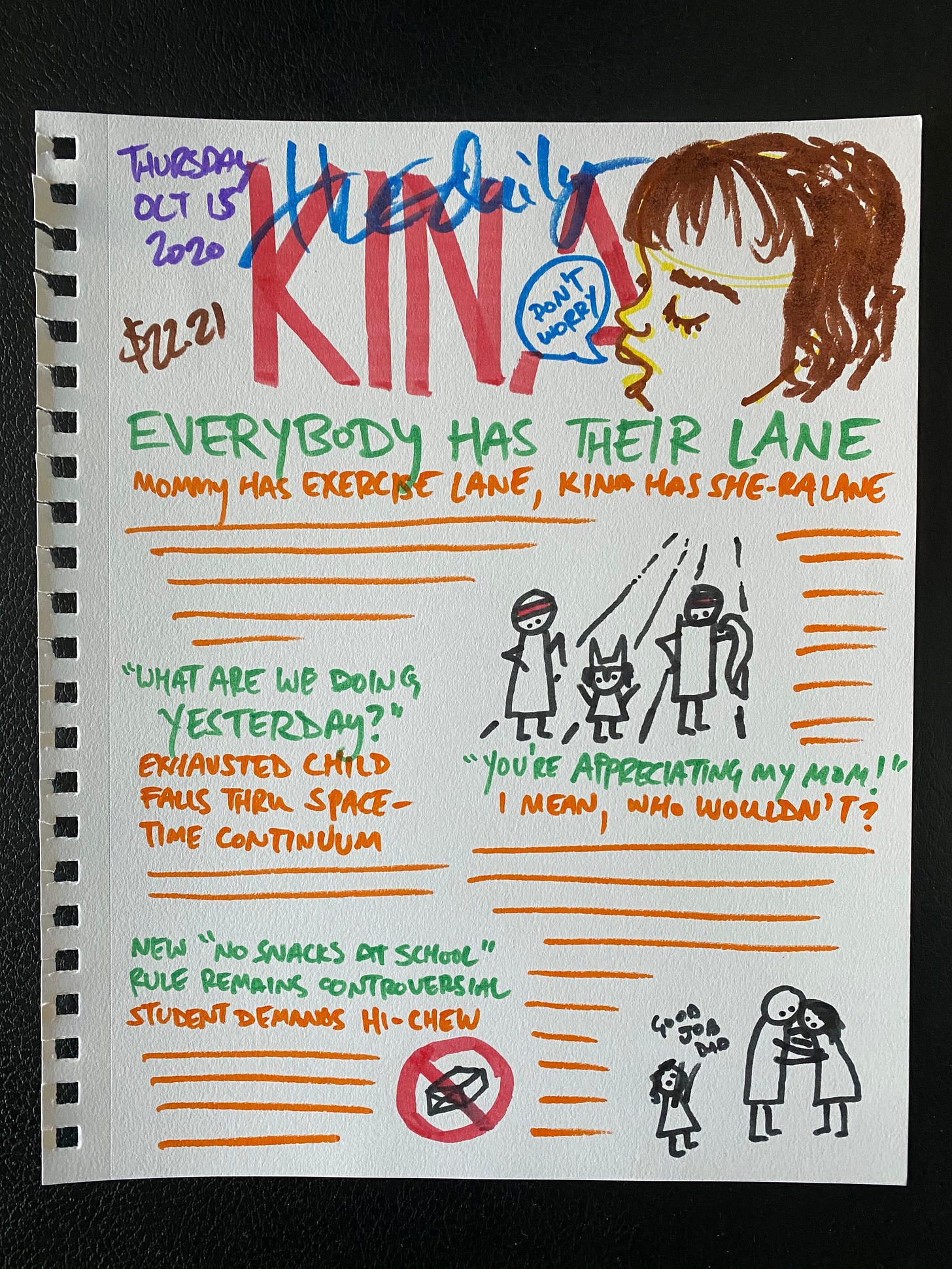 According to Kina, as she ate oatmeal this morning, "everybody has a lane", which both surprised her parents (where did this come from) and did not surprise them (because it's true, if you think about it). Prompted to elaborate on lanes, she offered that "Mommy has an exercise lane, I have a She-Ra lane, and Daddy has a blanket lane." In those three lane assignments, there lies some truth: Laurea does talk a lot about exercising, Kina does unquestionably love She-Ra, and I often lay curled under my comforter for as long as possible, so as to avoid the crushing weight of reality.
Intrigued, Laurea and I asked about other people's lanes, uncovering the following:
Ms Ines (former teacher): Book lane!

Ms Jamika (former teacher): Teacher lane!

Ms Olenick (current teacher): Supplies lane!

Tito Giorgio (family friend): Lasagna lane!

Panda (panda): Small blanket lane!

Sloanie (friend): Teacup lane!

Futura (friend): Purse lane!
That is all that I remembered to write down, but I'm pretty sure we covered an additional twenty lanes—all of which were pretty accurate, by my estimation. The best and maybe most sinister part of all this is that, whenever you meet Kina, she is secretly filing you away in a lane. Stay in it!
dad