"Daddy, Your Shoulder Smells Like a Hot Oven!"
Kid's sense of smell grows stronger, stranger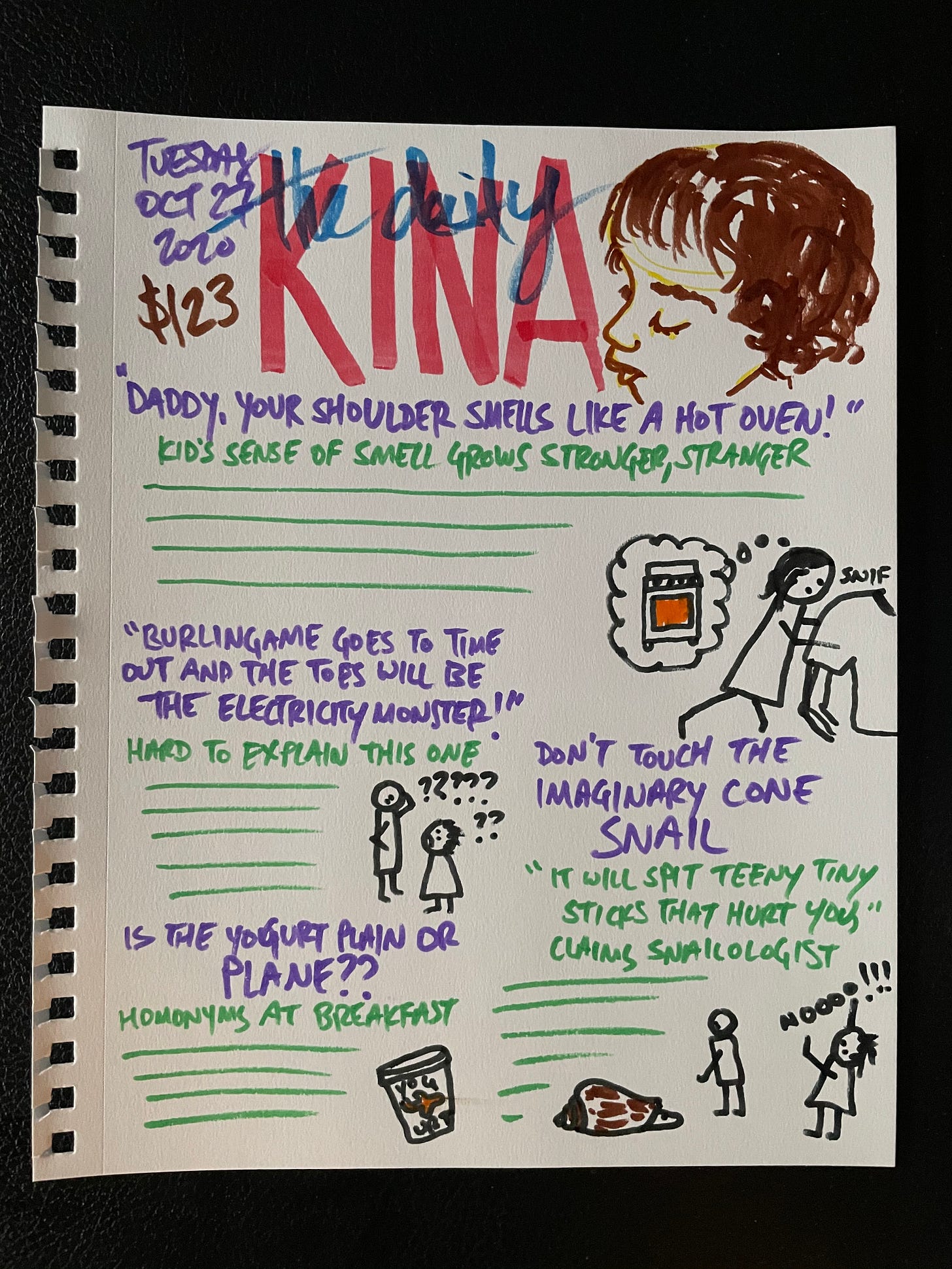 Again, revisiting some territory here, about Kina's astounding sense of smell. Since we last discussed the olfactory wonders of our daughter's nose, she's taken to absentmindedly muttering "What's that smell?" as we walk through the house, which always makes our anxious editor worry that the pilot light on the stove is off, or that some bit of food has been left out to rot. In practice, though, the aroma is often benign—almond butter on toast, Laurea's hairspray, or the living room air after it's been pulled through the vacuum. Now that she knows I'm paying attention, though, she's using her awareness that her sense of smell is stronger than my own to make alarming pronouncements about how I smell. For example:
"Daddy, what's that smell? It smells like butt. Oh, it's your pants"
or:
"Daddy, your feet are stinky. They smell like old butts!"
or today's top headline:
"Daddy, your shoulder smells like a hot oven!"
What does a hot oven smell like? Do I smell like roast chicken or chocolate chip cookies? Like an empty oven as it preheats? Does my shoulder smell like carbonized pork drippings and enameled steel? Is that a compliment?
She's always thoughtful when she tells me how I smell, which is charming, in that it shows she's thinking about me, but also disturbing, because it suggests there's some deep truth to her assertions that I stink. If I have to take any of these comments to heart, I will obviously take the hot oven, which is the most metal of all smells.
"Burlingame Goes to Time Out and the Toes Will Be the Electricity Monster"
Okay, let me make a reasonable effort to explain. Burlingame is the name we've given to my fist when it talks—hopefully you understand what that means, but if not, Google "Señor Wences Johnny". The toes are my toes, which belong to my foot, which she calls "Footle". The Electricity Monster, I believe, is a character from WordGirl. I'm not sure why Burlingame goes to time-out or what the Electricity Monster is doing to him, but I'm pretty sure this scenario involves some injustice and wrongful imprisonment. It passed so quickly that I didn't get a chance to ask.
dad