Child Weeps Inconsolably For Lack of Cheez
Apologizes for tantrum; was angry that dad didn't put parmesan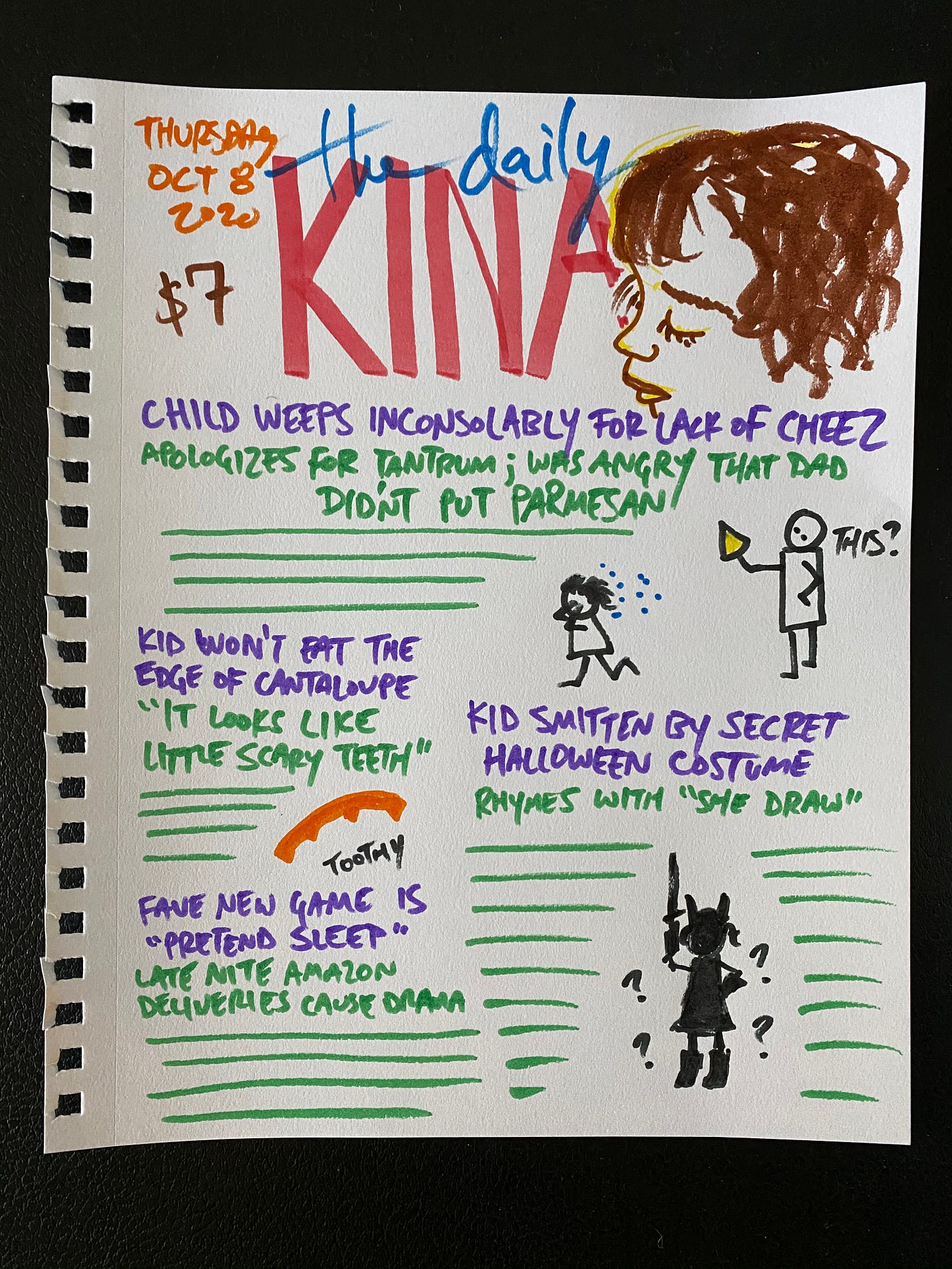 People often say that the tantrums of a three-year-old seem like they will never end, and then they turn four and are suddenly fine. Kina is now two months shy of her fourth birthday, and I can assure you that the first part of that well-trod assertion remains true—let's hope things look abruptly different in December.
Last night, Laurea made pasta (which, as you know, is our publisher's favorite food), grating some primo Parmigiano-Reggiano on top as a finishing touch. As we sat down to eat, Kina was so excited, bouncing up and down in her seat, ready for a big chunk of noodles—until five seconds after we mixed the cheese into the pasta. I think she barely got one sentence out ("Where's the cheese?!") before collapsing in tears. Fifteen minutes of gasping, snot-soaked weeping ensued as Kina grasped at her mother's shirt, burying her head into her shoulder. We walked her around, picked her up, put her down, asked her what she needed, got her stuffies to talk to her, sat as she lay on the floor and screamed, watched as she turned beet-red. I finally asked her if she wanted more cheese, and she nodded her head violently up and down. Within seconds of my picking up the grater, she calmed down.
Why did I not do it sooner? Because these are not the rules of the house. After she apologized (which is new), we explained to her that when Mommy wants me to take out the trash, she asks me to. When I want Mommy to get some water, I ask her to. In this house, we do not weep for cheese, child.
Insufficient cheese is a problem that can be solved. There are many things to cry about, and I need her to save her tears for moments that will put to better use every milligram of adrenaline my body can produce in response to those tears. For less tragic situations (like scary cantaloupe crusts), we can talk about it. I am liberal with cheese! I can bring parmesan to bear! Just ask me! Maybe I need to accept that we live in an age where bawling over pasta is a luxury, and I'm certainly discounting the need for an average 3.8333 year old to cry—because crying is a craft that requires practice. I just feel like I don't ever get to cry these days, and I suppose that the point is that I am jealous of this person who gets to cry whenever she wants.
Maybe when she's four, I'll take my turn.
dad