Discover more from The Daily Kina
Home delivery, frequently on a daily basis, of the world's most specific single-child report.
Child Visits Best Playground in World
Zentals Park playground has castles, big girl swings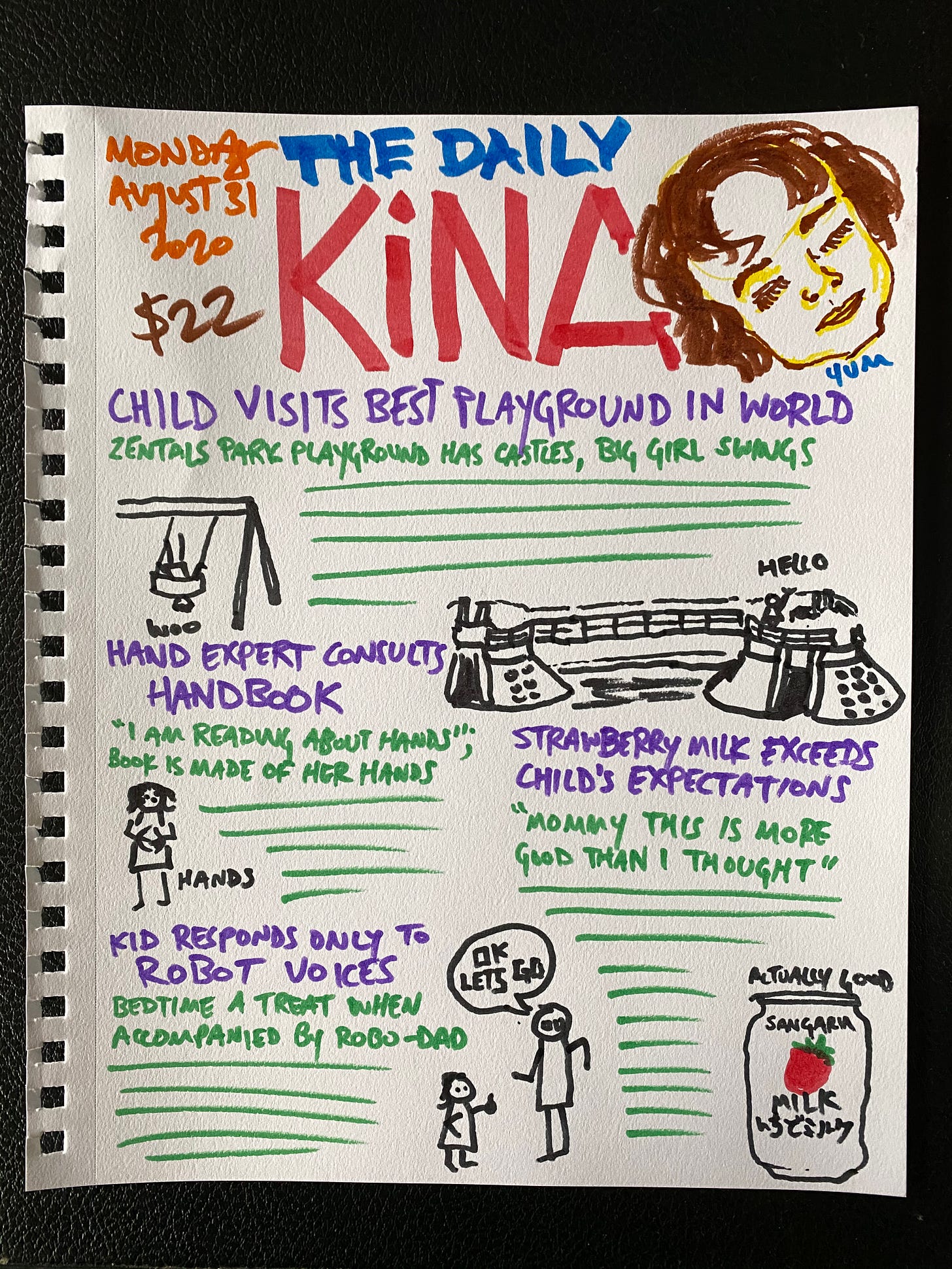 For years, I've admired the masterfully-crafted Heckscher Playground near the southern edge of Central Park. A complex of moats, castles, swings, and fountains, this is a playground for the playground aficionado. It's well-maintained, squishy where it needs to be squishy, and just dangerous enough to keep a kid enthralled for hours—which it did yesterday, for Kina, on her first visit. It is even better than the last billionaire-financed Conservancy playground we visited in Central Park! I count us lucky to be able to make our way into these rarified (and yet still public) play spaces, though I desperately wish Kina had her own local stone castles to leap from. Given the plaque on the $10,000 bench we sat on yesterday—donated by the owner of the New York Jets and heir to the Johnson and Johnson fortune—that seems like a far-off possibility. It feels increasingly unlikely that the city will have the discretionary budget to spare on playground upgrades for kids in underserved neighborhoods, and given recent articles swooning over the departure of well-heeled families to the suburbs, the tax base to fund them is growing ever slimmer. Still, we abide. Kina saw her friend Stanley at Rodney Playground today, which she seems to have found more memorable than leaping off of castles, much as I covet them. I will remind readers of this newsletter that they are welcome to join the Friends of Rodney Playground, a still-nonexistent conservancy for Brooklyn's most BQE-adjacent play environment. We are selling benches.
Hand Expert Consults Handbook
I saw Kina sitting quietly on the couch yesterday, staring intently at her open palms. When I asked her what she was doing, she replied, "It's my handbook. I am reading about hands." And now I desperately want to write Kina an actual illustrated handbook about the safe and proper operation of hands. Somebody get me a book deal.
dad