Discover more from The Daily Kina
Home delivery, frequently on a daily basis, of the world's most specific single-child report.
Child Tells Extremely Quiet Story
Something about mermaids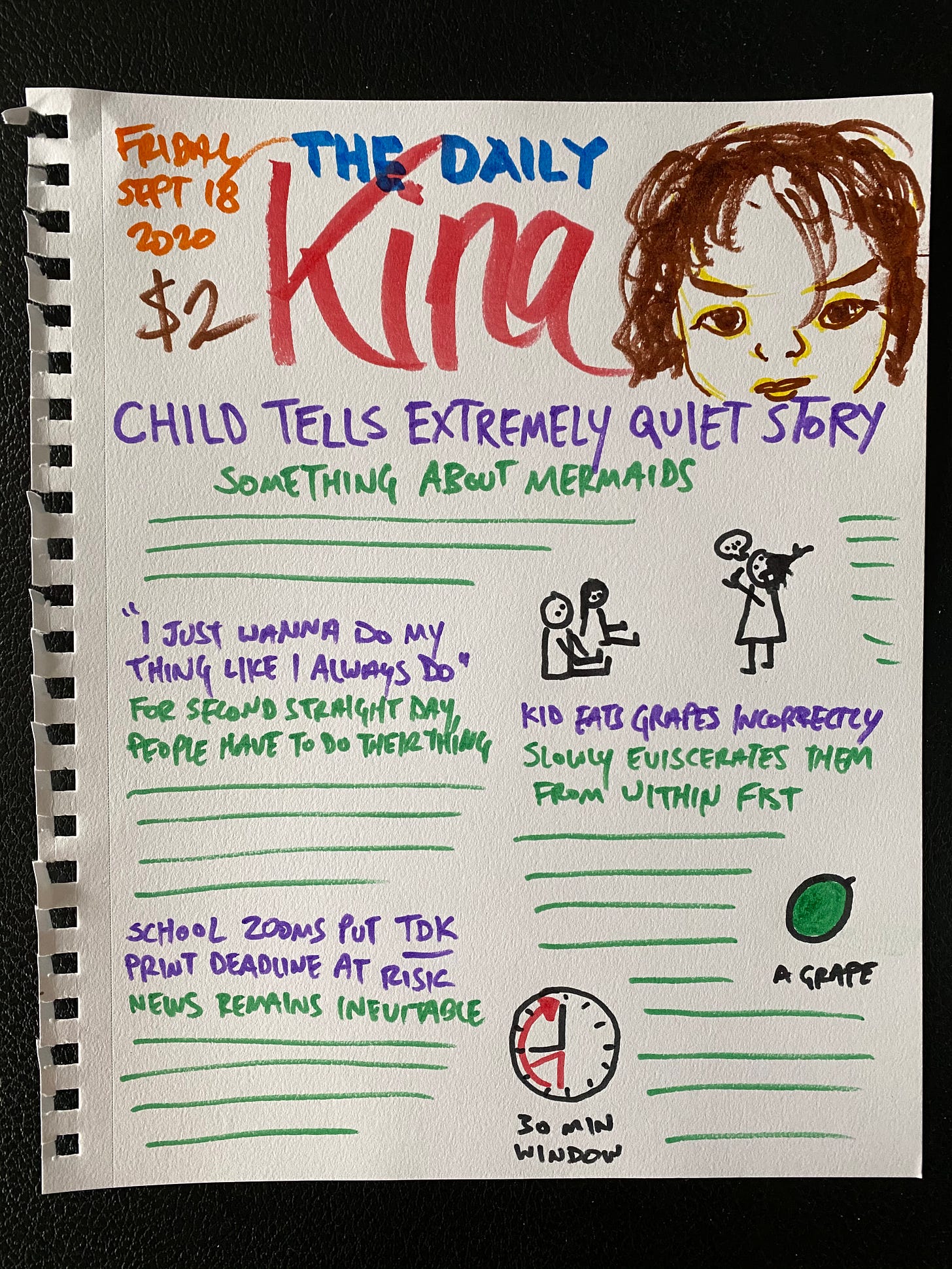 I told Kina a story tonight, late to bed after a birthday dinner with her Uncle Ken. Kina isn't often outside after the sun goes down, and as she rode on my shoulders, she marveled at a single planet in the sky—a star, by her estimation. We don't actually get real stars much in Brooklyn, and with the haze of distant wildfires in the atmosphere, a young New Yorker these days might look up at Venus and think the firmament held just one brilliant, lonely star. I didn't want to keep her up much later than I already had, so I rushed her home, drew a bath, and swept her into her pajamas as my phone buzzed in my pocket.
A few minutes later, I laid her down and tucked her in, offering her one story (She'd never accept less.) I told her the story of Baby Rainbow Unicorn meeting Ruth Bader Ginsburg at the Supreme Court. It's not much of a story, but it has our nation's finest jurist in over a generation, the wisest and strongest judge in all the world—who held up the rights of not just Puppy and Panda, but even the smallest cat in the dollhouse—conveying to our friend the unicorn the unparalleled responsibility to defend those most in need of protection, and to see clearly where the world and its laws are broken, so that they can be mended. The story goes that Ruth Bader Ginsburg leans over Baby Rainbow Unicorn and says that she will need to be so strong, that the grownups around her have to be even stronger, that she should persevere and believe that she can do great things. She places that strength in Baby Rainbow Unicorn's heart, and her wisdom in Baby Rainbow Unicorn's young mind, and kisses her gently on the forehead as she says good night.
Baby Rainbow Unicorn, in all of this, is drowsy, and doesn't understand how important this moment is. She asks for a cheek hug and for Panda to snuggle. I dim the lights in the kitchen and sit down to my laptop to write a story about stories. All the while, I think about Venus in the sky—so bright it outshines the stars on a smoky night. I have faith in its light to guide us, remembering always that it could never light the world on its own. That light we carry together.
dad