Discover more from The Daily Kina
Home delivery, frequently on a daily basis, of the world's most specific single-child report.
Child Plans for Winter
Snow cars, bird sleigh; we could ride snow mooses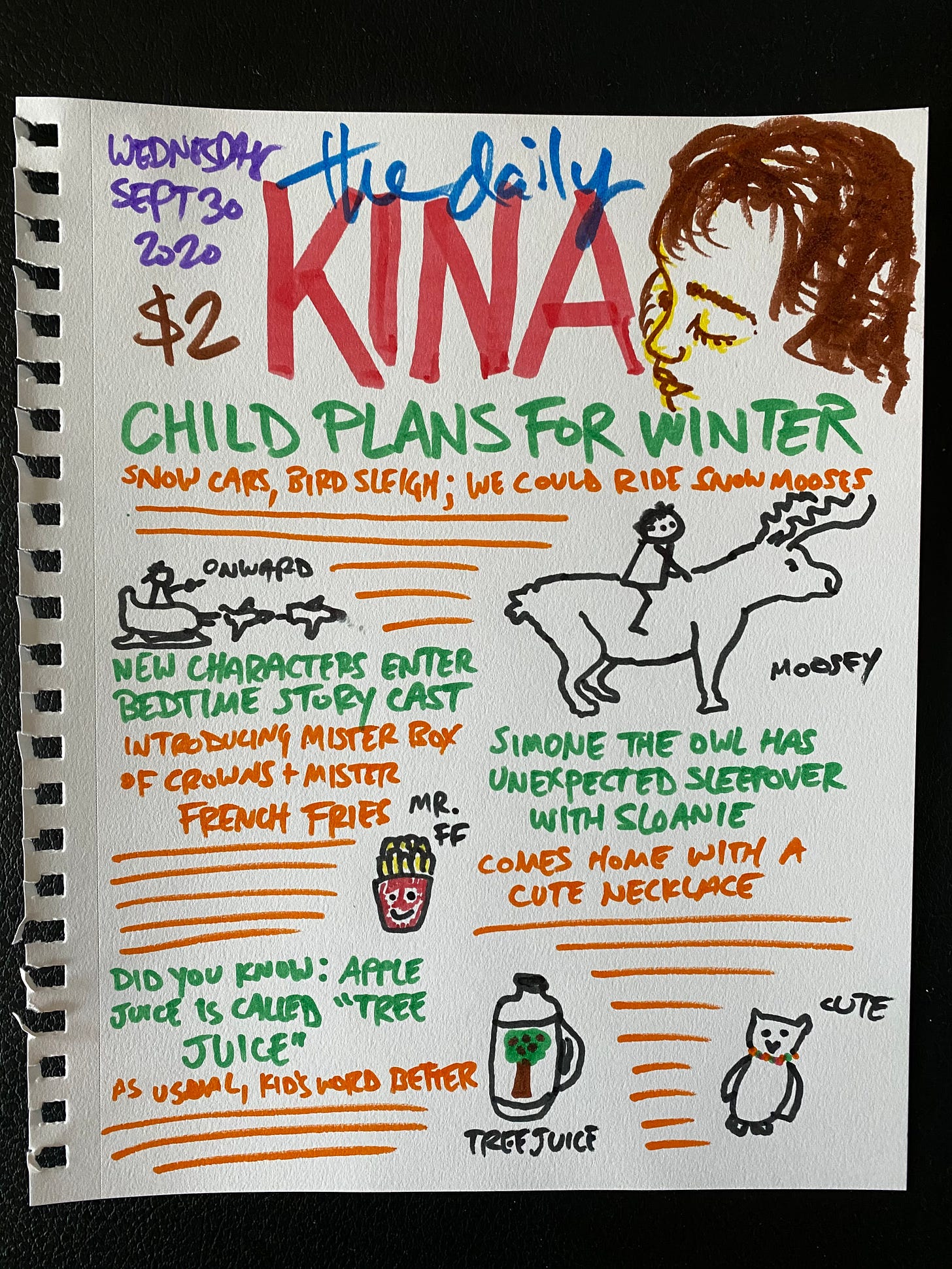 I woke up this morning and saw an article about "The Best Outdoor Space Heaters", which of course led directly to my badgering Laurea about whether or not we should buy a little heater so that we could spend the winter outside—fully be-parka-ed, sledding, drinking hot cider, warming our hands by our hundred-dollar propane torch. Laurea shot it down (though she was strongly in favor of parkas), but Kina picked up the slack. At breakfast, she started running through all the things we could do in winter, but as if in a fever dream—a version of winter told by somebody who had only read about winter from half-burned scores of Christmas carols, like Narnia on acid. Who among us has given any thought to a sleigh drawn by sparrows? Sign me up.
Truly, I want to feel okay about the upcoming winter, though it's hard to feel okay about much of anything these days. The city and its collective sense of safety today, when compared to what it felt like in April, bodes ill for us. We should not all be mushed together as we have been lately—even as I don't relish the thought of being trapped in our homes again, though that may be exactly what we need. To be able, occasionally, to toss the parkas and a space heater in the trunk of the car this January and drive way out to quiet-ass nowhere (cider, sledding, and all the rest), is a comforting thought. I just want to be alone with our bird sleigh and the snow mooses, set apart from the things that got us here, with hands all nice and toasty.
Did You Know: Apple Juice is Called "Tree Juice"
I have been meaning to tell you this for months. It belongs in the historical record.
dad