Discover more from The Daily Kina
Home delivery, frequently on a daily basis, of the world's most specific single-child report.
Child Makes Ill-Advised Visit to Hurricane
"A leaf hit my leg and scratched me!"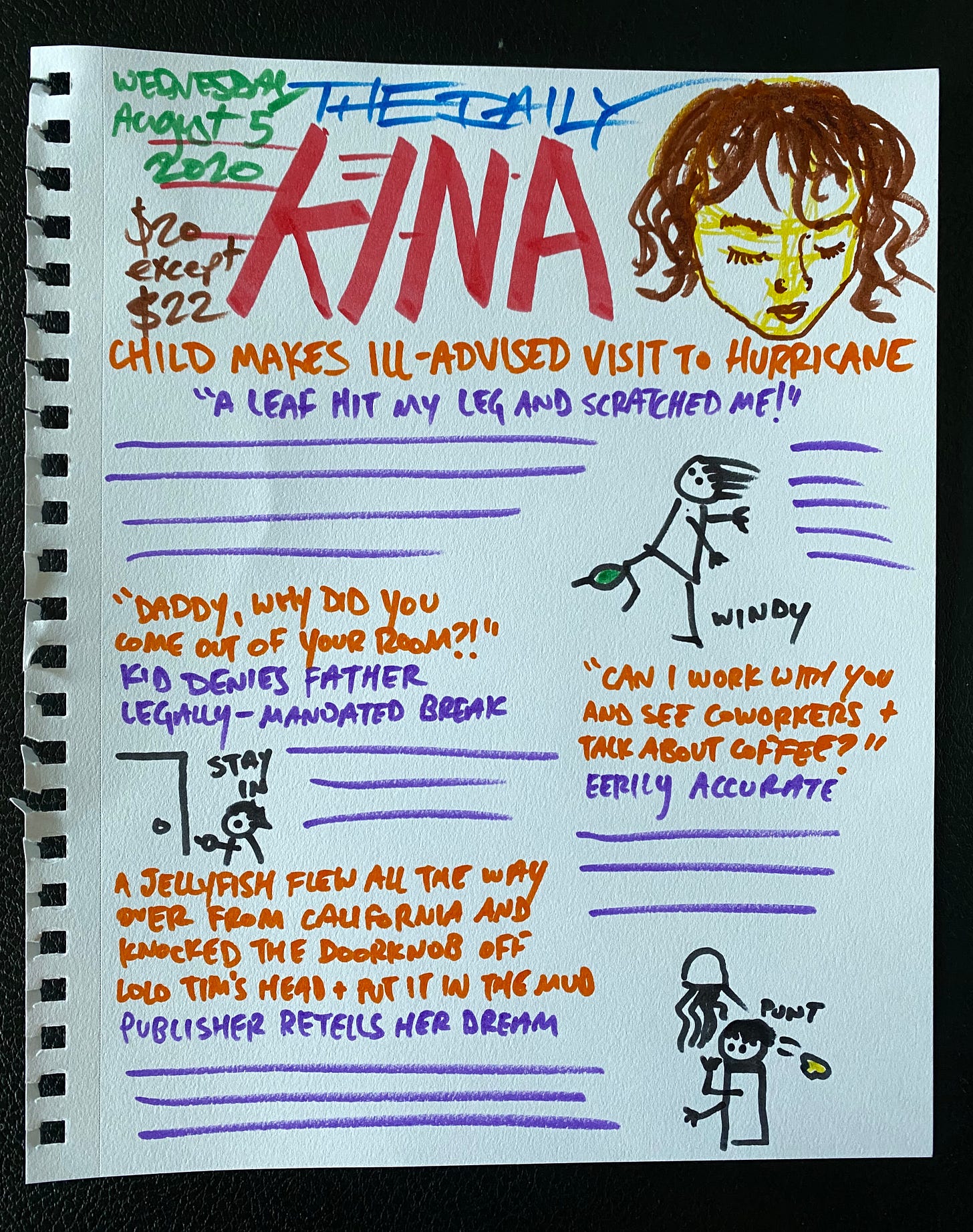 The tropical storm is probably the most newsworthy headline in today's edition—a rare cameo from actual current events in the world of The Daily Kina, a publication that exists in part to get me away from the news (most of which is frankly devastating; the news of the day in my other newspaper job is the horrible explosion in Beirut.) I try always to remember that there are three different audiences for this paper: Laurea and I, who need a place to reflect on Kina's absurdity; Future Kina, whom I want someday to read these and see what she was like in this weird sliver of time; and all of you, who are reading this both to understand the mental state of a preschooler who is largely unaware of [waves hands wildly] and to give yourselves some shelter emotionally from [waves hands wildly]. All of this is to say that, while it'll be good for Kina to know there was a storm on August 4th, it's probable that at least one of you still has no power and didn't open these pages to be reminded of it, but I can assure you that your frustration likely pales in comparison to the annoyance the leaf booboo has caused her.
"Daddy, Why Did You Come Out of Your Room?!"
I took last week off, after realizing suddenly that I was spending sixteen hours a day in my bedroom and seeing how that might have been affecting my emotional health. I have worked from home in the past, but not since Kina was born, and so we've had to adapt to sharing this apartment for our respective jobs (mine, taking video calls and typing loudly in the bedroom; hers, playing with Legos and singing in the living room). Inevitably, I do have to open my door, and I always have to explain myself to her: I'm going to the bathroom, or I'm grabbing lunch, or I just wanted to see her. Half the time, she shepherds me back to the room, joining me very occasionally to see coworkers and talk about gummies (as noted in a minor story from the July 25th issue). I like being able to see the kid during the day, honestly, and I'm incredibly grateful that we are able to work with Hannah to help us balance child care. That I am, for the most part, trapped in my room while working is an extremely small price to pay—in comparison both to the challenges others are facing with lost work right now, and to what this would have been like if Kina were still a baby. That she can tell me specifically what she needs me to do is actually a whole lot better than being screamed at, on the whole. On my way into the bedroom-office yesterday, Kina suggested that my job is essentially to talk about coffee with coworkers, which is a more useful and pointed midyear review of my work than I think I've ever gotten from a manager. I'd say that I hope someday to work for her, except that I actually do.
A Jellyfish Flew All the Way Over From California and Knocked the Doorknob Off Lolo Tim's Head + Put It In the Mud
That was literally the dream she had. So much better than any of mine. I'm fond of the little "PUNT" to illustrate the noise a jellyfish would make if it were kicking a doorknob off of somebody's head.
---
I don't want to always make these newsletters so moody and philosophical. I gotta pace myself. Thanks for humoring me today. While I've got you humoring, though, one last note about the real world—you should donate to the Lebanese Red Cross.
dad