Discover more from The Daily Kina
Home delivery, frequently on a daily basis, of the world's most specific single-child report.
Child, Annoyed, Rolls Her Eyes
Brief, terrifying vision of her teens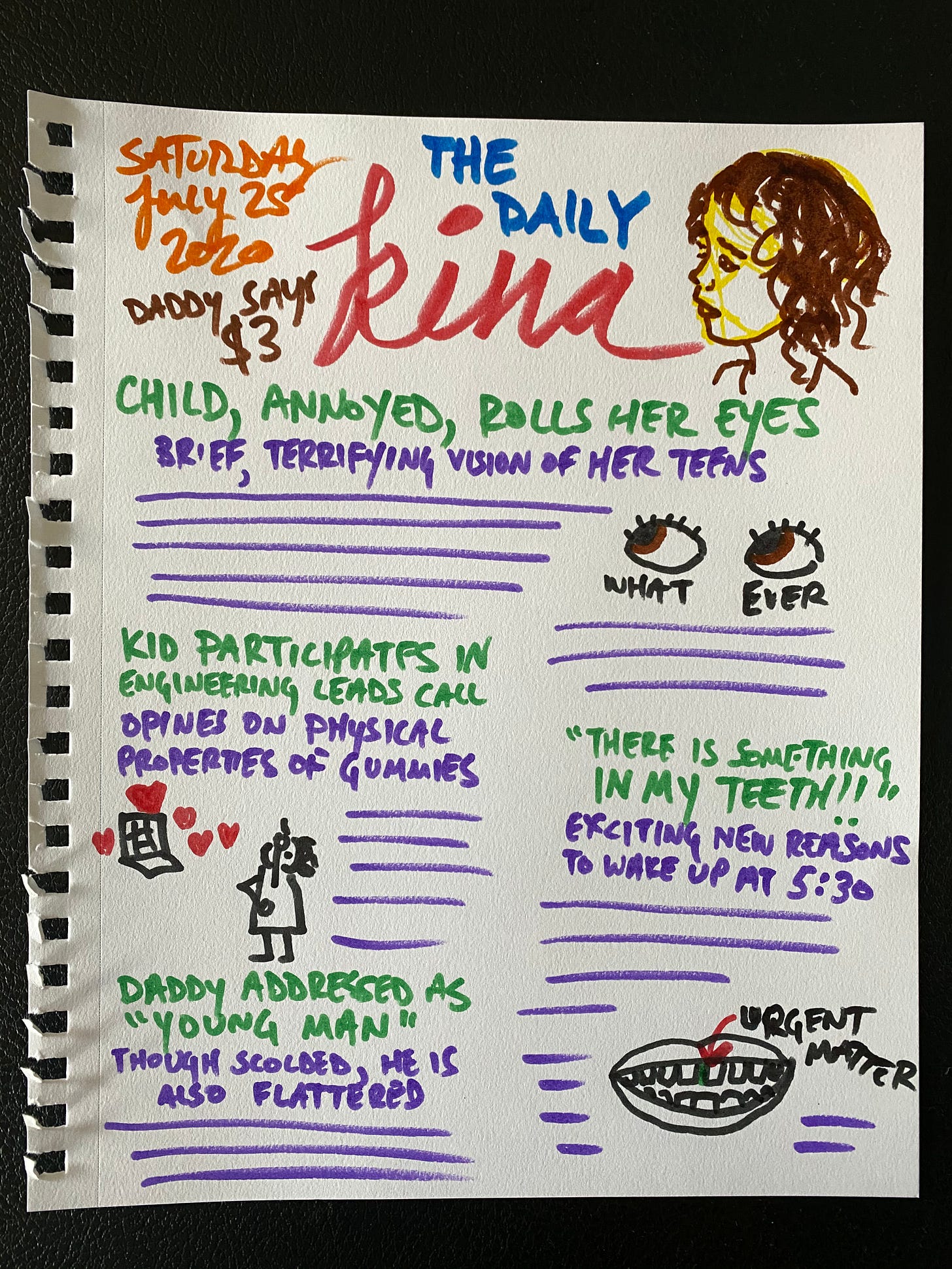 Kina's annoyance with us, in the midst of our spending so much time together, has started to grow fangs. It shows itself in a variety of extremely normal situations— when I am drinking imaginary rainbow tea, for example, or stocking her tent with imaginary meat. She might get flustered with us when we refuse to call her by the correct doctor's name (on one day, the name of her actual doctor; on another, "Doctor Elsa from Frozen"). She is often annoyed that I sit on the wrong chair or cushion when I have been told already very clearly where to sit and the specific logic behind that seating arrangement. Whatever of the context, though, she gets very annoyed with us and typically responds with a bog-standard toddler scream or, charmingly, an exasperated sigh. But today she rolled her eyes—like, an almost Olympian ocular gesture—and it really hit home in a way that induced both a flood of parental dread and basically no surprise at all. (Laurea and I are world-class eye rollers; The Roll is a favored expression in our home, deployed for the most minor of transgressions.) In some ways, we should have seen this coming earlier—and might have, were we not rolling our eyes at each other so often—but here we are, unprepared for a searing premonition of the teenager we are raising. When schools shut down, I worried that she'd go into a sort of suspended animation, cut off from the professionals charged with her growth (and the children growing alongside her), but I think she's simply charted a different course—one that emulates ours in excruciating detail. The last few weeks have been emotionally difficult for us as she wrestles with some new developmental hurdle we haven't yet fully understood, but the eye rolling and spike of tantrums is all part of a personality continuum that has it upsides, too. She comforts us now when we're frustrated, keeps my coworkers occupied at the start of video calls, summons us for "family hugs", and engages us in conversations that make just enough sense to convince us we're seeing the person she'll be in twenty years. It makes us see the people we are today, too, and honestly got me thinking about whether or not I should pay closer attention to my own eyes when they roll.
"There Is Something in My Teeth"
I took the 5:30 shift this morning, after Kina deployed this new early wake-up tactic. Laurea was inclined to let it go (no pun intended) and see if she'd return to bed on her own, but I am a charter member of Camp Annoyed-By-Stuff-Between-Teeth, and I couldn't bring myself to let her suffer. You will be totally unsurprised—as Laurea was—that there was nothing in her teeth to floss away, and so I absorbed the subsequent half-hour tantrum that emerged from my not being Mommy as a gullibility tax. After considerable calm coaxing—and the occasional roll of my eyes—I finally got her to watch a YouTube video about jellyfish and took a nap on the couch. That's the job.
See you tomorrow. Share the word and floss your teeth.
dad